Commercial Construction Loans: What They Are and Where to Get One
Commercial construction loans can help your business finance building expenses. SBA 504 loans are one option.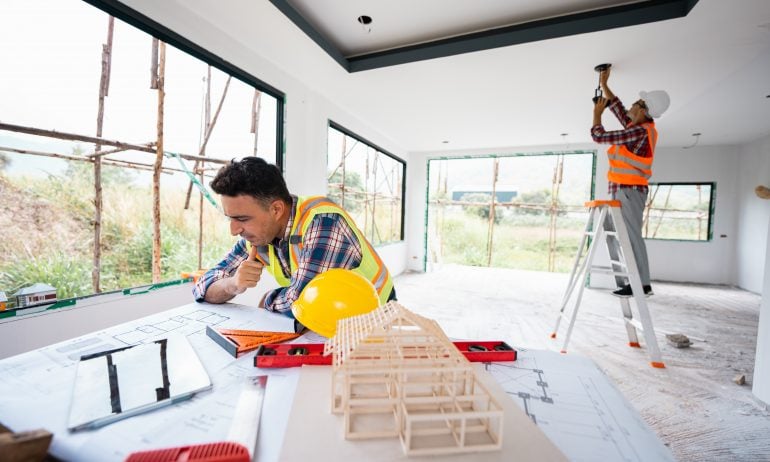 Many or all of the products featured here are from our partners who compensate us. This influences which products we write about and where and how the product appears on a page. However, this does not influence our evaluations. Our opinions are our own. Here is a list of our partners and here's how we make money.
A commercial construction loan is a kind of business loan that helps your company cover the costs associated with building or renovating structures. You can use these construction business loans to purchase land, buy materials and pay workers.
A commercial construction loan can help you keep your balance sheet manageable during a build, since lenders often accept interest-only payments for the duration of construction. But costs increase greatly once construction is complete. Make sure you have a plan to handle higher payments, including potentially refinancing the loan.
How commercial construction loans work
Create a draw schedule with your lender. In most cases, you'll work with your lender to tie loan disbursements to specific milestones in your construction project. For instance, you might receive a designated percentage of your financing only after a certain inspection is complete.

Make payments during construction. While your build is ongoing, most lenders will let you pay only interest, and only on the amount you've drawn to date.

Pay off the remainder of the loan after construction is finished. Many construction loans have short terms — a few years at most. If you can't afford to pay your loan off in that time frame, you'll need to refinance the loan or take out a commercial real estate loan to pay off the balance. Some commercial construction loans are "construction-to-permanent" loans. In these instances, you'll continue to make payments to the same lender over a longer period of time.
How much do commercial construction loans cost?
In general, commercial construction lenders will not finance 100% of a project. What they will finance — called the loan-to-cost ratio or loan-to-value ratio — usually ranges from around 70% to around 90%. You'll have to cover the cost of the rest of the project, usually by making a down payment.
Guarantee fees, processing fees and project review fees can increase the cost of construction business loans. Some lenders offer to roll these fees into the loan, so you can pay them off over time instead of needing to provide cash upfront.
Where to get a commercial construction loan
You can get a commercial construction loan from a bank, credit union or private lender, also called a hard money lender. Some SBA loans, which are issued through financial institutions, can be used for construction too.
The best construction loan for your business will give you the financing you need on terms that work for your business, with the lowest possible interest rate and fees.
In general, banks and credit unions offer more competitive rates and terms than other business lenders. Loans from banks and credit unions also tend to be the hardest to qualify for, though. You'll likely need excellent credit and multiple years in business.
SBA loans are often administered by banks, credit unions and other financial institutions. But they're backed by the U.S. Small Business Administration, which makes them less risky for those SBA lenders.
SBA 504/CDC loans are designed for the acquisition and renovation of fixed assets, like properties. You can borrow up to $5 million and pay it back over a fixed term of 10, 20 or 25 years. SBA 504 loans usually have some of the lowest interest rates on the market. The property under construction serves as collateral.
SBA 504 loans are usually structured like term loans, not commercial construction loans. Instead of making interest-only payments during construction, you'll make fixed payments throughout the life of the loan. There may be exceptions to this, though, so make sure to clarify with your lender.
SBA 504 loans are issued by region-specific Certified Development Companies. You can use the SBA's website to locate one near you.
You can also use an SBA 7(a) loan for construction projects. Some lenders may offer 7(a) loans that work like construction loans during your build — that is, they pay out in disbursements and you only have to pay interest until construction is done. If you're hoping to take out this kind of loan, have frequent conversations with your lender during the application process to make sure you understand the loan terms.
Hard money lenders are private corporations that provide short-term funding options for commercial construction projects. In general, hard money lenders can approve and finance your loan quickly — potentially in just a few days. They may also have less stringent qualification requirements than banks or SBA lenders, making these loans a potential option if you have less-than-ideal credit.
Because hard money loans are riskier for lenders, they'll probably be more expensive for you. These loans will likely come with higher interest rates and shorter terms than other financing options.
Alternatives to construction business loans
Commercial construction loans are helpful when you're building from the ground up. But if you're buying an existing property or undertaking a renovation, consider these alternatives.
If you're buying an existing property: Commercial real estate loans are also called commercial mortgages because they're structured like mortgages — you'll make a down payment on a property and then pay off the loan over time, with the property serving as collateral. These are best for acquiring existing properties that don't require major renovations.
If you're renovating a property you already own: SBA 504 loans are still a good choice for major renovation projects because of their low interest rates and long repayment terms. But if you want to make small upgrades over time or don't want to wait on the SBA's lengthy application process, a business line of credit may offer more flexibility.
with Fundera by NerdWallet