Opening a Domino's Pizza Franchise: Info and Costs
Learn about the cost, fees, corporate support, framework and more of opening a Domino's franchise.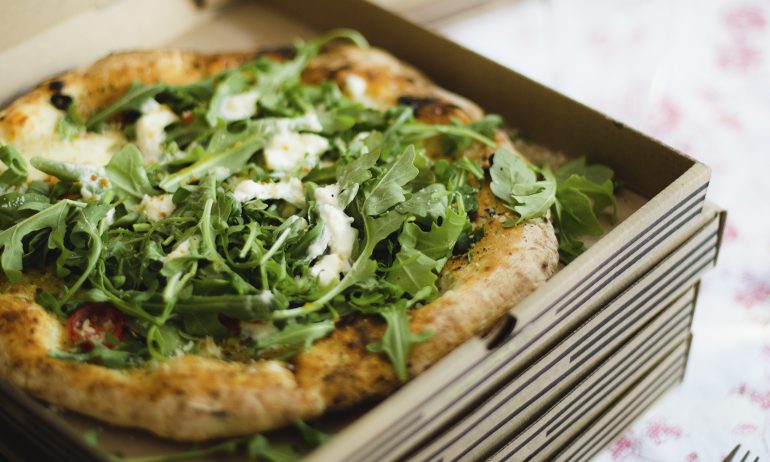 Many or all of the products featured here are from our partners who compensate us. This influences which products we write about and where and how the product appears on a page. However, this does not influence our evaluations. Our opinions are our own. Here is a list of our partners and here's how we make money.
In the U.S., it's almost impossible to not have heard of Domino's. A staple of main streets and sports arenas alike, Domino's has a wide reputation and a steady fan base across the country. If you're curious about franchising, opening a Domino's pizza franchise may be just the right endeavor.
In this guide, we'll cover the details of opening a Domino's franchise, including cost and fees, corporate support, framework and more. Having all of this information will help you make an informed decision on whether owning a Domino's franchise is the right move for you.
What to know about the Domino's franchise
As one of the largest pizza chains in the country, Domino's started as a single pizza shop in Michigan in 1960. The chain quickly grew, and it's now a worldwide brand, with over 17,000 franchise units in the U.S. and across six continents in 90 international markets.
Although Domino's started as just pizza, they've branched out quite a lot into sides and appetizers, such as buffalo wings, breadsticks, desserts and more.
They've also integrated technology into their brand, enabling customers to easily order and then track their pizzas through the Domino's app. They are often launching customer service initiatives, such as their new "Delivery Insurance," which are popular with customers and add to creating a loyal customer base.
Many Domino's franchisees own more than one Domino's location — more than half, in fact. Domino's very heavily favors internal candidates for opening up franchises, and generally puts more stringent requirements on external candidates. Additionally, franchise agreements last for 10 years.
One of the keys to finding the right restaurant franchise opportunity for you is understanding the corporate framework and expectations of a potential franchise. Be sure to learn as much as possible about this franchise — from costs to corporate support to your responsibilities — during the discovery phase, and be sure to read the franchise disclosure document carefully.
Does Domino's make money?
Domino's surpassed earnings expectations in 2019, with net sales of $1.15 billion, rising 6.3%. They also had a same-store sales growth of 3.4%, which indicates that many of their franchise locations are doing well. The number of Domino's stores is growing, too — they added 141 net new restaurants in the fourth quarter of 2019 alone. Throughout 2019, their carry-out sales also grew almost 4%.
Types of Domino's franchises
There are a few different types of Domino's franchise stores that you can consider as you're looking into Domino's franchise opportunities. The type of store that you'd like to open will affect your initial investment and total cost as well its location.
Traditional store: These are retail outlets like the ones you are most used to — often in shopping centers or other retail hubs — that have ample parking for both customers and delivery drivers. They offer both in-store dining as well as carry-out and delivery.

Non-traditional store: These are the locations that you see within other, larger locations, such as those in malls, office buildings, stadiums and more. These often only offer carry-out, though some do have a few seats inside.

Transitional stores: These locations are located in smaller markets and have more scaled-back, customized menus to meet this smaller client base. They begin as carry-out-only stores, but may be transitioned to a traditional store once the market is proved out.
Domino's franchisees are required to complete a training course at Domino's corporate headquarters: four days of Pizza Prep School as well as a Franchise Development Program that lasts five days. Franchisees will also undergo in-store training that will last from six to eight weeks.
The type and length of the training you will undergo depends on how much experience you have within Domino's as a manager (including Domino's Pizza High Performance University Crew and Manager Development Programs).
How much is a Domino's franchise? Costs come in a few different categories, including one-time, upfront costs as well as ongoing fees, such as the all-important franchise royalty fee. We'll cover some of the major costs below, but keep in mind that these numbers reflect averages or estimates, and your area will have the most significant bearing on how much you'll actually pay.
Initial investment: Initial investments will vary quite a bit based on your location and the type of Domino's you want to open. On the low side, you can expect to invest around $145,000; on the high end, the total can climb above $500,000.
Initial franchising fee: The Domino's initial franchise fee is $10,000 for building a new store or refranchising a closed store. Do note that Domino's sometimes charges a "reservation fee" of $25,000. The franchise disclosure document that you receive will have more details on this additional fee.
Net worth: The current net-worth requirement is $250,000.
Cash liquidity: The liquid capital required is $75,000.
As with the vast majority of franchises, franchisees will be responsible for ongoing franchise fees. These include:
Royalty fee: The franchise royalty fee, which is the main source of revenue for franchisors, is about 5.5% of a store's weekly gross sales.
Marketing and advertising fee: You can expect to pay around 3% to 4% of your store's weekly gross sales for marketing and advertising supported by corporate, but this fee may be higher.
Be aware that fees don't end here: You'll have other various fees — such as real estate fees, inventory and supply chain and fixtures — that you'll either have to pay once or as ongoing fees. Again, carefully review your franchise agreement for the most updated, accurate picture of fees and expectations.
Many people who are looking to open a franchise location need franchise financing. This can cover both initial costs, such as the franchise fee and fixtures; real estate; and any other major costs.
Like many other franchises, Domino's doesn't offer direct or indirect financing for their franchisees, so you'll have to look elsewhere if you need capital to open a Domino's franchise. Third-party lenders are often a good option, since they provide loans including equipment financing, term loans, personal loans for business and more.
A strong financing profile, such as good credit and any other history in business, will help you secure a business loan. These credentials will also help determine how much capital you will receive.
Domino's franchise pros and cons
As you're considering the full picture of whether or not to open a Domino's pizza franchise, you'll want to consider both the advantages and disadvantages of franchising in general, as well as those specific to just the Domino's brand. Let's take a closer look.
Well-rated: Domino's is often well-rated as a top pizza franchise to own.

Minority and veteran discount: Franchisees who are veterans, minorities and women might have opportunities to receive significant discounts on the initial franchise fee and opening costs. This is especially true for internal candidates with a year of management experience.

Opening cost: Compared to some other fast-food franchises, Domino's franchise costs are on the low side.
Absentee ownership: If you're looking for a franchise that'll let you be offsite, you won't be able to do so with a Domino's franchise.

Internal candidates: Domino's gives heavy preference to internal candidates, which can make requirements more stringent if you don't come from within the Domino's management ecosystem.

Territory: Domino's does not offer territory protection, which shields franchisees from other approved franchise locations coming into their market.
If you're looking to buy a franchise, there are a lot of pros to Domino's franchises. As with any franchise, you'll want to be sure that you request the full franchise disclosure document so you know exactly what's expected of you from Domino's' corporate headquarters as well as the most current fees you are paying.
Also note that Domino's gives very strong preference to internal candidates who want to open a franchise. If you're very interested in a Domino's franchise as an outside candidate, you might want to consider starting within the company as a worker and then applying for a franchise from there. It's a good way, too, to find out what the day-to-day routine at a Domino's is really like.
Either way, be sure to speak to as many current and former Domino's franchisees as possible during your discovery process to get a firsthand look at what your experience will be like. If you ultimately find that Domino's isn't the right franchise for you, there are plenty of other food franchises to explore, as well.
This article originally appeared on JustBusiness, a subsidiary of NerdWallet.