Gusto vs. ADP: Prices, Features, User Reviews
This Gusto vs. ADP comparison covers features, price, ease of use and customer reviews to help you make a choice.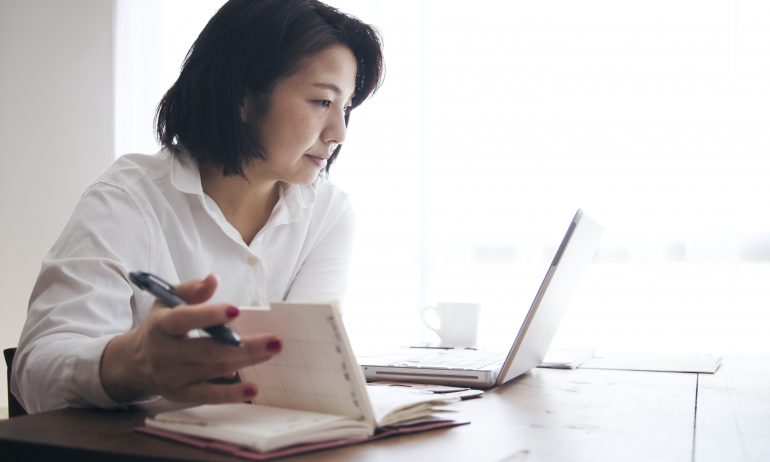 Many or all of the products featured here are from our partners who compensate us. This may influence which products we write about and where and how the product appears on a page. However, this does not influence our evaluations. Our opinions are our own. Here is a list of our partners and here's how we make money.
Two of the more popular cloud-based payroll software systems are Gusto and Automatic Data Processing — better known as ADP. Both can help you add up hours, calculate payroll, pay taxes and comply with federal regulations. But which is better for your specific business?
This Gusto vs. ADP guide helps answer that question by comparing each service based on four key criteria: features, price, ease of use and customer reviews.
The most important thing to know about each payroll service is what it can do. So let's start by talking about Gusto vs. ADP in terms of features. The features are organized based on their service plan. (The next section covers the cost of each service plan).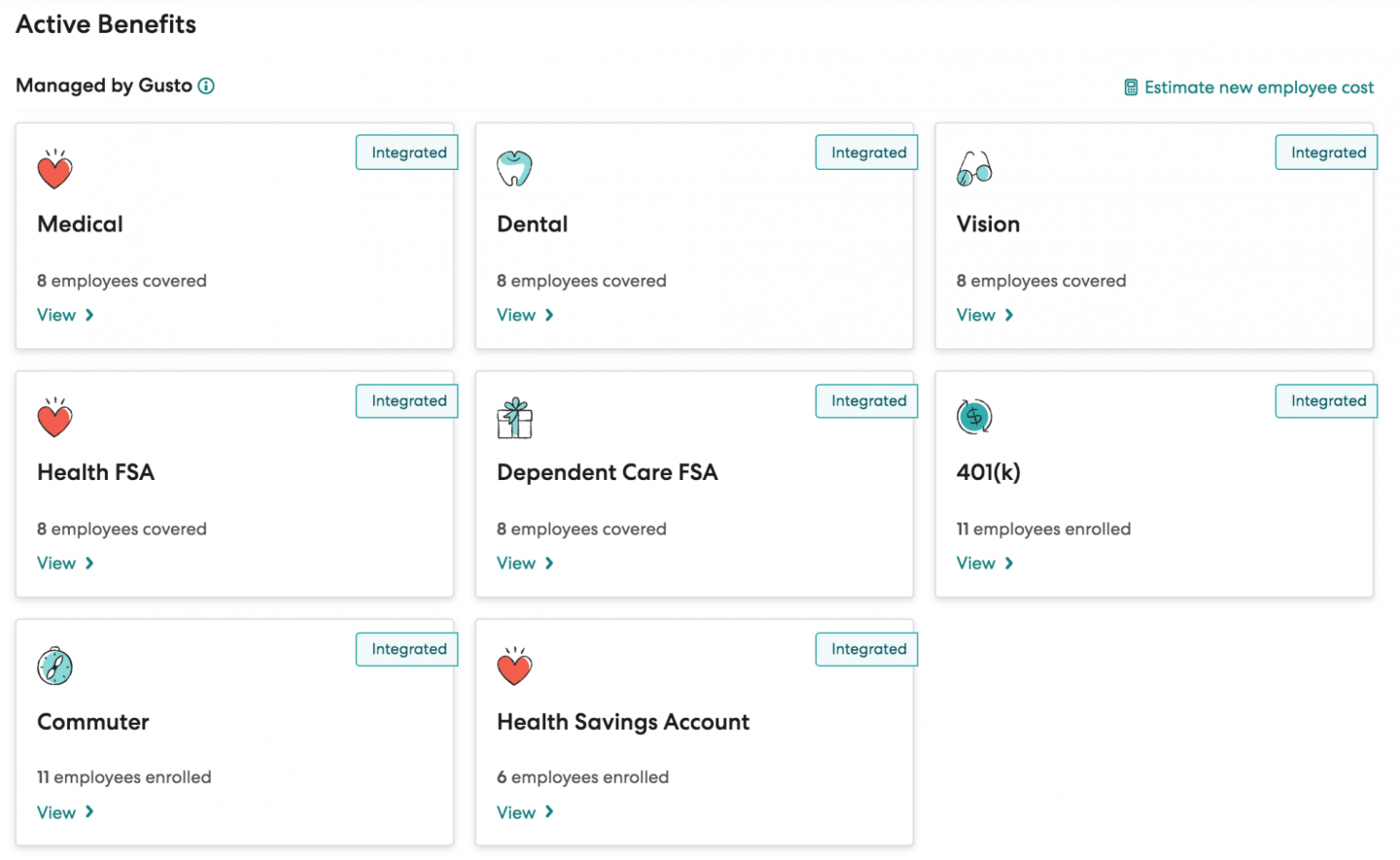 Gusto has three service plans, each with ascending pricing and services. Gusto also has a new option for contractor-only employers, who simply pay the $6/employee rate and no base price. Here's what you get with each plan:
Receive paychecks via direct deposit

Receive paychecks via snail mail

Electronically sign I-9s and W-4s

Health benefits administration

Workers comp administration

24/7 phone, email and live chat support.
Gusto Complete (includes everything in the Gusto Core plan, plus)
Administrative permissions

Send employee offer letters and onboarding documents
Gusto Concierge (includes everything in the Gusto Complete plan, plus)
Direct access to certified HR professionals

Create custom employee handbooks and HR documents

Dedicated Gusto customer service team.
Along with these features, Gusto has a handful of paid add-ons that are independent of any of their pricing plans. These include:
Health benefits: Allow your employees to enroll in health insurance through the Gusto platform. The only associated fee is the health premiums the employer must pay.

401(k) plans: Offer your employees 401(k) plans at a cost of $8 per month per participant, plus a $500 setup fee.

Workers comp insurance: Pay-as-you-go workers comp plans that integrate with payroll.

529 college savings plans: Allow employees to save for their kids' college at a cost of  $6 per month per participant.

Tax-advantaged spending accounts: Offer health savings accounts ($2.50 per month per participant), flexible spending accounts ($4 per month per participant) and commuter benefits ($4 per month per participant) for an annual service charge of $200.
Lastly, Gusto integrates with a wide array of third-party applications, including QuickBooks, Xero, FreshBooks, QuickBooks Time and more.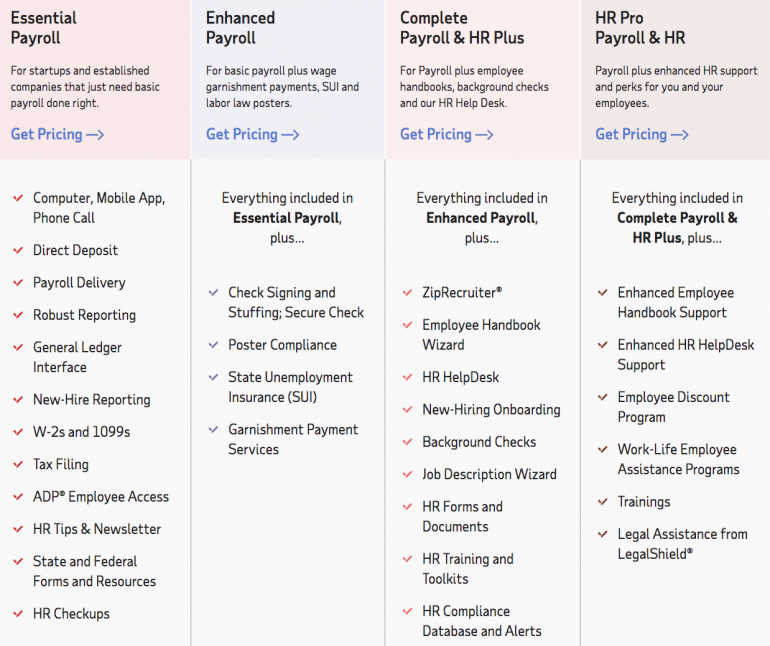 Next, let's break down ADP's payroll features in accordance with the service plans it offers. ADP offers two different payroll products for small businesses based on the number of employees they have. ADP Run, which is covered below, is for businesses with up to 49 employees. There is also ADP Workforce Now for 50 to 1,000 employees and two additional enterprise solutions for larger businesses.
Again, each service plan has increasing pricing and services.
Receive paychecks via direct deposit

Payroll reports and analytics

24/7 phone and email customer service

Access to library of HR forms and information

Workers compensation, health care, unemployment and retirement plan assistance

Time and attendance tracking

PTO tracking and approvals

Create employee schedules

Access to ADP mobile app.
ADP Run Enhanced (includes everything in the Essential plan, plus)
Receive paychecks via prepaid Visa debit card

Receive paychecks via snail mail

State unemployment insurance and wage garnishment assistance

Receive labor law posters.
ADP Run Complete (includes everything in the Essential plan, plus)
ZipRecruiter integration for hiring

One-on-one assistance from ADP's HR team

Send employee offer letters and onboarding documents

Conduct up to five background checks annually.
ADP Run HR Pro (includes everything in the Complete plan, plus)
Employee discount program

Employee work-life assistance programs

Dedicated team of HR business advisors.
Overall, ADP offers a more comprehensive set of features. Examples of features ADP offers that Gusto does not include the option to send paychecks via a prepaid Visa debit card, a labor law poster program and an employee discount program. ADP also offers some features in their Essential plan that Gusto only includes in more advanced plans, such as PTO tracking and scheduling.
For reasons like these, we prefer ADP to Gusto when it comes to features.
As you can already see, both Gusto and ADP offer tiered pricing models with different service plans offering a different array of features. Each payroll platform will charge you a monthly fee based on the service plan you're using and the number of employees you're running payroll for. Gusto also has some paid add-ons that will add to your monthly bill (if you add them to your plan).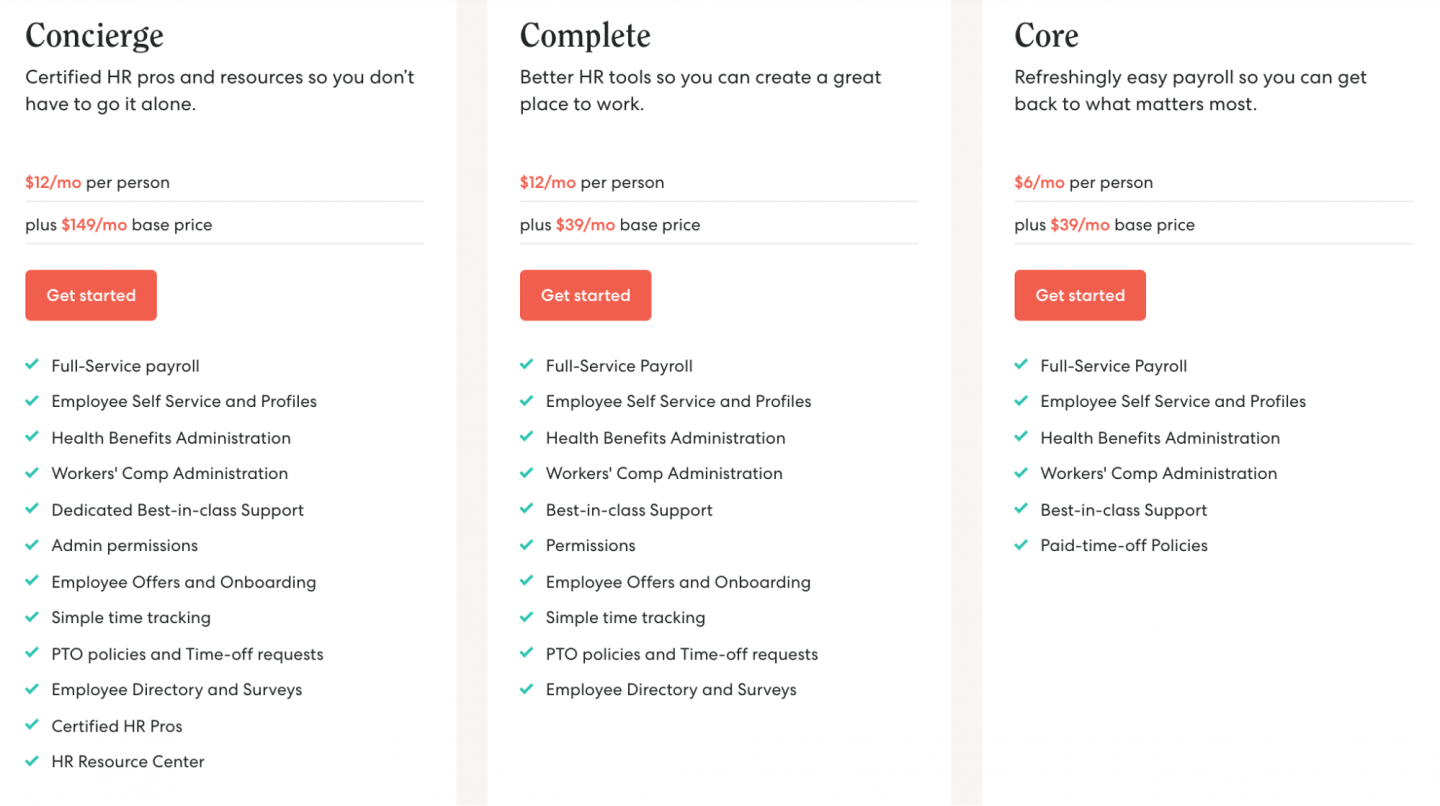 Here's the cost breakdown for all three of Gusto's service plans:
Gusto Core: $39 per month, plus $6 per employee paid via the Gusto app

Gusto Complete: $39 per month, plus $12 per employee paid via the Gusto app

Gusto Concierge: $149 per month, plus $12 per employee paid via the Gusto app.
Gusto offers a one-month free trial to all prospective customers.
ADP Run is a quote-based product that's designed for businesses with a maximum of 49 employees. We do know that each service plan for ADP Run — Essential, Enhanced, Complete and HR Pro — feature increasing pricing. However, you would have to contact ADP directly for a quote based on your business, number of employees and what features you need. ADP also offers three free months of ADP Run when you sign up.
We're selecting Gusto because we're a proponent of transparent pricing. What's more, unlike ADP, Gusto doesn't limit your accessibility based on the size of your business. This means you can use Gusto as your business scales. With ADP, you'd have to change to their Workforce Now product once your business exceeds 49 employees. While Workforce Now does come with many of the same features as Run, having to change services can be a headache.
Gusto vs. ADP: Ease of use
The reason you're investing in payroll software is to save time. But you won't be able to do that if your payroll software is difficult to utilize. So let's compare the usability of both Gusto and ADP.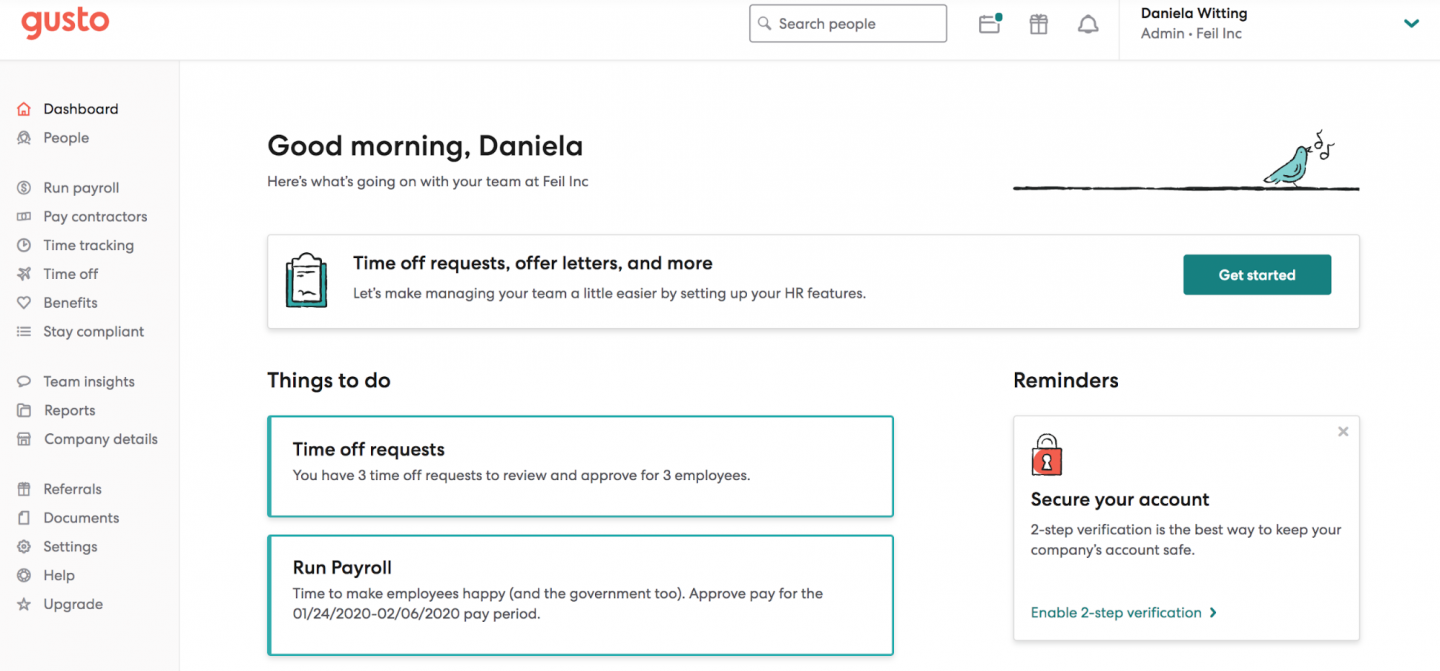 Gusto offers a simple step-by-step setup process and lots of information on how to use your software via their Help Center. Once you're up and running, you'll be able to manage your payroll with an intuitive interface and dashboard displays that include information on outstanding tasks and key metrics regarding payroll.
To make things even easier, Gusto provides an "AutoPilot" feature to run payroll based on information you provide about each employee (pay rate, payment preference, etc.). But if you want to process payroll manually, Gusto also makes it easy: Simply enter the employee's hours plus vacation and sick time, then review and submit. Gusto will handle all the tax and benefits calculations.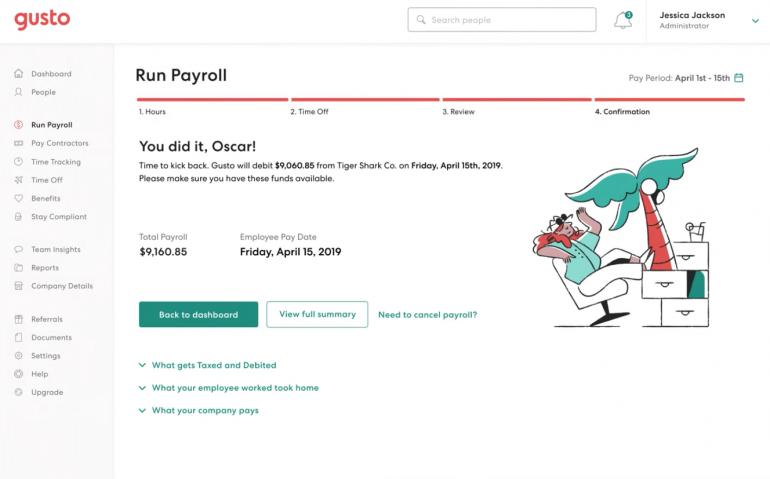 The first time you log into your ADP account, you will be directed to the Company Setup Wizard. Here, you will provide some basic business information, arrange your payroll calendar, enter tax, earnings, benefits, deductions and workers compensation information, and link your business bank account to the software.
To start paying employees, simply enter their name, date of hire, Social Security number, contact information, pay rate and direct deposit information (if applicable). Like Gusto, ADP offers a fairly intuitive dashboard that makes it easy to add this information and perform other essential payroll functions.
When the next pay period comes, log into your account dashboard and select the "Run Payroll" option. From here you can view employee time cards and make any manual adjustments. Each employee's pay should calculate automatically based on the information provided in their profile, minus any taxes. If everything looks good, select "Approve" to run payroll.
While Gusto is the more tech-forward company, ADP has made a lot of strides to match their new rival in the usability department. With both, you get sleek dashboards and obvious instructions on how to perform payroll. Both services also come with a setup wizard to walk you through the process of setting up your account, which is often the most complex aspect of running payroll.
Both tools offer 24/7 phone and email support if you ever run into issues.
Gusto vs. ADP: User reviews
To help you decide between Gusto and ADP, let's see what users have to say about both of these platforms.
General public sentiment towards Gusto is strong. User after user touts how Gusto makes processing and managing payroll easy. In particular, users say the Gusto interface has all the information they need, without feeling overwhelming. Customers also say Gusto makes it easy to find old pay stubs, track taxes and add new employees to payroll. Other areas of praise include Gusto's fair and transparent pricing.
"I've used both ADP and Gusto, and Gusto wins hands down," Adam Creighton, county director for ACE America, told Fundera. "While ADP seems to have more robust services, it's not designed for startups, and their costs are higher per employee. Gusto is nimble, responsive, intuitive and their online systems are top-notch."
One thing we should note, however, is that Gusto has a D- rating from the Better Business Bureau. This is due to the fact that Gusto failed to respond to 16 complaints against their business.
In those negative reviews, multiple users complained of receiving bad information from Gusto's customer support team. They also say Gusto sometimes makes errors with tax filings, causing their business to be hit with penalties from the IRS. In all fairness, Gusto received a majority of its complaints over two years ago, and the lack of more recent complaints indicates that it has likely addressed these issues with their software.
The reviews of ADP Run aren't quite as high as those of Gusto on major customer review websites, but they're still solid. ADP gets a lot of praise from customers for their reporting and analytics tools, which provide insights to business owners that help them save money. The payroll platform also scores points with its customers for its helpful customer service, flexibility to work with lots of different types of businesses and time and PTO tracking tools.
ADP gets an A+ rating from the Better Business Bureau. While this doesn't mean there are no complaints against the company, it does mean that ADP responds to their customer complaints. Overall, ADP has many more complaints levied against them than Gusto (over 300 and counting) and many are very recent.
The nature of the complaints vary widely, but some common themes include surprise fees, poor system security, errors with tax filings and rude or unhelpful customer service.
Based on the overall reviews, it seems Gusto is the preferred solution for business owners, thanks to its usability and cost. While ADP takes pains to try and resolve customer issues, it can't seem to avoid creating them.
The fact is, every small business is different, and only you know what software will best serve your business. We recommend signing up for any free trials and exploring each software system further before making a decision for your business.
A version of this article was first published on Fundera, a subsidiary of NerdWallet