Gusto Business Software: 5 Things to Know
This reasonably priced small-business software makes it easy to manage payroll, benefits and human resources.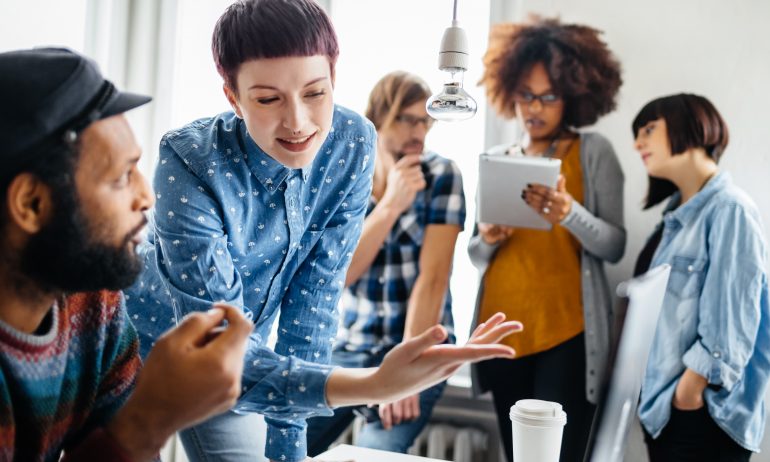 Many or all of the products featured here are from our partners who compensate us. This may influence which products we write about and where and how the product appears on a page. However, this does not influence our evaluations. Our opinions are our own. Here is a list of our partners and here's how we make money.
Gusto is an easy-to-use small-business software package that lets you manage payroll, benefits and human resources all in one place. Designed for businesses with 100 employees or fewer, it stands out from the competition with its user-friendly features, transparent pricing and solid customer service.
It's also cloud-based, so you can access it from virtually anywhere through an online browser. But keep in mind some of its features aren't available in all 50 states.
1. The pricing is straightforward
With some payroll and benefits services, it's nearly impossible to get a clear price upfront. That's not the case with Gusto, which posts its three tiers of monthly subscription prices publicly:
Those prices are reasonable, especially when you consider all the services that are covered. Setup, compliance features and customer support are included, which isn't the case with some competitors. With any subscription level, you can also run unlimited payrolls for any state and file W-2s and 1099s for no extra cost.
2. Employees can log on and choose benefits
With Gusto, employees get their own accounts. They can log on and select which benefits they want, and deductions will be automatically applied to your payroll. If they have questions about benefits, they can call Gusto directly, too. That makes less work for you.
Also nice: Gusto gives lifetime account access to employees as long as there's an email associated with the accounts. Say an employee leaves the company, and years later, needs access to their paystubs. Instead of searching for those old files yourself, you can just tell them to log onto Gusto and download them there. Most small-business payroll services don't offer lifetime access to former employees.
3. It's easy to set up employee benefits for the first time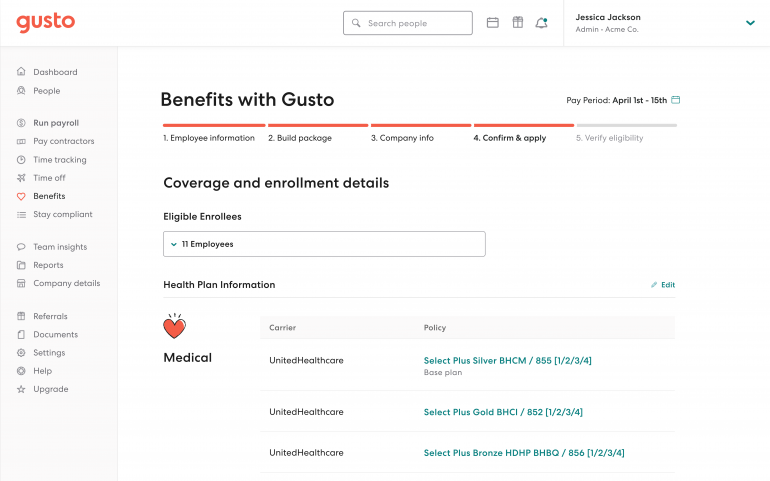 Gusto's step-by-step guidance for setting up employee benefits can be especially useful if the process is new to you. Assuming you live in a state where the company offers health benefit administration services, you can compare various medical, dental and vision plans and providers on the app and find one that fits your needs. You can also set up 401(k)s, 529 savings, health savings accounts, flexible spending accounts, commuter benefits, workers' compensation and life and disability insurance. Once you make your selections, your employees can enroll easily through their accounts and payroll deductions will be updated automatically.
Nerdy tip:
With Gusto, it's also possible to add certain benefits you set up through other providers. When you move your health insurance over, for example, Gusto will start handling the administration of those plans. But that's not the case for 401(k)s; if you want Gusto to handle those, you'll have to set them up through the app.
4. Some features aren't available in all states
While Gusto offers payroll services and 401(k)s in all 50 states, its services for health benefits, HSAs, FSAs and commuter benefits come with some geographic restrictions. If you're keen on using these benefits, make sure you and your employees are based in a state where they're available.
5. Live customer support is included
Even with the most basic Gusto subscription, you'll be able to get customer support via phone or chat from actual humans — specifically, Gusto's representatives in San Francisco or Denver. That's a big plus, especially for those who are new to setting up payroll and benefits. One caveat: Customer support isn't available during the weekends.
Wave Payroll Plans start at $20 per month (base) and $6 per person per month.

Providers may offer lower promotional pricing.
Screenshot courtesy of Gusto.