Gusto Review 2022: A Top-Notch Payroll and HR Platform
Gusto enables small businesses to easily manage payroll and human resources needs in one platform.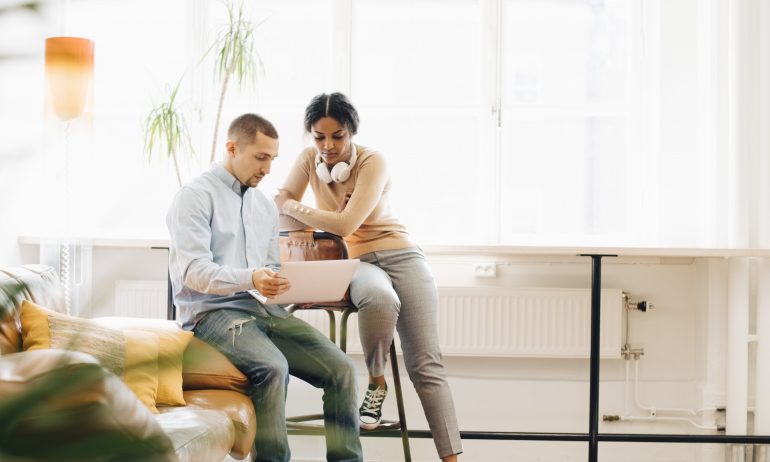 Many or all of the products featured here are from our partners who compensate us. This may influence which products we write about and where and how the product appears on a page. However, this does not influence our evaluations. Our opinions are our own. Here is a list of our partners and here's how we make money.
Gusto, formerly ZenPayroll, rises to the top of our list for its easy-to-use payroll and human resources product. While its pricing isn't the lowest you'll find for payroll and HR software, Gusto does include many features that would be an additional cost with similar providers.
Designed for small businesses, Gusto streamlines time-consuming tasks related to employee payroll, onboarding, benefits and support. Because it's cloud-based, it can be accessed from virtually anywhere through an online browser. And if you need new features or aren't using others, you can easily upgrade or downgrade your plan.
Core — $6/month per person; $39/month base price.

Complete — $12/month per person; $39/month base price.

Concierge — $12/month per person; $149/month base price.

Contractor — $6/month per person; $0/month base price.

Yes, with each payroll run, taxes are calculated and paid to federal, state and local agencies at no additional cost.

Ability to manage employee benefits

Employee access to portal

Yes, employees have lifetime access to their own account to view pay stubs, obtain W-2 forms and change personal information. Through Gusto Wallet, they can access and manage their money.

Yes. Offers live customer support by phone, email or chat at all subscription levels. Support is not available on weekends.

Yes. Has a user-friendly interface with simple step-by-step tools, checklists and tutorials.
With some payroll and benefits services, it's nearly impossible to get a clear price upfront. That's not the case with Gusto, which posts its monthly subscription prices publicly:
Is Gusto a good fit for my business?
Whether Gusto is the right fit for your business will depend on the features you value the most.
A cloud-based app with access virtually anywhere.

Unlimited payroll runs for any state.

Contractor payment option without a monthly base fee.

Ability to cancel at any time.

Top-notch employee portal access.

Automated processes and app integration.
Health benefits available in all states. (Paychex and Rippling offer expanded benefits via PEOs.)

A separate mobile payroll app. (Roll by ADP is a chat-based, mobile payroll app.)

Same-day deposit options. (QuickBooks has same-day direct deposit options.)

Monthly fees of $5 or less per employee or contractor. (Square, Patriot and Onpay have lower per person fees.)
Unlike some of its competitors, Gusto does not charge a setup fee. When creating the initial payroll account, you can request free payroll setup assistance from Gusto or tackle the 10-step online setup process yourself.
Start by selecting the best Gusto plan for your business. All plans offer integrated payroll, benefits and HR, with higher tiers offering more customizable features and the Concierge level providing dedicated support from certified HR experts. You have the flexibility to upgrade or downgrade at any time.
Next, you have the option to choose and set up benefits for your team. Some benefits, such as the Gusto Wallet app, are available at no cost. Others, like 401(k) plans, have a monthly and per-participant cost (with benefits pricing available on the Gusto website).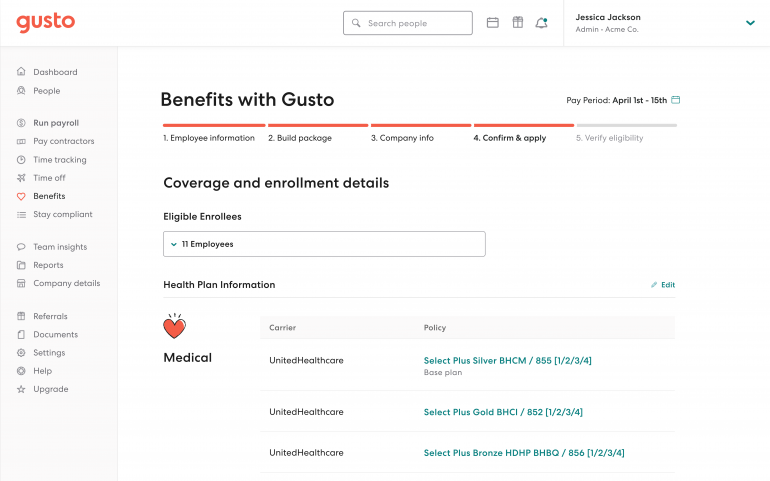 Gusto can help you build a benefits package to fit your company's needs and budget, or you can compare various medical, dental and vision plans and providers on the app to find the best fit yourself (assuming you live in a state where the company offers health benefits administration services). You can also set up 401(k)s, 529 savings accounts, health savings accounts, flexible spending accounts, commuter benefits, workers' compensation and life and disability insurance.
Nerdy tip:
With Gusto, it's also possible to add certain benefits you set up through other providers. When you move your health insurance over, for example, Gusto will start handling the administration of those plans. But that's not the case for 401(k)s; if you want Gusto to handle those, you'll have to set them up through the app.
Gusto stands out in its ability to help businesses build a full payroll, benefits and HR process that saves time and simplifies administration.
Top-notch employee portal access
Gusto gives your employees the ability to manage many tasks themselves, through their own Gusto employee portal and the Gusto Wallet mobile app. Employees can complete onboarding paperwork, select benefits from the plans made available and access pay stubs and other records through the portal on their own, saving you time. Once employees enroll in benefits through their accounts, payroll deductions are updated automatically.
Gusto also gives lifetime account access to employees as long as there's an email associated with the accounts. If an employee leaves the company, and years later needs access to their pay stubs, they can still log on and download them through their Gusto account. Most small-business payroll services don't offer lifetime access to former employees.
Many ways to automate processes and integrate apps
Gusto provides numerous ways to automate payroll and HR tasks. At no additional cost, you can set payroll to run automatically, with a reminder sent to you the day before. Gusto will calculate, file and pay your local, state and federal payroll taxes automatically, and will even report new hires to the government for you. While competitors offer the ability to automate tasks, there are often additional fees attached.
Regardless of your plan level, Gusto also enables you to integrate with many types of third-party accounting, time tracking, expense management, point-of-sale and HR software. Integrations include popular accounting apps like QuickBooks Online, FreshBooks and Xero. The ability to sync data with Gusto means less time spent on manual entry.
With any subscription level, you'll be able to get customer support via phone or chat from actual humans — specifically, Gusto's representatives in San Francisco or Denver. That's a big plus, especially for those who are new to setting up payroll and benefits. One caveat: Customer support isn't available during weekends.
If you prefer completing tasks on your own, Gusto also provides an extensive online Help Center, step-by-step guides, videos and FAQs.
The cons of using Gusto are few, but there are some items you should be aware of.
Some benefits not available in all states
While Gusto offers payroll services and 401(k)s in all 50 states, its services for health benefits, HSAs, FSAs and commuter benefits come with some geographic restrictions. If you intend to offer these benefits, make sure they're available in a state where you and your employees are based.
If you will need to process payroll while on the go, you should know that Gusto does not offer a mobile app specifically for this purpose. Mobile access is available through a web browser, which on some pages can result in a need for extra scrolling.
Gusto is recognized for its robust suite of payroll, benefits and HR tools, but it may not be the best fit for everyone. Here are other options to consider.
QuickBooks Payroll: Same-day direct deposit
While Gusto offers next-day direct deposit of your employee's pay at the Complete and Concierge level, Quickbooks Payroll provides same-day direct deposit with its higher tiers. That means you can submit payroll by 7 a.m. PT on payday, and your employees receive their money that same day. Plus, even though Gusto integrates with QuickBooks, if you already use Intuit accounting and tax software, adding QuickBooks Payroll may be a logical next step.
Square Payroll: Similar features for a lower monthly fee
Square Payroll's monthly fee starts at $5 per month per person with a $35-per-month base price, compared with Gusto at $6 per month per person and a $39-per-month base price. Like Gusto, Square Payroll charges no setup fee and includes features to automatically file payroll taxes (although not at the local level), complete an unlimited number of monthly payroll runs and manage employee benefits.
Gusto Payroll Plans start at $39 per month (base) and $6 per person per month. Read review.

RUN Powered by ADP Plans start at $59 per month (base) and $4 per person per month. Read review.

OnPay Payroll Plans start at $36 per month (base) and $4 per person per month. Read review.

Square Payroll Plans start at $35 per month (base) and $5 per person per month. Read review.

QuickBooks Payroll Plans start at $45 per month (base) and $4 per person per month. Read review.

Wave Payroll Plans start at $20 per month (base) and $6 per person per month.

Providers may offer lower promotional pricing.