RUN Powered by ADP Payroll Review: Cost, Features, Alternatives
ADP's roots in the payroll business stretch back to its founding in 1949.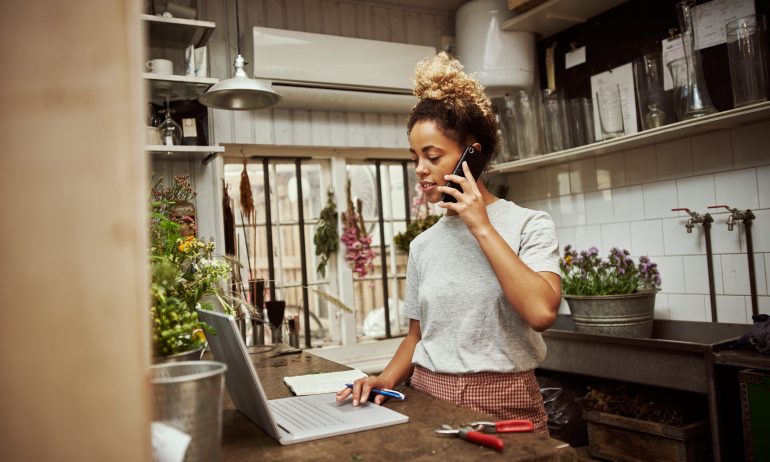 Many or all of the products featured here are from our partners who compensate us. This may influence which products we write about and where and how the product appears on a page. However, this does not influence our evaluations. Our opinions are our own. Here is a list of our partners and here's how we make money.
ADP has been a giant in the payroll processing industry for decades and remains the leader by market share. RUN Powered by ADP, an online payroll product for small businesses backed by the company's 70-plus years of payroll expertise, is geared to enterprises of one to 49 employees.
ADP RUN offers several strong payroll and benefits features and solid customer support. It's a good choice if you are looking for scalability and the option to select add-on features, such as employee retirement or insurance options, that are important to you.
| | |
| --- | --- |
| | Pricing starts at $59 per month plus $4 per employee. Businesses can request a price quote on the company's website, and introductory rates are sometimes offered. |
| | Yes. All four plans calculate, file and deposit federal and state payroll taxes. |
| Ability to manage employee benefits | Good. Benefits administration, retirement, health insurance and workers' compensation features are available as add-ons. |
| Employee access to portal | Excellent. Employees can manage their direct deposit accounts, view pay history and prior year W-2s or 1099s through the Employee Access portal or through ADP Mobile Solutions. |
| | Good. At no additional charge, ADP provides continuous support from payroll experts to answer complex payroll questions from businesses running payroll. For HR-specific questions, the Complete and HR Pro plans offer phone access to a designated team of HR Business Advisors, available for one-off questions and scheduled check-ins. |
| | Good. Its user interface is simple and straightforward. You are alerted to confirm each step of the process and can easily move between a computer and mobile device. |
How does RUN by ADP payroll work?
RUN offers a choice of four packages that help customers manage their payroll, tax and compliance functions, and can be expanded to support HR and recruiting as well. It is used by more than 600,000 small-business clients, according to ADP.
After getting RUN set up, you can initiate a payroll run from the main dashboard, review employee time cards, edit hours and rates, preview the cash needed for the pay period and complete your payroll run from your computer, smartphone or tablet. A short demo is available on the ADP website, or you can schedule a live demo through a sales rep.
Data security, privacy and fraud management are an integral part of ADP's products. You will receive security updates and alerts from ADP to help you protect your business and employees. Both internal and external audits of technology, security and related controls are conducted across the enterprise multiple times a year.
You can request a price quote on the company's website, and introductory rates are sometimes offered. Pricing is tiered across four product bundles.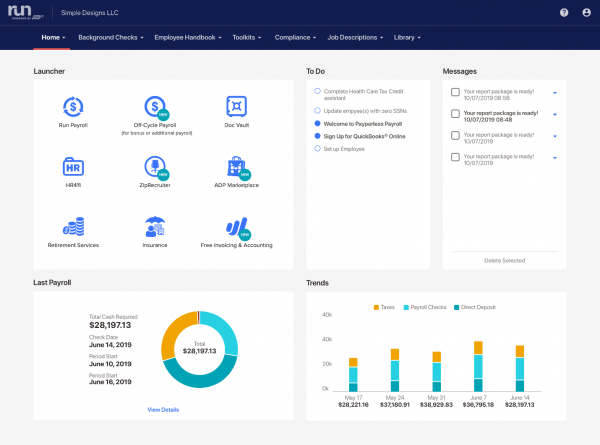 ADP plan pricing and features
ADP also offers other payroll products beside RUN, and each caters to different business sizes and needs. Roll by ADP, for example, is a chat-based payroll app that's ideal for businesses with 10 employees or less. The company has midsize and enterprise solutions for businesses with 50 employees or more, too.
Top-notch payroll features, even with basic plan
RUN offers an impressive list of key payroll features, even at the lowest-tier Essential plan. You can run payroll from your office computer or a mobile device and pay your employees by check, direct deposit or through ADP's direct debit card. RUN offers expanded tax filing services that include responding to inquiries from taxing agencies on your company's behalf. Payroll and HR reports, W-2s and 1099s, employee access and new hire onboarding features are also included with the Essential plan.
Add-ons such as time tracking and retirement services
As your payroll and HR needs change, you can add other ADP offerings such as time tracking, retirement services and insurance benefits. ADP's Time and Attendance feature is a cloud-based tool that allows you to schedule employees and have them clock in and out of shifts. The company's retirement services help you select retirement savings accounts to offer to employees. Insurance benefits include access to health care plans from an established network of providers and pay-as-you-go workers' compensation insurance.
For larger companies with 50 or more employees, ADP offers Workforce Now, a configurable, cloud-based HR platform. It's relatively simple to upgrade from RUN to Workforce Now if you need to make the transition.
Built on a single database, Workforce Now helps you manage people, reduce administrative tasks and stay compliant. Key features include HR management, payroll and tax filing, time and labor management, talent management, employee engagement, benefits administration and cross-border capabilities.
Lack of pricing transparency
Unlike some ADP alternatives, the company doesn't provide the cost of its RUN payroll plans on its website. To get a price quote for the plan and features you want, you'll have to talk to a sales rep. This makes it difficult to quickly compare RUN payroll options against other similar payroll plans.
Additional cost for many features
To get all the features you want, you may have to purchase a higher-tiered plan or pay for add-ons. HR support is limited at the base level. For expanded HR features, you will need to move up to either the Complete or HR Pro plan.
Pricing: Starts at $45 per month plus $4 per person per month.
Pros: QuickBooks Payroll offers unlimited payroll runs at every plan level, while RUN charges you based on frequency. If you currently use QuickBooks Online, accounting integration will be the easiest with QuickBooks Payroll, although RUN also integrates with Quickbooks Online and other accounting software.
Cons: Without the additional purchase of QuickBooks Online, integration with other products is limited. Plus, you'll have to pay for a higher-tier plan if you want help with payroll setup services and time-tracking features.
Pricing: Starts at $39 per month plus $6 per person per month.
Pros: Gusto has pricing that is simple and straightforward, while RUN requires you to get a quote from a sales rep. Gusto offers health benefits administration, employee benefits and unlimited payroll runs at its lowest-tier Core plan. To get similar features with RUN, you would need to purchase add-ons.
Cons: Gusto's expanded HR features offered by the Concierge plan come at a price: $149 per month plus $12 per month per person. And its live support has limited hours, while RUN promises certified payroll pros available 24/7.