RUN Powered by ADP vs. QuickBooks Payroll: Pros, Cons, Differences
Decide how important HR add-ons and recruiting tools are to your small business before landing on a payroll software product.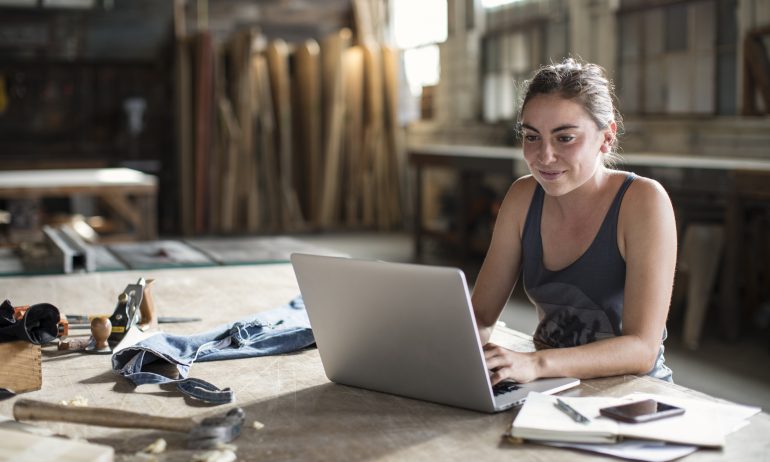 Many or all of the products featured here are from our partners who compensate us. This may influence which products we write about and where and how the product appears on a page. However, this does not influence our evaluations. Our opinions are our own. Here is a list of our partners and here's how we make money.
If deciding between RUN Powered by ADP and QuickBooks Payroll has left you at a fork in the road, don't worry — it's not a bad place to be. Both can be excellent choices, backed by reliable, market-leading companies.
In the end, though, RUN Powered by ADP gets our nod for top choice. With more than 70 years' experience in payroll services for businesses of all sizes, ADP cuts checks for about 22 million American workers. RUN (ADP's main product for small businesses) offers a rich feature set and a wide range of integrations. It's especially well-suited for larger small businesses that need recruiting tools and a diverse array of employee benefits outside of health care and retirement plans.
However, if you already use QuickBooks Online for accounting and plan to continue doing so, you can easily roll QuickBooks Payroll into your existing plan and integrate the two products under the same umbrella.
If you're not a QuickBooks user, however, QuickBooks Payroll doesn't integrate with outside accounting software, and that could be an issue for business owners who don't want to manually enter payroll expenses.
Premium and Elite plans include QuickBooks Time for time-tracking.

Convenient for QuickBooks Online users.

Automatic payroll for salaried employees on direct deposit.

More accounting integrations and benefits options.

Automatic payroll for salaried employees and hourly employees with consistent hours.

Accounting integrations are limited to QuickBooks Online.

Time-tracking features cost extra.
Plans, pricing and details
Get 50% off the first three months or a free 30-day trial.

Core: $45 per month plus $4 per month per employee.

Premium: $75 per month plus $8 per employee.

Elite: $125 per month plus $10 per employee.

Quote-based. Starts at $59 per month plus $4 per month per employee.

Small businesses with 1-50 employees that use QuickBooks Online for accounting; companies that want to sign up for a plan online and get set up ASAP.

Small businesses with 1-49 employees that need a strong HR component; companies looking for customizable plans.

Yes. QuickBooks automatically handles payroll taxes in all three plans.

Yes. Tax calculation and filing is included in all four plans.

Ability to manage employee benefits

Good. QuickBooks Payroll offers benefits through SimplyInsured and retirement plans through Guideline. They can be added to any plan.

Excellent. ADP lets you choose from multiple group health care options, in addition to solutions that help employees pay off student loan debt and save on everyday shopping expenses. These can be tacked onto any plan.

Employee access to portal

Excellent. The Workforce portal gives employees access to their pay history, W-2s and how much paid time off they have remaining.

Excellent. Employees can keep track of their pay history, view attendance, see W-2s from the past three years and request time off.

Good. The Core plan comes with messaging and call-me-back support from 6 a.m. to 6 p.m. PT Monday through Friday. Premium and Elite plans come with 24/7 priority phone, messaging and call-me-back support, along with options to video chat or schedule callbacks.

Good. 24/7 phone support.

Excellent. Its user interface is intuitive and user-friendly. It walks users through each step of the setup and provides time-saving automation options.

Good. Its user interface is straightforward and implementation associates can help guide clients through the setup process. RUN plans also include payroll automation options.
RUN Powered by ADP vs. QuickBooks Payroll: Which is better?
Transparency: QuickBooks Payroll wins
While QuickBooks Payroll lists pricing for each plan tier and lets you sign up online, RUN's quote-based model requires business owners to spend extra time entering their information and speaking with a representative before finding out whether the cost makes sense for them. For pricing information, potential clients submit their business's number of employees, ZIP code, company name, email address, full name and phone number. After entering the info, a pop-up window says, "In just a few minutes, you'll hear from an ADP expert to discuss your business needs." If you don't want to wait for a call, ADP provides a phone number you can dial to speak with someone sooner.
While greater transparency is preferred, RUN's quote-based model could also mean you get a payroll plan that's more tailored to your business's specific needs. You just have to be willing to spend the extra time getting the quote.
Unlike RUN, QuickBooks Payroll only integrates with QuickBooks Online for accounting. If you're already a fan of QuickBooks' accounting solutions and don't plan on switching to a different accounting software product in the future, this shouldn't be a problem. Conversely, RUN integrates with QuickBooks Online in addition to Xero and Wave. If you use an accounting software product outside of the QuickBooks suite, RUN might be the better choice. But make sure the integration between your ADP payroll software product and your accounting software product receives positive reviews. Just because an integration exists doesn't mean it's strong, and no one wants to waste time solving connection issues.
While you can add Guideline retirement plans and SimplyInsured health benefits to any QuickBooks Payroll plan, RUN offers more options outside of the norm, like telemedicine solutions, employee counseling and dependent care options. Business owners who use RUN can also let employees deduct money from their paychecks and put it into a student loan account with the Gift of College add-on. While none of these are absolutely necessary to have, they could be nice to offer if your business has a larger number of employees.
If health, vision and dental plans will suffice, however, it might be more helpful to compare QuickBooks Payroll's and RUN's core benefits offerings and pricing. The former provides all health benefits through SimplyInsured, while RUN offers health care plans through Automatic Data Processing Insurance Agency, Inc.
QuickBooks Payroll and RUN Powered by ADP both offer HR support, but with more integrations available, RUN is better equipped to build a robust HR ecosystem, especially after the COVID-19 pandemic. RUN released new "return to the workplace" tools that establish contact tracing and help monitor how comfortable employees are with coming back to the office. Additionally, RUN's Enhanced plan and up includes ZipRecruiter and background checks to assist in the hiring process. All plans also use HR checkups that help business owners learn which policies and handbooks they should consider establishing.
Mammoth, which partnered with QuickBooks Payroll to provide HR support, offers employee handbook and onboarding tools as well as the ability to customize job descriptions and establish workplace policies. Ultimately, both payroll software products include strong HR solutions — ADP just gives you a few more options.
How to choose payroll software
In addition to integrations and pricing transparency, here are a few other features to take into consideration if your small business is on the larger side or has the potential to grow.
Thinking ahead is key while choosing any type of small-business software. Each software product comes with its own learning curve, even if it's user-friendly, and the hope is you only have to go through that initial setup process once. Make sure your payroll software integrates well with your accounting and point-of-sale solutions, at the very least, and is equipped to offer the benefits and HR options you might need if your business grows. The same goes for automation options. As your team expands, investing in software that automatically runs payroll for you can save a lot of time. Both RUN Powered by ADP and QuickBooks Payroll offer these options.
If you have more hourly employees or contractors than you can manage yourself, make sure the payroll software you go with has solid and affordable time-tracking features. For business owners who run job costing reports and oversee projects at multiple work sites, the ability to clock in and out on a mobile device and register location is also ideal. Time tracking isn't as crucial for small businesses with just a handful of employees.
QuickBooks Payroll's Premium and Elite plans come with QuickBooks Time, which is a huge plus. While RUN Powered by ADP can integrate with QuickBooks Time as well as other options, these are considered add-ons and cost extra.