Square Payroll Review 2022: Benefits, Drawbacks, Alternatives
Square Payroll offers transparent pricing, flexible payment options and an affordable contractor-only plan.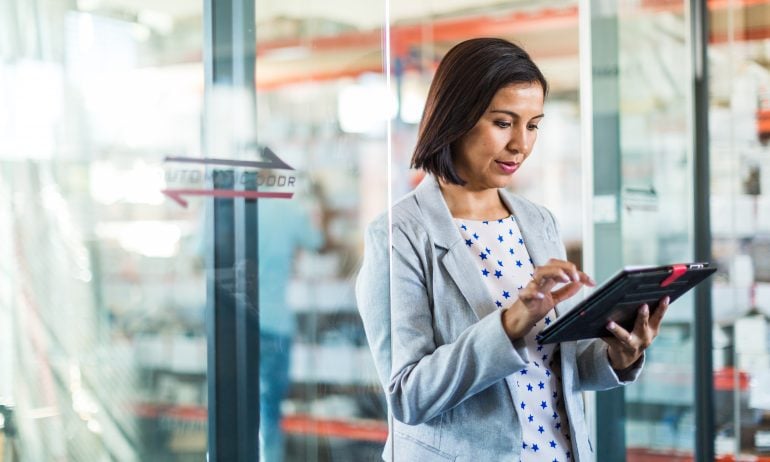 Many or all of the products featured here are from our partners who compensate us. This may influence which products we write about and where and how the product appears on a page. However, this does not influence our evaluations. Our opinions are our own. Here is a list of our partners and here's how we make money.
Square Payroll is an affordable, easy-to-use payroll option for small businesses, especially those that rely on hourly employees. In addition to sending employees their paychecks, it can also be used to manage scheduling and time-tracking, tax withholding and filing, and the administration of benefits, such as health insurance and retirement savings.
Square Payroll stands out from the competition with its transparent pricing, affordable contractor-only plan and flexible payment options for employees — for example, the ability to receive a portion of a paycheck in advance of payday. If you use the company's other products such as Square's point-of-sale system or a Square Card, the company's debit card, you'll get access to more features.
Contractors and employees: $35 monthly base fee plus $5 monthly fee per employee.

Contractors only: $5 monthly per person paid.

Yes, payroll taxes are automatically calculated, withheld and sent to federal and state agencies.

Offers benefit administration add-ons?

Yes, it provides employer-sponsored plans through partners for an additional cost. Options include:

Workers' compensation insurance.

Health care, dental and vision insurance.

Health savings account (HSA).

Flexible spending account (FSA).

Employee access to portal?

Yes, employees have access to Square's employee portal through an app called Team. On Team, employees can:

Track hours and view timecards.

Track historical earnings.

Update personal information.

Complete onboarding tasks, like filling out and submitting W-4 forms.

Yes, by email at any time or by phone 6 a.m. through 6 p.m. PT, Monday through Friday.

Yes. Square has a modern, intuitive user interface with a mobile app that can be accessed by both employers and employees.
How does Square Payroll work?
Square Payroll supports four payroll frequencies: monthly, weekly, two pay periods per month, or every two weeks. The company automatically calculates taxes based on your location and sends year-end W-2s. The standard pay date is five business days after payroll day, but employers in most states can choose to pay employees immediately, 24/7, if the funds go from the employer's Square Balance account to the employee's Cash App.
You can offer benefits to employees through Square's partners for additional fees. Or, you can use providers you've selected elsewhere. Even if you don't sponsor any workplace benefits, Square offers health care and retirement savings options directly to anyone whose employer uses Square Payroll and is willing to pay for these add-ons.
All Square Payroll users also get free access to Square's Team app and a majority of the labor-management features in the Team Plus plan (which normally carries a monthly fee). Employees can submit their availability via Square's Team app, managers can create schedules, and employees receive a copy of their shift schedule right away. Employees can check their earnings for a certain pay period through the Team App and even access a portion of their paycheck before payday. This type of access to information and funds can be especially useful for those in service industries, where schedules and pay can fluctuate.
Pay employees and contractors 

$35 monthly subscription fee.

$5 per employee per month.

Generate and file W-2s and 1099s.

Automated state and federal tax filings and payments.

Employee time tracking, plus PTO tracking.

Run payroll automatically.

Automatically calculate benefit deductions and contributions.

QuickBooks Online and Square POS integrations.

No base monthly software fee.

$5 per contractor per month.

QuickBooks Online and Square POS integrations.
Benefits of Square Payroll
Straightforward pricing and no contracts
It's easy to determine what Square will cost with its straightforward, transparent pricing structure. Some competitors, like ADP, don't publish their pricing structures. Compared to other options, it's also relatively affordable. Because Square doesn't lock you into a contract, there's no added cost if you need to cancel. Square also allows businesses to pause their subscription without a cost, which could be a good fit for seasonal businesses.
Affordable contractor-only option for small teams
Square's contractor-only payroll service is an especially affordable option for businesses with just contractors on the payroll. Instead of paying a monthly flat rate and per-person fee, you just pay $5 per person paid per month.
Flexible payment options for employees
With Square Payroll, employees using direct deposit will get paid five business days after each pay period ends, assuming the payroll is processed on time. But there are other payment methods, too. If you pay employees from funds in a Square Balance account — which is linked to a Square Card — employees receive payment the next day through direct deposit or instantly if they use Cash App (which is owned by Square's parent company, Block).
If employees need cash before payday, they can access up to half of their earned wages up to a limit of $200 per transfer, a service provided by Square at no cost to the employer. Employees in most states can transfer money to the Cash App for free, or to a linked debit card or bank account for a fee of 1% of the funds transferred.
Drawbacks of Square Payroll
Some features require using other Square products
You don't need to buy into Square's entire ecosystem of services to use Square Payroll, but you might miss out on some of its useful features if you don't. For example, if you use a Square point-of-sale system, you can track and import tips and commissions automatically to Square Payroll. Without the Square POS, this could be a more time-consuming process. If you have a Square Balance account, you can make next-day or instant payments to your employees; without one, it could take five days for direct deposits to land.
If you're looking for a payroll service that provides specific reports, Square Payroll likely isn't your best choice. You can use it to run basic customized reports — for instance, to show paycheck details, employee totals or company totals from a certain date range — but not more detailed information about taxes, garnishments or labor distribution.
Square Payroll alternatives
Gusto: Better early paycheck access
The payroll and HR software Gusto also gives employees a way to access their paycheck before payday — but unlike Square Payroll's advances, employees can get the money to a bank account or a Gusto debit card for no fee. Gusto Cashout, a feature available in 40 states, allows employees to access up to 40% of their paycheck, up to twice a month. Deposits show up in employees' bank accounts as soon as the next day. With Square Payroll, employees can get no-fee early paycheck access if the money is deposited to the employee's Cash App account, but debit card and bank account deposits come with a 1% fee. Gusto starts at $40 per month plus $6 per month per person on the payroll.
While Square Payroll's reporting is relatively basic, Paycom's is more comprehensive. You can run reports on approved expenses, wages and taxes, garnishments, labor allocation, workers' compensation or employee turnover by department. Unlike Square Payroll, Paycom doesn't list its prices online.