10 Best Home-Based Franchises for 2022
You can operate a franchise from home. Explore home-based franchise ideas that might fit your skills and interests.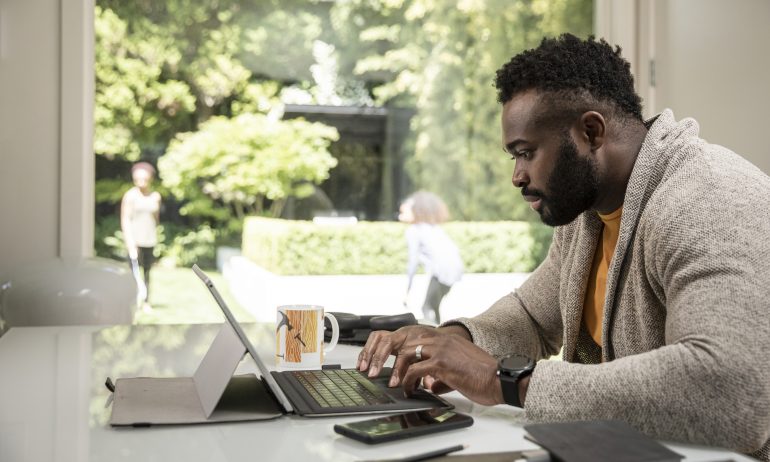 Many or all of the products featured here are from our partners who compensate us. This may influence which products we write about and where and how the product appears on a page. However, this does not influence our evaluations. Our opinions are our own. Here is a list of our partners and here's how we make money.
There are a lot of benefits to starting a home-based business. You don't have to commute, you can work in your comfy clothes, and you're in control of your schedule—to name just a few. What if you could combine all the benefits of a home-based business with those of a franchise? Well, you can.
There are a number of franchises that you can operate out of your home. With a home-based franchise business, you get the best of both worlds. But if you're not sure what your options are, we're exploring some home-based franchise business ideas so you can find the one that meets your interests and skill set.
What is a home-based franchise?
A home-based franchise is a business that you operate and manage primarily from your home. In some cases, you won't spend all of your time at home—you may be meeting clients at their home or office. However, a home-based franchise ensures that you don't have to rent office space for your business. Most home-based businesses allow you to do the majority of your work over the phone or online.
One of the key differences between a home-based franchise and other home-based businesses is that a franchise requires that you have consistent interaction with the owner of the franchise system (also known as the franchisor), who will offer their guidance and be involved in your business decisions. These are some of the franchise advantages that draw people to this type of business model. By receiving support from a franchisor, you don't have to go it alone.
Best home-based franchise business options
If you like the sound of joining a home-based franchise, here are 10 of the best options to consider, as well as some of the franchise fees you'll be responsible for.
Cruise Planners is a home-based franchise business and American Express travel representative, which means you'll benefit from brand recognition right away. This franchise lets you connect travelers with their ideal cruise vacation, and they've also expanded to include land-based travel. You don't need prior travel experience to open a Cruise Planners franchise of your own, and you'll receive comprehensive training.
Investment amount: $2,295 to $23,617
The GymGuyz franchise is an in-home personal training business that provides individualized fitness training for individuals, groups, and corporate offices. While much of the administrative work can be done from home, if you'll also be teaching the classes yourself, you will have to travel to your customers.
Investment amount: $53,850 to $120,409.80
Another home-based franchise business is Bricks 4 Kidz, which gives you the tools you need to teach the fundamentals of science, technology, engineering, and math to kids through building with Legos. Their project-based lessons are ideal for students ages 3 to 13. Similar to GymGuyz, while you won't need office space (other than your home), you will likely have to travel to your clients' homes, unless you hire employees to handle that aspect of the job.
Investment amount: $31,275 to $52,775
If you have content creation, advertising, or sales skills and love to promote your neighborhood's small businesses, you may want to open a home-based franchise business with Coffee News. This community-centric weekly publication is distributed to local restaurants and cafes so people have something to read while they wait for their table or order. Coffee News offers startup training and marketing support to franchisees, as well.
Investment amount: $9,750 to $10,750
Budget Blinds is the top window coverings franchise in North America and has over 25 years of business success, which means you'll automatically benefit from their brand and name recognition. By opening your own home-based franchise with Budget Blinds, you can help your customers find the right window treatments for their home.
Investment amount: $110,340 to $234,370
6. Seniors Helping Seniors
The Seniors Helping Seniors franchise offers non-medical, in-home care and home maintenance services to senior citizens. If you're a people person who loves helping others, this could be the perfect franchise for you. Services include light housekeeping, cooking and shopping, pet care, yard work and small repairs, mailing bills, and personal care assistance. You'll also receive ongoing support, training, and marketing resources through this franchise.
Investment amount: $86,785 to $141,390
If you love working with animals, then The Dog Wizard may be the perfect franchise for you. This business provides obedience training, separation-anxiety management, socialization, and aggression rehab for dogs. The Dog Wizard franchisee training program offers training to both become a business owner and receive a certification as a dog trainer.
Investment amount: $42,000 to $52,250
Because Kona Ice is a mobile business, you can skip the hefty overhead costs you would incur if you had to rent traditional office space. With over 1,200 franchises across the country, this franchise is well-known for its shaved ice desserts. Plus, they've been number one in franchisee satisfaction for eight years now. This franchise offers in-depth training at their headquarters and ongoing support, so you can learn the ropes quickly and continue to grow your business.
Investment amount: $120,225 to $143,025
Ecomaids provides environmentally responsible, non-toxic home cleaning services. Not only does this franchise offer ongoing training and support, but they also offer continuous renewal terms free of charge, so you can own your Ecomaids franchise for as long as you want to, with no renewal costs down the road.
Investment amount: $125,530 to $143,815
10. Digital Marketing Training Group
If you want to own your own digital marketing business, but don't want to build one from the ground up, consider joining the Digital Marketing Training Group franchise. While a background in marketing will certainly help for this type of business, franchisees are not required to have marketing experience. As a franchisee, you'll receive training to learn how to provide all of the services you'll need to run your business.
Franchise fee: $27,000 or $69,000

Investment amount: $26,000 to $68,000
What to look for in a home-based franchise
When you're looking for a franchise business to operate out of your home, there are a number of characteristics that need to be evaluated to make sure that the franchise is a good fit for you and your skills. After all, buying a franchise isn't a decision that should be made lightly.
1. Affordable initial investment
One of the most important things to evaluate when considering a franchise is the required initial investment. While there are options for financing your investment in the franchise, it's important to be realistic about whether or not you can afford the franchise fees, initial investment, and ongoing fees. Fortunately, there are franchise financing options, so you won't have to rely on your savings alone. Even so, though, you'll want to make sure you choose a franchise that doesn't stretch your finances too thin.
2. Training and growth opportunities
When you're evaluating your different home-based franchise business choices, you'll want to find out if the franchise offers training and growth opportunities for their franchisees. All of this information should be included in the franchise agreement.
As a franchisee, you're new to the business. And while you may join a franchise in an industry in which you already have experience, that's not always the case. Especially in the latter situation, you'll want to make sure your franchisor will provide you with all the tools you'll need to be successful in the business.
While there are plenty of dream franchises out there that might sound like a blast to operate, you have to be realistic when choosing the right franchise for you. If you need a low initial investment and a flexible schedule, look for franchises that offer those perks. If you're ready to invest a hefty sum and work around the clock, go for it. The best franchise business for you is the one that best fits your needs.
If you're considering becoming a business owner, there's no doubt that joining a franchise provides a great opportunity to enter the business world while minimizing some of the typical risks that come with starting a new business.
Even so, joining a franchise is still a big step, and there will be several factors to consider before deciding if it's the right move for you. One of the biggest things to consider will be the cost. As we mentioned, there are several costs of franchising to consider, and even if you qualify for financing, you want to make sure you don't bite off more than you can chew.
This makes starting a home-based franchise especially appealing, as you'll be able to skip many of the overhead costs that typical businesses are weighed down with—especially renting or buying commercial office space.
That said, you still have many options to explore. Hopefully, this list of the best home-based franchises gave you a good place to start, but make sure you do your due diligence, research your options, and when you do reach out to franchisors, make sure you speak with as many current and former franchisees as possible to get the most complete picture of what you can expect. Good luck!
This article originally appeared on JustBusiness, a subsidiary of NerdWallet.