The Complete Guide to Buying a Franchise
Franchises provide a proven business model but require significant upfront costs.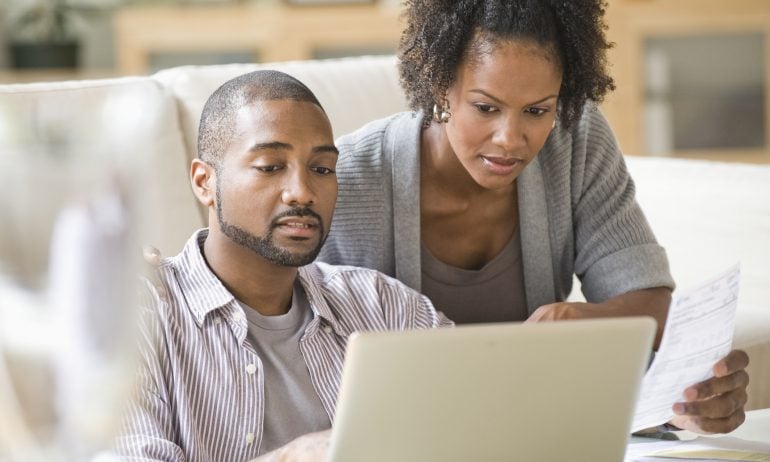 Many or all of the products featured here are from our partners who compensate us. This may influence which products we write about and where and how the product appears on a page. However, this does not influence our evaluations. Our opinions are our own. Here is a list of our partners and here's how we make money.
There's almost no possibility you haven't walked into a franchised business. Restaurants, spas, exercise studios — they're everywhere. Franchises can be highly lucrative with the right combination of management and location, but they can also have a big upfront investment. Here, we'll review the ins and outs of buying a franchise, so if you're interested in pursuing one, you'll know exactly the stops on the road ahead of you.
If you're unsure of how franchising works, that's where this guide comes in. There are a few different parts of owning a franchise, including doing your research, getting hands-on, understanding your finances and launching your business. Understanding each is key to picking the right franchise and getting off on a positive foot for future success.
Owning a franchise: The basics
Advantages to buying a franchise
Potentially the biggest advantage of buying a franchise is that you have a corporate framework in which to work. Beginning a business from scratch can be a huge undertaking that not everyone is game for — you have to think of everything from beginning to end.
With a franchise, customers already know your brand name, operating procedures are established and the greater marketing plan generally comes directly from corporate. You're also going to get training from headquarters, which can make you an expert much faster. In general, these factors can reduce risk for nervous entrepreneurs.
Potential drawbacks to owning a franchise
Of course, owning a franchise isn't all roses. First and foremost, there's the upfront cost. Franchises can be expensive, especially in high net-worth and busy markets, which means a big investment for a business that isn't established yet.
A lack of flexibility may also feel a bit stifling for some entrepreneurs; the corporate framework can be very helpful at times, but if you want to break out of the box with new ideas or offerings, you might not be able to. After all, you're representing not only your business, but also a larger company as a whole. A consistent experience across locations is very important for a franchise.
Finally, there's the question of profits. No matter how well you do, you'll always be paying some form of franchise fees to headquarters, which means all of the money you make isn't your own.
Now that you understand some of the pros and cons of buying a franchise, let's explore the steps to take in order to make it happen.
Finding the franchise opportunity
The first part of buying a franchise is homing in on the right opportunity. There are lots and lots of options — so choosing wisely is important.
Find the right business for you
To begin, start researching franchises. You might want to begin to narrow your search by choosing an industry or sector — especially one that excites you and aligns with your interests and skills. For instance, consider food, beauty, home services, real estate, hospitality and fitness, and then take a look at franchise opportunities within the area that interests you most.
Also an important consideration: Even if you're interested in a certain franchise, not every company will have opportunities in your area. Maybe the company isn't in your market yet, maybe there's too much competition from an existing franchise location, or maybe they've decided your market doesn't have the right demographic to succeed.
Finally, you also want to know what you can afford based on your own net worth and budget as well as what's a fit for your business experience and personal expertise.
Understand costs, fees and qualifications
Every franchise has costs involved to open: This is generally what's called the "upfront investment." These vary widely — think from a few thousand dollars to hundreds of thousands of dollars. And, as we mentioned, the more expensive your market, the higher your investment will be. Knowing what you can afford is key to opening a franchise.
You can generally find some information on upfront costs on a company's franchise website, but you'll want to contact the company (there's usually a form or an email) expressing interest to get a better sense of what kind of costs are involved. You'll also want to find out what the royalty fees are. These will be contained in the franchise disclosure document, or FDD.
Some franchises will also require certain personal qualifications in order to consider you as a franchisee. These can include your personal finances, such as net worth and credit score, as well as industry and management experience.
Read the fine print — and the reviews
As you're going through your FDD, be thorough in your research. Ask questions to clarify anything that isn't explicit. And make sure you have a full sense of the costs involved; often, franchises require investment in areas such as marketing and promotion, signage, inventory and ongoing costs that are substantial, but not always emphasized.
You'll also be well served to talk to other franchisees to get a sense of their experiences. A good place to begin is with the Better Business Bureau and Unhappy Franchisee, which often give an honest assessment of what being in the trenches of owning a specific franchise is really like.
If possible, attend a Discovery Day
A large portion of franchises, both big and small, offer what's called a "Discovery Day" in which prospective franchisees spend time at the corporate headquarters or in an existing franchise location. This will give you a sense of operations, corporate culture, requirements and what your day-to-day will be like. Also, they're getting a sense of you, too.
Remember: This is an important part of the process. If your visit leaves a bad taste in your mouth, listen to your instincts — there are lots of opportunities available, and you don't want to spend a ton of money to own a franchise that isn't a fit.
Buying a franchise isn't cheap, it's true. You'll need a plan for how much you'll need — and how to get it.
Identify how much capital you need
Found a franchise you're ready to move forward with? Having a sense of your costs is vital, so make sure you have a final number — or as final as possible. Remember that this includes the whole picture: costs to open, ongoing costs, franchise fees and real estate fees. You might not have a location yet (more on that in a moment); so if you don't, factor in what you believe real estate might cost you.
You may need to explore financing options, which most people buying a franchise do. This number will help you secure the franchise financing that you need.
Explore financing options
You have several different types of business loan options to finance your franchise. Once you understand your costs, how much capital you'll need and how quickly you need it, you can start to narrow down the right option for you.
Buying and opening your franchise
Once you have the basics and the financing in place, put the final pieces together to open your doors.
A location is a prime part of opening a franchise — and succeeding. You'll want to consider whether you're renting a space or buying a building (though most owners rent, at least in the beginning). Of course, you also have the option to run your business from home if you're not client-facing.
Consider these three important factors when selecting a location:
Your surroundings. Is there a "retail row" in your town? Are there certain businesses that attract a clientele that would be your ideal customer? Consider potential opportunities in these neighborhoods or areas. Of course, you'll want to consider competition, too — being too close could work to your disadvantage.
Foot traffic. Is the area you want to open well-known as an area in which franchises like yours can get customers in the door? You can always try to measure foot traffic by taking a manual count of people who go to stores in the area for a few hours.
Accessibility. Is your prospective location near public transit, or is there ample parking? Remember that accessing your franchise is part of the customer experience.
Note that you might want to finalize your location before you seek financing; some franchises may require you to.
Review and sign your franchise agreement
Your formal contract is called the franchise agreement, and it's a document you should review very, very carefully. This is a binding document that lists your fees, obligations and more. If you have any questions, now is the time to ask them. It's also the time to clear up any discrepancies between any verbal agreements you've made with headquarters versus what's stated in your contract. If there's a dispute, what's in writing will prevail.
This is also a document that your lawyer should review. (And, if you don't yet have a lawyer, now's the time to engage one.)
Attend corporate training
It's very likely that you'll have to attend regional or national training to become an expert and get your franchise up and running. Some companies also offer virtual training. These sessions vary in length and sometimes involve your employees. Understand, too, that you'll likely have to perform ongoing training, including training on new products and technologies, and brushing up on management skills and techniques.
If it feels like you've done a lot to open a franchise — well, you have. Once it's time to open your doors, keep a watchful eye on how things are going, but don't forget to celebrate, too. Depending on the franchise you're a part of, you may be able to enjoy ongoing mentoring and training from the franchisor, making you a more savvy business owner in the years to come.
This article originally appeared on JustBusiness, a subsidiary of NerdWallet.