How to Refund a Payment on PayPal
It's not hard to issue a refund on PayPal, but you won't get your processing fees back.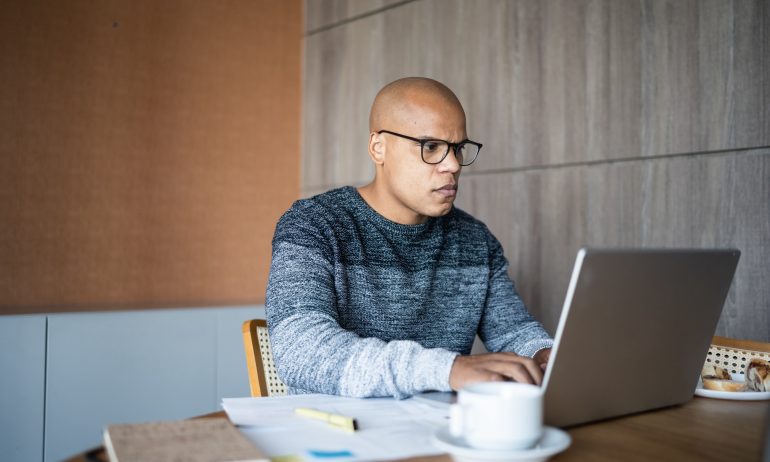 Many or all of the products featured here are from our partners who compensate us. This influences which products we write about and where and how the product appears on a page. However, this does not influence our evaluations. Our opinions are our own. Here is a list of our partners and here's how we make money.
If you accept payments online, issuing a refund from time to time is an inevitable part of doing business. If you need to refund a PayPal transaction, you can do so in just a few steps from your "Activity" page:
Click "All transactions."
It may only take a few steps to issue a refund on PayPal, but there are other considerations to note. When will funds show up in your customer's account? What did that refunded transaction cost? Here are answers to some common questions about the PayPal refund policy and processes.
How long does a PayPal refund take?
PayPal can process refunds the same day they are issued, depending on the original payment method. Because PayPal sends refunds back through the same payment method used for the original transaction, it can take different amounts of time for the funds to show up.
PayPal account balance: same day.

Bank account: up to five days.

Credit or debit card: up to 30 days.
Refunds are paid out of your existing PayPal account balance by default. If you don't have enough money in the account to cover the refund, the full amount of the refund will instead be issued from your linked bank account. The PayPal refund policy indicates that banks may take up to five days to process transactions, so that method can significantly slow the refund.
Is there a PayPal refund fee?
PayPal doesn't charge any new fees when you issue a refund. However, you won't get back any of the processing fees you already paid.
For example, let's say you need to refund a $100 purchase made online. Based on PayPal's current fees for standard debit and credit payments, you would have received $96.52 for that transaction. But Paypal will take $100 out of your account to make your customer whole — meaning you'll ultimately lose $3.48. Use our PayPal fee calculator to estimate how much a refund might cost you.
PayPal isn't alone in keeping fees from refunded transactions, but the practice isn't universal. Stripe also keeps the fees, but Amazon Pay splits the difference, refunding its percent-based processing fee but not refunding the authorization fee.
All of the costs and fees described above apply to refunds you issue voluntarily. Chargebacks (when a customer asks their card issuer to refund a disputed charge) often involve significant fees. For example, PayPal charges a nonrefundable $20 fee when a chargeback is filed for any transaction not covered by its Seller Protection program.
What is PayPal's refund time limit?
Transactions with a status of "Completed," "Pending" or "Cleared" are refundable within 180 days from the transaction date. After 180 days, you can send funds to a buyer in a new transaction with PayPal's standard Send Money function. However, that transaction would incur its own fee: 2.89% plus 49 cents.
That 180-day limit is more restrictive than some PayPal competitors. For example, Square supports refunds for up to one year, and Stripe doesn't limit the time frame for refunds.
Can PayPal issue a partial refund?
For most PayPal transactions, you can issue either a full or partial refund. However, if the buyer used a coupon or gift certificate for the original transaction, PayPal will allow you to issue a full refund only.
As with refunds after the 180-day limit, you could use the "Send Money" function to send a partial refund, but you would have to pay the fee.
How does the PayPal refund policy compare with competitors?
PayPal users have less time to refund transactions without incurring additional fees, and the chargeback fee is higher (plus it's nonrefundable, even if you prevail). The table below compares refund-related policies between PayPal and two leading competitors: Stripe and Square.
| | | | |
| --- | --- | --- | --- |
| | | | |
| | | | |
| Effective cost to refund a $50 credit card payment | $1.99 (2.99% plus 49 cents). | $1.75 (2.9% plus 30 cents). | $1.75 (2.9% plus 30 cents). |
| Chargeback or dispute fee | | | |
Best Payment Processing Companies
Product

Payment processing fees

Monthly fee

Learn more

Helcim

0.40% + 8¢

 

plus interchange, in-person; 0.50% + 25¢ plus interchange, online.

$0

 

Square

2.6% + 10¢

 

in-person; 2.9% + 30¢ online.

$0

 

Starts at $0/month for unlimited devices and locations.

Stripe Payments

2.7% + 5¢

 

in-person; 2.9% + 30¢ online.

$0