How to Start a Photography Business: The Ultimate Guide
Learning how to start a photography business? With the right equipment and focus, you may be able to start today.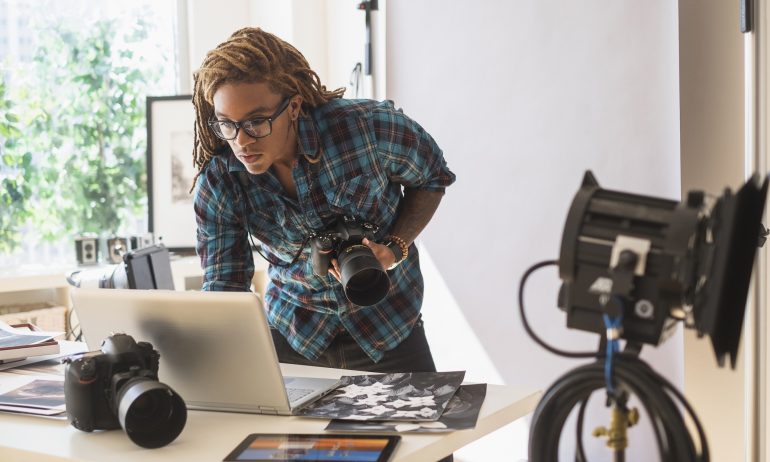 Many or all of the products featured here are from our partners who compensate us. This influences which products we write about and where and how the product appears on a page. However, this does not influence our evaluations. Our opinions are our own. Here is a list of our partners and here's how we make money.
Thanks to the proliferation of smartphones with sophisticated cameras on them (for mobile devices, that is), it seems like everybody wants to try their hand at being a photographer. But not everyone has what it takes to start a business.
There's a vast difference between those who can take the perfect selfie and those who can capture the perfect moment and call themselves professional photographers. If you're wondering how to start a photography business, know there's much more to it than pointing your iPhone and slapping on a filter.
As with any professional endeavor, starting a photography business requires a significant investment of time and money to secure equipment, register your business, and build your portfolio. Luckily, the photography industry startup costs are relatively lower than in other industries. Depending on your focus, needs, and current equipment, you can learn how to start your photography business step-by-step as soon as today.
Step 1: Write a business plan
All business owners should write a business plan—that includes even solo photography businesses. A business plan is critical to outlining your services, understanding your target market, and setting your rates.
When you start thinking about these details upfront, it will help you start and scale your business to the heights you've always dreamed of. It doesn't have to be a lengthy or tedious process either. Be sure to check out our guide on how to write a business plan to get you started.
Step 2: Register your business
Next, you'll want to register your business—meaning you legally establish your business. To do so, you should choose the right business entity for your business and choose a business name.
Many photography business owners register as a sole proprietorship or a limited liability company (LLC). Each legal structure offers certain benefits.
The most popular advantage of sole proprietorships is that they're free to form. However, a sole proprietorship doesn't protect you against personal liability.
Many photography businesses form an LLC because you enjoy additional benefits like reduced liability and choosing to be taxed as a sole proprietorship or corporation. Moreover, having "LLC" in your business boosts your professional appearance.
The entity you choose will have a big impact on your business, from taxes to liability and more, so be sure to consult with a business attorney or tax professional if you're unsure of the right choice for you.
Dedicate some time to thinking about your business name. It will be your potential clients' first contact with your brand, and you want to ensure you strike a good first impression. After deciding on a business name, do a quick secretary of state business search to ensure the name is unique and available.
If you're operating under a sole proprietorship, you'll want to file a DBA when registering your business. As a sole proprietorship, your business name defaults to your own legal name. If you want to operate under a different name (one that mentions photography, for instance), you'll need a DBA. DBA requirements can vary by state, so be sure to do your research.
Step 3: Obtain business licenses, permits, and insurance
Your business now legally exists, but to make sure you continue to operate legally, your next step is to obtain the proper business licenses, permits, and insurance.
Business license and permits
Securing the right business license or permit is key to learning how to start a photography business legally. Be sure to check with your local city hall and state licensing board to ensure you're complying with the necessary regulations.
You may not think it necessary as a photography business, but you should always look into insurance. Insurance adds another level of protection from costly liability disputes if you ever encounter a disgruntled customer. Do some research into business insurance policies to shield you from professional and general liability.
Step 4: Set up EIN, bank account, and credit card
To start doing business, you'll need a separate place for your money to live. That's where EINs, bank accounts, and credit cards come in.
Even if you're a one-person photography business, you should still apply for an employer identification number, or EIN, from the IRS.
Your EIN is the business equivalent of a social security number for an individual, and you will include it when filing your business taxes with the IRS. Moreover, your EIN is crucial when opening your business bank account and applying for a business loan in the future, should you decide to.
Open a business bank account
It's always a practical idea to separate your business and personal finances. Mixing your personal and business finances can compromise any legal protections gained from forming an LLC. Even sole proprietorships benefit from this division because it makes bookkeeping easier come tax season.
One way to distinguish your business and personal finances is to open a business checking account. You can deposit cash or invoice payments collected from your photography gigs in this account. Also, remember to use these bank account funds for business-related expenses only.
Open a business credit card
A dedicated business credit card is another practical tactic for separating your business and personal expenses. You may be surprised that you have a separate credit score for your business. By regularly using your business credit card, you boost your business's financial health, helping you secure a business loan in the future.
Step 5: Purchase or upgrade your equipment
Professional photographers have top-of-the-line (read: often expensive) cameras. But you don't need brand-new, expensive equipment when you're first starting a photography business. As you gain more experience and increase your income, you can upgrade your toolkit over time.
"As a young photographer, I started with more amateur equipment—a camera, a lens, and a flash," says Alexa Klorman, owner of Alexa Drew Photography in New York City. "Then, as my business grew and as I started to get more clients and increase my price, I wanted to make sure that the quality of my photos was validated in what I was charging."
If you're serious about your photography, you'll want to create a business budget that will help you grow your toolkit. Below is a list of recommended tools and accessories with approximate prices:
Laptop for editing: $2,000

Backdrops and lighting: $500

Editing software: $20.99 per month (Photoshop)

Accounting software: $10 to $30 per month for basic plans
Chances are, you already have many of the items on this list, like a camera and laptop, which can dramatically reduce your startup costs.
Build a relationship with your supplier
Whether you need a new camera body or lens, or something simple like a memory card, you need a photography equipment supplier. Amazon is often a convenient and inexpensive marketplace to source your needs. But the cheapest option isn't always the best.
"I go to Adorama in NYC. I love going there because I know the people there; I always go to the same guys. They always give me a good deal—they're honest and kind," says Klorman.
When you first start your photography business, Klorman recommends establishing a relationship with a local shop to keep track of your purchases. Being a loyal customer can open opportunities for cost-saving deals and even client referrals. The best part: You're supporting a fellow small business owner.
Step 6: Price your services
When starting a photography business, pricing your services is where many people get stuck. Your formula should include time, plus labor, as well as a fee for using your resources. Here are a few tactics to help you set your prices:
The niche you choose will influence the value of your photography services. For example, a professional wedding photographer can charge $2,000-plus for their services. In contrast, a family photographer might charge $400 for a photoshoot.
Choose what you want to focus on—whether it's weddings, newborns, corporate events, or some combination of multiple areas—and then start accumulating samples to showcase your abilities. As you grow your portfolio, you can eventually raise your rates.
Check out the competition
To get an idea of where to start, do what Klorman did: Look to your peers and grow from there.
"I looked up other photographers in the area, and I started pretty low on the pricing scale. Then every few months, I'd bump it up a bit, then bump it up a bit. And I'd always say, 'I'll wait to see if inquiries and emails drop off, and if they do, I'll lower it back down.'"
Of course, don't raise your price just to raise it. Once you find yourself working with your preferred clientele, you can stick with a price that works for you. Similarly, stay firm on what you charge.
"I find that people generally accept my pricing; they don't negotiate so much," Klorman says. "I have my price, and I'm pretty strict about sticking to it because it's a fair price. Because I'm transparent with what my packages cost, generally when people contact me, they're ready to book."
Figure out how long each job takes
Part of what may affect your pricing is how long each photography job takes. Also, be mindful of your time beyond the photoshoot—processing, editing, uploading, and distributing your photos are time- and labor-intensive. Be sure to factor these steps into your price point, so you're not underpaid for all your hard work.
Portrait sessions generally last between one-and-a-half and two hours. This produces somewhere in the range of 75 to 100 images, edited in both black and white and color. Events can lead to hundreds of photos, though it depends on how long the event lasts.
Don't be alarmed if you need a bit longer than this when you first start your photography business. You're still settling into your workflow and deciding what works best for you. With time and experience, you'll finish things more quickly and with improved quality.
Step 7: Market your business and find clients
With your photography business up and running, the next step is finding clients so you can start earning money. Here are some strategies to market your business.
Referrals are the lifeblood of many businesses, and the photography business is no exception. The most effective marketing—the kind that professionals would kill for—is positive word-of-mouth referrals. And it doesn't cost a dime. When you're starting your photography business, think about how you can develop positive referrals.
Klorman stands by word-of-mouth marketing, attributing 90% of her gigs to be referral-based. "I pride myself on my referrals," she says. "I don't invest money in marketing. I would rather spend more time making my clients feel awesome, giving them amazing photos, and building a relationship with them."
Social media is no longer only a tool to connect with old friends and family. Now, it's a real business tool helping them connect with their target customers.
If you want to upgrade your marketing strategy, go to where your target customers are hanging out. For example, if you're a wedding photographer, join local Facebook groups for soon-to-be brides. Chances are, they're on the lookout for a wedding photographer—a perfect opportunity to pitch your amazing services.
Instagram is another great way to build your portfolio. Instagram is a visual platform, and your stunning collage of photos might inspire a future business inquiry. Also, you can expand your reach by contacting wedding photography profiles to feature your work.
Tips for finding your first client
But what if you've never done a photoshoot or worked with a client before?
If you're wondering how to start a photography business with no experience, worry not. If you don't have a portfolio, you can do a free photoshoot for your friends and family. Yes, you're giving your time and labor away for free, but this is often necessary for new photographers. In return, these free gigs will build your experience and create sample pieces that you can market to future clients.
While posting your photography on social media can be helpful, you may want to build your small business website. Getting your own real estate on the internet creates a central resource for prospects to view your work and contact you. Also, having a dedicated domain name for your business adds a professional flair to your brand.
Step 8: Sell your photography online
Don't limit your income to only the photography gigs you do with clients. You can also learn how to start a photography business by selling your images online. Many websites need stock photos to enhance their content and branding, and stock photo sites will pay to add your work to their database.
If you want to supplement your photography income, here are stock photo marketplaces you can visit:
Photography isn't just a popular hobby; it can be a legitimate business, provided you have a passion for capturing timeless memories. Starting a photography business takes as much dedication as any other business, but the bonus is your work can be visceral and affecting. It's also a business that is easy to start small and build up.
So, stop messing around with the photo apps on your smartphone. If want to learn how to start a photography business on the side and grow it into a full-time income, it's time to take what you learned and get started.
This article originally appeared on JustBusiness, a subsidiary of NerdWallet.