What Is Inbound Marketing?
Inbound marketing uses content, social media and website optimization to draw potential customers to a business's website and focuses on nurturing the relationship over time.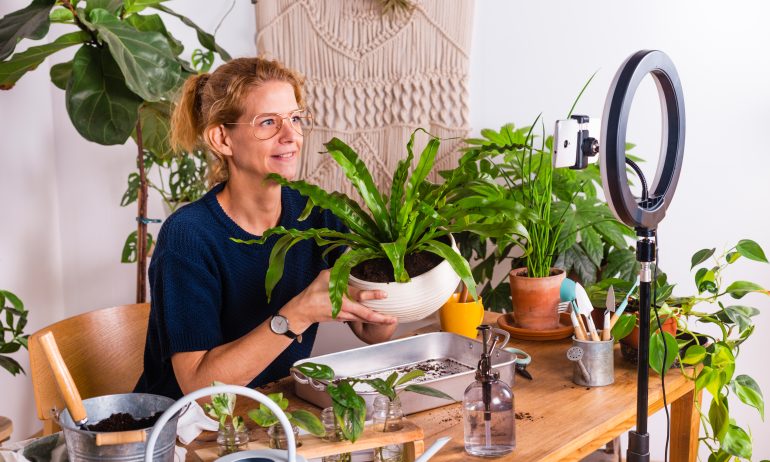 Many or all of the products featured here are from our partners who compensate us. This influences which products we write about and where and how the product appears on a page. However, this does not influence our evaluations. Our opinions are our own. Here is a list of our partners and here's how we make money.
Inbound marketing relies on getting the attention of potential customers through indirect means such as useful content and experiences. In contrast, outbound marketing involves reaching out directly to a target audience through email, text messages or another method. Simply put, inbound marketing relies on the customer seeking out your business versus your business seeking out customers.
While it's a digital marketing technique that can be used by businesses of any size, inbound marketing can be especially helpful for small businesses because it can be used to build their brand online and is generally less expensive than outbound marketing.
Types of inbound marketing
In practice, these types of inbound marketing often overlap and are frequently dependent on each other, so you'll want to think about them holistically as you map out your strategy.
Inbound marketing will typically include content marketing, another noninvasive way to engage a target audience and slowly build relationships with potential customers. Blog articles, newsletters, e-books, case studies, guides and white papers are some examples of written content created under this strategy. It also includes visual and audio material, such as infographics, podcasts, webinars and a variety of videos, such as instructional, product demos, behind-the-scenes and event announcements. The content materials created can then be shared through social media and your website.
Social media marketing is also used in a business's inbound marketing strategy as a way to raise brand awareness and get the attention of potential customers. To stay true to inbound marketing principles, your posts on social media platforms should share relevant information rather than directly pitch your products and services. Social posts often provide an opportunity for you to share the written content, videos and audio materials you've created for your content marketing efforts.
Search engine optimization, the process of making improvements to your website so it ranks better on search engines, is also important in inbound marketing. Maximizing your website's ranking on search engine results pages can help you gain the attention of potential customers and increase traffic to your website. Providing quality content on your website is one of the top ways to improve SEO. Including the content you've created on your website — blog articles, infographics, videos and other materials — helps Google and other search engines find your website and share it with others.
Pros of inbound marketing
With planning and management, inbound marketing can be helpful to a business in a number of ways:
Builds trust and credibility. Potential customers are more likely to view a business as legitimate when it creates valuable content and allows potential customers to find it organically through their own efforts.

Effective lead generation. Visitors to your website who like the content you offer are often motivated to sign up for newsletters and other materials. This gives you the opportunity to capture their contact information for use in lead-nurturing campaigns.

Works in conjunction with outbound marketing. The content you create can also be used in outbound marketing efforts, such as email campaigns, billboards and trade show presentations.

Less expensive than outbound marketing. Using content and social posts to draw potential customers to your website can cost less than using outbound marketing tactics like purchasing Facebook Ads or employing a dedicated sales team.

Aligns with the digital age. With so many consumers using the internet to find information and businesses to patronize, inbound marketing's use of online assets allows it to reach a large and diverse audience.
Cons of inbound marketing
There are also some disadvantages of using inbound marketing that a business may want to consider:
No direct customer contact. Inbound marketing strategies typically don't involve direct contact with potential customers. Outbound marketing may be more effective for businesses whose target audiences prefer talking with a sales representative, or whose business models demand it.

Requires time and patience. It's not common to see immediate results from inbound marketing because it relies on the customer finding your business organically. It may not be the right fit for businesses not willing or able to play the long game.

Competitive space. The internet is a competitive space and depending on your industry, it may be difficult to get your content to rank above that of other, similar brands. You may consider using additional digital marketing techniques in addition to inbound marketing to stand out from your competitors.

Calculating ROI can be difficult. Tracking your return on investment can be a challenge because not all visits to your website result in an immediate sale. Instead, some businesses track revenue-related events such as website traffic, time spent on a page and social shares, for example. Marketing software can help automate this process through analytics and reporting features.
Be mindful of your target audience
Regardless of the marketing strategy you use, it's important to keep your target audience in mind. A review of your marketing plan and the characteristics of your target audience can help you decide what social media platforms to use when posting and sharing content and also what type of content would be most appealing to your potential customers.
Create content that has true value
Create content that meets the needs of your target audience. Blogs, white papers, infographics and case studies can all be used to provide informational content to website visitors. Training and education can be offered through videos and webinars. Because people use the internet as a research tool to find information and get answers to questions, quality content can give you the opportunity to be viewed as an expert and a valued resource.
Exercise restraint with muted calls to action
In contrast to many outbound marketing materials, the call-to-action messaging for inbound marketing won't be as direct as a large "buy now" button. Instead, the CTA will likely be to download an infographic, subscribe to a newsletter, register for a seminar or follow a link to a blog article or video. Keep in mind that CTAs for inbound marketing are designed to engage the potential customer, not deliver an immediate sale.
Use inbound marketing content to enhance outbound marketing efforts
Most businesses don't have to choose between inbound and outbound marketing, but will instead use a combination of both. Outbound marketing efforts, such as email messaging and texting, can highlight and provide links to blog articles, e-books, videos and other content created for inbound marketing. Sharing quality content in a variety of ways can help engage customers, build trust and elevate your brand.