IRS Form 4562 Instructions: The Complete Guide
Understand depreciation and amortization, and how to fill out and file IRS Form 4562.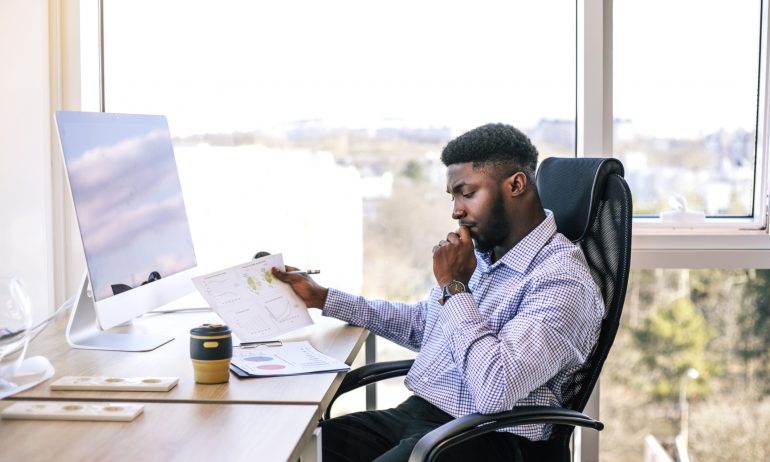 Many or all of the products featured here are from our partners who compensate us. This may influence which products we write about and where and how the product appears on a page. However, this does not influence our evaluations. Our opinions are our own. Here is a list of our partners and here's how we make money.
Knowing how to handle depreciation and amortization will help you maximize your business deductions come tax season — and IRS Form 4562 is the form you'll need to do that.
Learn how depreciation and amortization work, how to accurately depreciate your business properties and how to fill out and file IRS Form 4562.
IRS Form 4562 is used to claim a deduction for depreciation on business assets. Depending on the asset type, you claim your depreciation deduction on IRS Form 4562 over several years in order to get the full deduction. You file IRS Form 4562 with your federal tax return.
For example, let's say you operate a shipping business and this year you purchased a new delivery truck. You want to write off the cost of this vehicle as a business expense. However, the IRS won't let you deduct the full cost of the vehicle in one year. Instead, you deduct a portion of the cost of the vehicle over multiple years by claiming a depreciation deduction on IRS Form 4562.
Why to file IRS Form 4562
IRS Form 4562 allows business owners to claim a deduction for depreciation and amortization, which can reduce their tax bill.
Generally, you can claim a depreciation deduction for most business equipment and property on IRS Form 4562, given that it has a determinable "useful life" — meaning it's something that naturally wears out or loses its value.

The IRS separates different types of property into classes based on their useful lives, which influences how many years you can claim a depreciation deduction for an asset. IRS Publication 946 has the details.

For example, you can claim a deduction for depreciation on a business vehicle on IRS Form 4562 for five years in order to receive the full deduction.

Other items you can claim a depreciation deduction for include buildings, furniture, machinery, copyrights and patents.

You cannot depreciate property used for personal reasons.
Understanding depreciation and amortization
The IRS separates different types of property into two depreciation systems: a general depreciation system (GDS) and an alternative depreciation system (ADS). Both systems are part of the U.S. tax depreciation system known as the Modified Accelerated Cost Recovery System (MACRS).
In most cases, you will use the GDS to determine the recovery period of different types of property.

The ADS only applies to listed properties used 50% or less for business purposes, property located outside the U.S., certain types of farming equipment and certain types of tax-exempt property.

The ADS sets the depreciation amount as the same each year (except for the first and last year of depreciation), and extends the amount of years you can depreciate an asset.
Once you know the useful life of a property, you determine the annual depreciation deduction by multiplying the property's cost basis by the percentage of business/investment use.
One important aspect of depreciation is a Section 179 election. According to the IRS, "Section 179 property is property that you acquire by purchase for use in the active conduct of your trade or business."
Examples of Section 179 property include tangible property, including cellular telephones, similar telecommunications equipment and air conditioning or heating units (for example, portable air conditioners or heaters).

The difference between Section 179 property and other property is that you can deduct the full price of this property at one time instead of gradually writing it off over several years.

There is a limit on the amount of purchases eligible for this deduction. In 2021 the limit is $1,050,000.
Who must file IRS Form 4562?
Business owners must file IRS Form 4562 to claim any of the following:
Depreciation for property placed in service during the tax year.

A section 179 expense deduction (which may include a carryover from a previous year).

Depreciation on any vehicle or other listed property (regardless of when it was placed in service).

A deduction for any vehicle reported on a form other than Schedule C.

Any depreciation on a corporate income tax return (other than Form 1120S).

Amortization of costs that began during the tax year for which you'll be filing.
You must also file a separate IRS Form 4562 for each business or activity on your return for which IRS Form 4562 is required.
When to file IRS Form 4562
IRS Form 4562 should be included as part of your annual business tax return. You need to file it for the same year you bought the property you wish to depreciate or amortize.
IRS Form 4562 instructions: How to file
There are six sections to IRS Form 4562. Let's go step-by-step and explain how to fill out each section.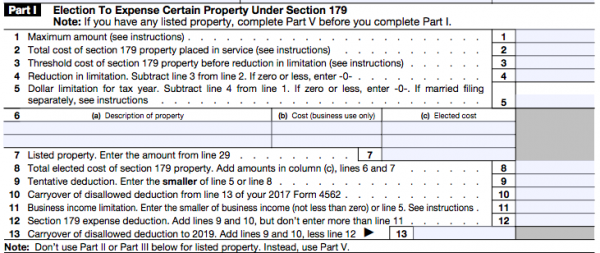 In Part 1 of IRS Form 4562, you can elect to deduct a Section 179 property placed in service during the previous tax year.
Line 1: Put the amount of the Section 179 deduction you are claiming.

Line 2: Enter the total cost of all section 179 property placed in service during the tax year (including the total cost of qualified real property that you elect to treat as section 179 property).

Line 3: Enter the smaller amount from Line 1 or Line 2 on Line 3.

Line 4: Subtract the number in Line 2 from the number in Line 3 and enter that number in Line 4 (if the number is less than zero, select zero).

Line 5: Subtract the number in Line 1 from the number in Line 4 and enter that amount in Line 5. Note that if Line 5 is zero, you cannot elect to expense any section 179 property. In this case, skip Lines 6 through 11 and enter zero on Line 12.

A: Enter a brief description of the property you elect to expense.

B: Enter the cost of the property.

C: Enter the amount you elect to expense. You can depreciate the amount you do not expense.

Line 7: Enter the amount that you elected to expense for listed property on Line 29 here (more on this later).

Line 8: Sum of amounts in Line 6(c) and Line 7.

Line 9: Smaller amount from Lines 5 and 8.

Line 10: Carryover of disallowed deduction from your previous year's filing is the amount of section 179 property, if any, you elected to expense in previous years that was not allowed as a deduction because of the business income limitation.

Line 11: Enter the smaller of business income based on your business entity type. For example, a partnership would enter the smaller of Line 5 or the partnership's total items of income and expense described in section 702(a) from any trade or business the partnership actively conducted.

Line 12: The sum of Lines 9 and 10. However, the amount cannot exceed the amount given in Line 11.

Line 13: The sum of Lines 9 and 10, minus the number in Line 12.

In Part 2 of IRS Form 4562 you can claim an additional deduction known as the special depreciation allowance. This election applies automatically unless you choose not to take it. To not elect the special depreciation, you must attach a statement to your return indicating the property for which you do not wish to have the deduction apply to.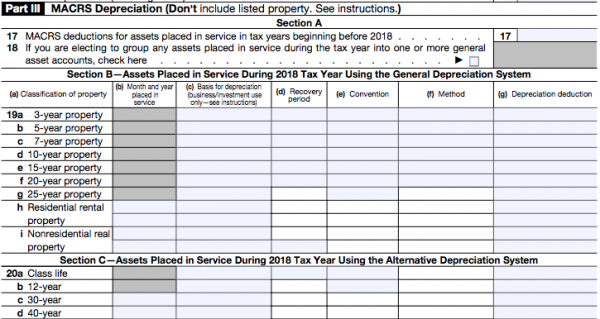 Part 3 of IRS Form 4562 is where you'll list all properties that fall under GDS. In Line 17, enter the deduction for assets placed in service during the year for which you're filing. Then you enter details about the assets placed in service on lines 19(a) through 19(i) based on the property class provided by the IRS.
A: Property class (i.e. three-year property, five-year property).

B: Month and year the property was placed in service.

C: The cost or another basis on which depreciation is figured.

E: The appropriate depreciation convention (i.e. a tax rule that impacts the depreciation convention).

F: The depreciation method (an even deduction, accelerated deduction, etc.).
In Section C of Part 3, you can also list assets placed in service during the tax year using the alternative depreciation system (ADS).

Despite their order, we recommend completing Part 5 of IRS Form 4562 before Part 4. This is because Part 4 is essentially a recap of Parts 1 through 3, but also requires a number you will input on Line 28 of Part 5. Line 22 is the most important entry in Part 4, as it is the amount of depreciation that is tax deductible. Whatever you input on Line 22 will go into your income tax return.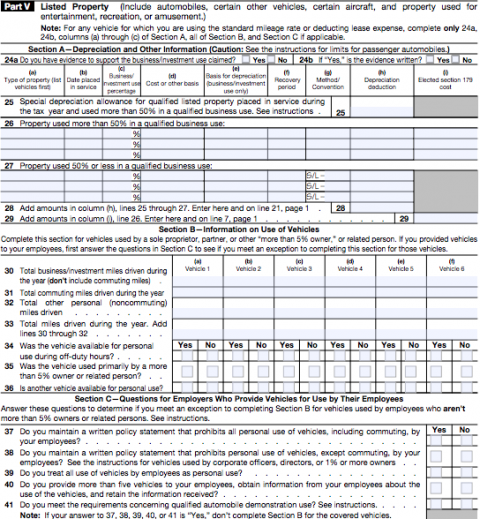 Part 5 is the largest section of IRS Form 4562. This is where you will claim deductions for listed properties. The IRS defines listed properties as the following:
Passenger automobiles weighing 6,000 pounds or less.

Any other property used for transportation if the nature of the property lends itself to personal use, such as motorcycles, pick-up trucks, sport utility vehicles, etc.

Any property used for entertainment or recreational purposes (such as photographic, phonographic, communication and video recording equipment).

Computers or peripheral equipment placed in service before the beginning of the tax year.
Exceptions to these rules include:
Photographic, phonographic, communication or video equipment used exclusively in your trade or business or at your regular business establishment.

Any computer or peripheral equipment used exclusively at a regular business establishment and owned or leased by the person operating the establishment.

An ambulance, hearse or vehicle used for transporting persons or property for compensation or hire.

Any truck or van placed in service after July 6, 2003, that is a qualified nonpersonal use vehicle.
In Section A of Part 5, you'll enter the depreciation allowance for listed property. The information you must provide includes:
B: Date placed in service.

C: Portion of business usage (listed as a percentage).

E: Basis of depreciation (Determined by multiplying the amount in Column D by the amount in Column C).

G: The method or convention for depreciation.

H: Depreciation deduction.

I: Any Section 179 deductions.
Also take note of questions 24a and 24b. These questions ask if you have evidence to support the deductions you're claiming, and if the evidence is written. In other words, you need to be able to prove the deductions you are claiming.
Section B is used by sole proprietors, partners or other "more than 5% owners" to provide additional information on vehicles used for business purposes. There is space to provide information for up to six vehicles. Questions asked include the total business miles driven by a vehicle during the year, and whether or not the vehicle was also used for personal reasons.
Finally, Section C is designed for employers to provide information on the vehicles they provide to their employees. This section is comprised of five yes-or-no questions, and can be skipped if you do not have any employees.

IRS Form 4562's Part 6 is for claiming deductions on costs you amortize. Items eligible for amortization include costs of starting a business, goodwill and certain other intangibles (like patents or copyrights).
To fill out this section, you'll need to include a description of the amortized costs, date the amortization began, the amortizable amount, code section, amortization period and amortization amount for the year. You will enter this information for amortized costs that began in the tax year for which you're filing on Line 42, and for costs that began before this year on Line 43.
When to file IRS Form 4562
IRS Form 4562 must be submitted as an attachment to your federal income tax return, and is due by the April tax-filing deadline for the previous tax year.
IRS Form 4562 and depreciation
Filing IRS Form 4562 allows you to claim deductions for the properties you use to run your business. However, figuring out how to depreciate your assets can be fairly complex. Consult a qualified financial advisor or CPA who specializes in business taxes. Taking the time to complete IRS Form 4562 carefully and accurately will ensure you get the deduction you deserve for wear and tear on your business assets.
A version of this article was first published on Fundera, a subsidiary of NerdWallet