Lavu POS Review 2022: Features, Cost, Alternatives
Lavu POS is a restaurant POS solution for foodservice businesses. Learn about its pricing, features and reviews.
Many or all of the products featured here are from our partners who compensate us. This may influence which products we write about and where and how the product appears on a page. However, this does not influence our evaluations. Our opinions are our own. Here is a list of our partners and here's how we make money.
Lavu POS is a restaurant point-of-sale system that boasts in-house payment processing, a variety of add-on features and a large network of compatible hardware. Lavu was one of the first POS systems ever to be available in the iOS app store. With over 300 available features, Lavu promises to modernize your restaurant, speed up service time and minimize your mistakes.
There are a lot of good products in the restaurant POS space, and Lavu is right there with them. It can do everything you would want a restaurant POS to do, and it packs in some nice add-on features. The price structure and user reviews are where things get a little hairy.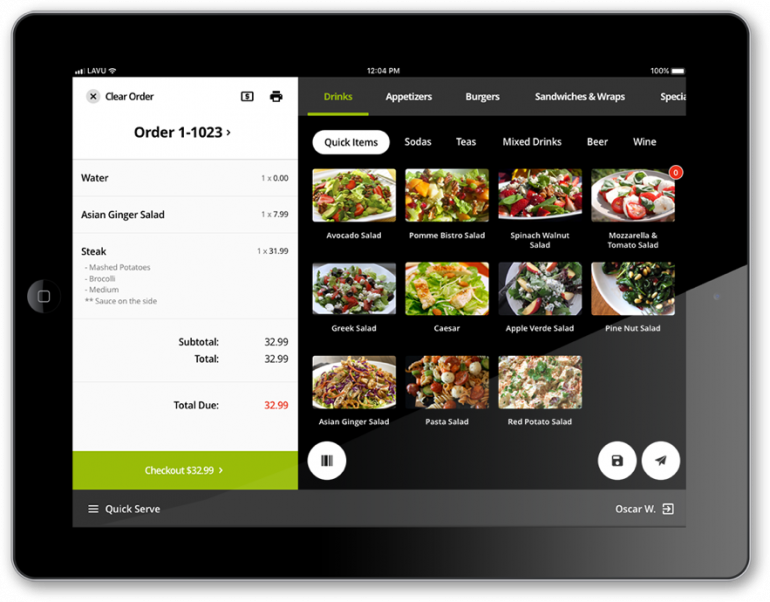 Lavu POS is a cloud-hosted POS system, meaning it provides the software and compatible hardware needed to run restaurant transactions. Being cloud-based means you don't have to worry about hosting your Lavu POS system. However, Lavu POS also offers a product called a Lavu Local Server, which allows you to locally host your system in case you ever lose internet connectivity.
Lavu's definition of "restaurant" is broad. It offers solutions for full-service restaurants, quick-service restaurants, food trucks, ice cream parlors, wineries, coffee shops, breweries, bars and pizzerias, as well as restaurants with multiple locations and franchises.
To get started with Lavu POS, you'll pick a pricing plan and download the Lavu POS app on your iPad or iPhone (Lavu is not available for Android devices). When you first log into your account, you can work remotely with a Lavu customer support specialist to configure your system and connect to your POS hardware. You can also get on-site help from a licensed Lavu reseller in your area.
Find the right payment provider to meet your unique business needs.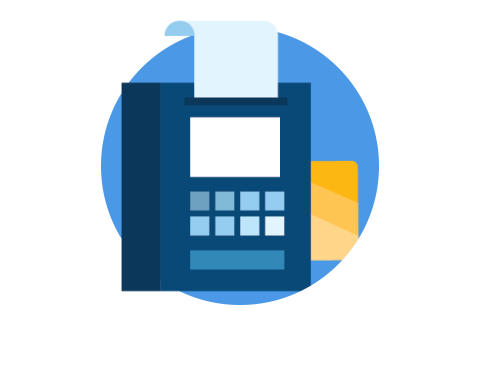 In October 2018 Lavu rolled out Lavu Pay, Lavu's in-house payment processing system. With Lavu Pay you'll be able to accept swipe, dip and contactless payments from all major credit card providers. However, Lavu does not say what it charges in credit card processing fees. This leads to the conclusion that credit card processing fees are determined on a case-by-case basis. Lavu Pay does feature PCI compliance, point-to-point encryption and tokenization.
If Lavu Pay doesn't interest you, Lavu POS also integrates with a variety of other payment processors, including Square, Worldpay, PayPal and Heartland Payment Systems.
Lavu sells hardware that is compatible with its software via the Shop.Lavu.com website. There are three starter kits available for purchase ranging in price from $399.99 to $1,499.99. The $399.99 option is known as the "Simple Bundle" and includes an iPad stand and card reader. The next level up is the "Quick Service Bundle" ($1,220.99) and comes with a stand, cash drawer, receipt printer and card reader. The "Full Service Bundle" costs $1,499.99 and comes with everything included in the Quick Service Bundle plus a kitchen printer. All bundles come with a four-hour menu setup and consultation.
Lavu also sells individual hardware pieces, including iPad stands, mounts and enclosures, receipt printers, credit card readers that can accept swipe, dip and contactless payment, cash drawers, barcode scanners, barcode label printers and routers. You can also purchase the aforementioned Lavu Local Server and custom gift card packages.
On top of all that, Lavu sells digital menu boards that can be customized with your business's branding. The menu boards make it possible to share pricing, nutritional information and daily specials with your customers. The menus can be set to update to reflect breakfast, lunch and dinner menus, and the entire system can operate offline. Lavu does not list pricing information for its digital menu boards on the website.
Like many restaurant POS systems, Lavu POS supports tableside ordering. Simply bring your iPad to the table and record customer orders and add modifiers with a few taps on your POS's virtual menu.
The ordering screen also allows you to alternate between table (for restaurants), tab (for bars) and quick-serve (for quick-service establishments) layouts depending on your service needs. You can combine orders while maintaining separate checks or split checks in any way the customer requests. When it comes time to pay, tabs from the bar can be carried over and assigned to the bill, and the POS will suggest a gratuity amount. Receipts can be printed or emailed to customers.
For takeout and delivery, Lavu POS offers a few nifty add-on features. Lavu To Go is a software application that plugs into your restaurant website and works with your POS to track and process online orders. Customers can place an order on your website using Lavu To Go, pay for the order via your POS's payment processor and have the order routed directly to your kitchen.
If your restaurant offers delivery, you can use the Lavu Routing feature to create and assign routes for delivery drivers. The routing features works in conjunction with your customer relationship management software within your POS to create a route and determine timing of delivery, which the customer can see from your website.
Lavu does not list pricing information for its Lavu To Go or Lavu Routing features on the website.
Lavu comes with all the menu customization features you'd want in a restaurant POS. Create menu groups, assign modifiers to specific menu items and assign deals to certain items (i.e. Happy Hour specials). Lavu POS also has a "combo" feature, allowing you to create combination orders and assign them as a singular menu item (i.e. burger, soda and fries). Plus, your menu synchronizes with your inventory database to keep track of stock levels.
Speaking of inventory management, Lavu tracks your stock counts in real-time so you always have an accurate idea of how much inventory you have left. You can also onboard your vendors and place purchase orders directly from your POS. You can even automate stock orders for whenever inventory is running low, transfer inventory between different locations and communicate with your warehouse.
Lavu POS provides an interface that allows you to customize the look of your floor plan to match your restaurant's layout. The floor plan interface will keep track of open tables, open orders and payment status, as well as the status of orders at each table.
Lavu POS allows your employees to clock in and out for shifts using ID numbers. You can also create schedules in the POS, assign roles and pay rates to specific employees, arrange custom permissions, allow for the trading of shifts between staff and split up tips between staff members at the end of a shift.
Customer Relationship Management (CRM)
Lavu POS maintains a CRM database that tracks your customer's order history, contact information and payment information (with their permission). Lavu also offers a loyalty program called Lavu Loyalty that allows customers to be issued a loyalty card and collect redeemable points on purchases. You can also offer customers gift cards that you purchase through Shop.Lavu.com. Lavu does not disclose the cost of the loyalty or gift card program on its website.
Lavu generates all the standard reports that provide insight into your inventory and sales. There's a free iPhone app, Lavu Pilot, to track restaurant performance. Some of the data you can track includes hourly and daily sales, labor costs and top-selling items. Data can also be split amongst different locations and tracked by timeframe.
In addition to Lavu Pilot, Lavu To Go and Lavu Routing, there are two other add-on tools restaurateurs will be interested in.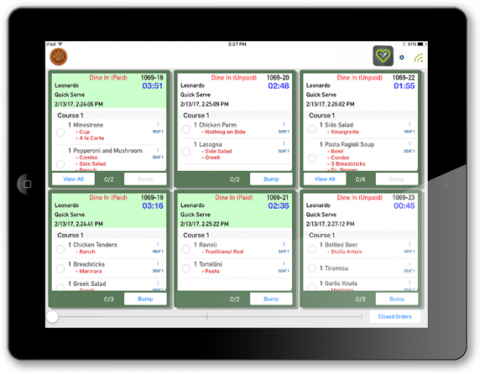 Lavu's Kitchen Display System is an additional interface within your POS that reflects orders sent from the front of the house to the back of the house and tracks their status to ensure customers get their food on time. The interface is customizable and features a timer to track how long each order takes. The interface can be accessed from an iPad with the Lavu POS app or integrated with Apple TV and cast onto large wireless monitors in the kitchen. Lavu does not list pricing information for its kitchen display system on its website.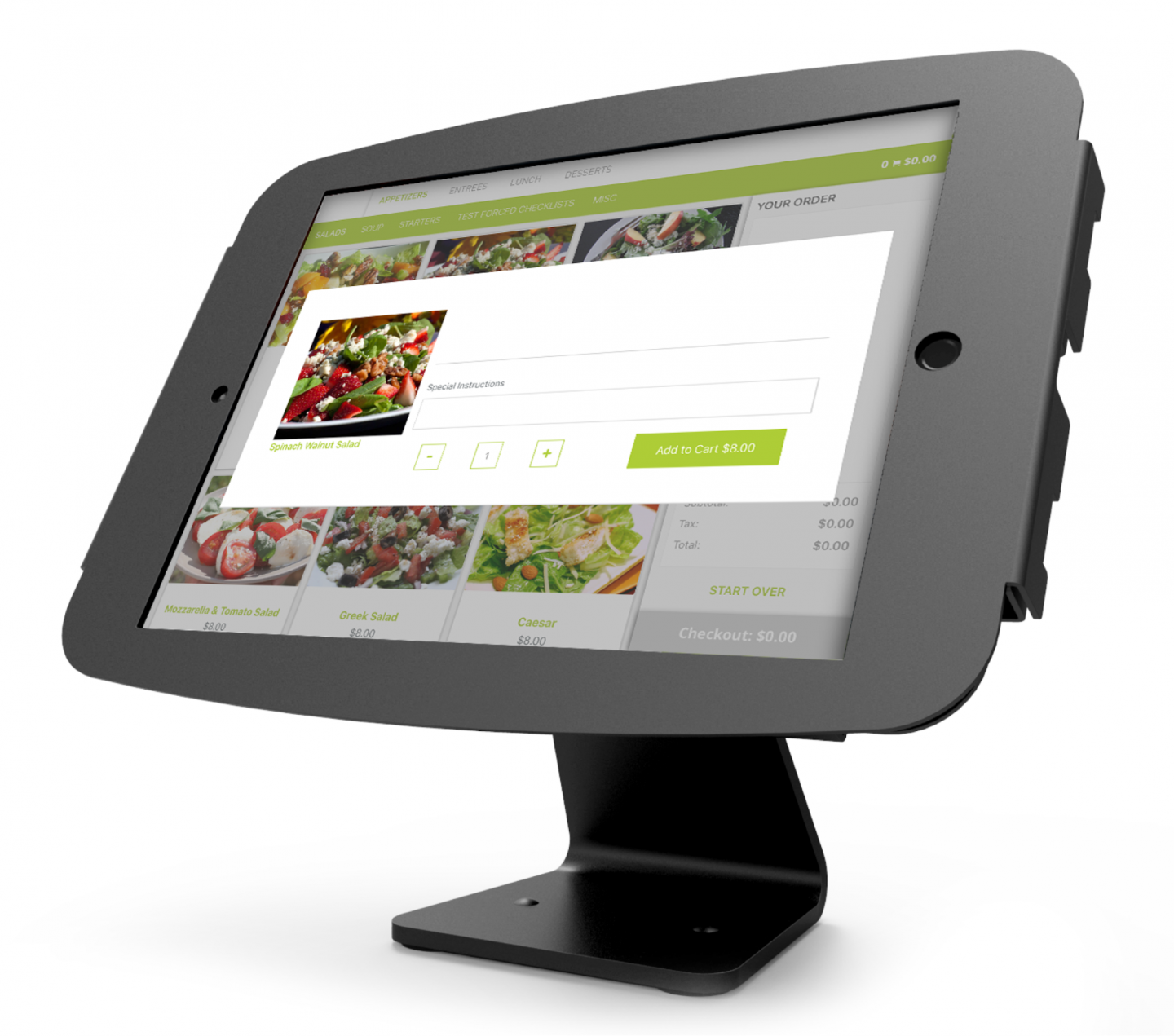 Lavu Kiosk is a tool for quick-service restaurants that allows you to turn an iPad running the Lavu POS app into a self-serving kiosk. With the self-serving kiosk customers can browse the menu, add modifiers and pay without any outside assistance. The menu can feature images, nutritional information, allergens and other relevant information. Once an order is placed via the self-serving kiosk, the order can be routed directly to your kitchen display system or kitchen printer. Lavu does not list pricing information for the Lavu Kiosk on its website.
On top of these two add-ons, Lavu integrates with a variety of other third-party applications, including accounting tools, events management apps, gift and loyalty programs and payment processors.
Lavu offers 24/7 phone, email and live chat support. There are also a wide variety of online resources users can leverage, including a knowledge base, community forum and blog.
Lavu POS offers three different pricing plans. Using the Lavu POS software on a single iPad costs $69 per month — billed on an annual basis. Lavu also offers multiple terminal and enterprise plans, but the pricing for these is quote-based and tailored to your restaurant's needs. All plans come with all of the aforementioned features outside of the Lavu Kiosk, Lavu Kitchen Display System, Lavu To Go, Lavu Routing, Lavu's digital menu boards and Lavu's loyalty and gift card programs.
The price for these additional pieces of software and hardware are not disclosed on the Lavu website and are likely something you work out with your sales representative. On the software review website G2 Crowd, customers rank Lavu POS in the 35th percentile in terms of restaurant POS cost.
Looking through the Lavu hardware store, it's hard to deny just how much POS hardware is compatible with Lavu. This can be a benefit for restaurateurs who already own compatible hardware, as they won't have to pay for new products if they decide to migrate their system onto Lavu. It's also nice that Lavu offers multiple hardware bundles, even if they aren't the cheapest options.
Most restaurant POS systems charge extra for loyalty programs, digital menu boards, online ordering, delivery services and user-facing kiosks — but few also offer all of these options to their customers. Lavu does that, meaning you get access to any and every additional tool you might need to help your business.
There is one aspect of Lavu that gives us pause:
Lavu offers some transparency in pricing but not as much as other merchant services providers. Also concerning is that you can purchase your product through Lavu resellers. Resellers have a reputation of not being transparent when it comes to pricing and fees. Try to purchase your system directly from Lavu and tread carefully when dealing with a reseller.
Here are what customers who have used Lavu POS have to say about the product:
G2 Crowd: 3.4 stars out of 5.

TrustRadius: 7 stars out of 10.

Capterra: 3.5 stars out of 5.

Better Business Bureau: A+.
The ratings are middling. In positive reviews, users say they find the platform easy to use. Other comments include praise for Lavu's customer service and the Lavu Pilot app, which provides analytics on restaurant performance.
Negative reviews are more common. Here customers complain about how difficult it is to perform essential functions like modify orders, run reports and review inventory. There is also frustration over the fact that Lavu is only available for iOS devices and that there are often glitches and bugs whenever Lavu pushes out a new update to the software.
A bigger and more popular option than Lavu POS is TouchBistro, which is used by over 16,000 restaurants in more than 100 countries. TouchBistro is flexible, working with many different restaurant types, and allows small-business owners to bundle their software and hardware costs into one monthly fee. Bundled prices start at $105. Unlike Lavu, TouchBistro receives high marks across all the major review websites.
A cheaper option than both Lavu and TouchBistro is Square's POS product for restaurants — Square for Restaurants. This service comes with fewer features than you'd get with other dedicated restaurant POS providers, but you do get a cheaper price, access to Square's very popular POS hardware and cheaper payment processing.
A version of this article was first published on Fundera, a subsidiary of NerdWallet.