Where to Find a Small Business for Sale
As you start to search for a small business for sale, call local businesses and even work with a business broker.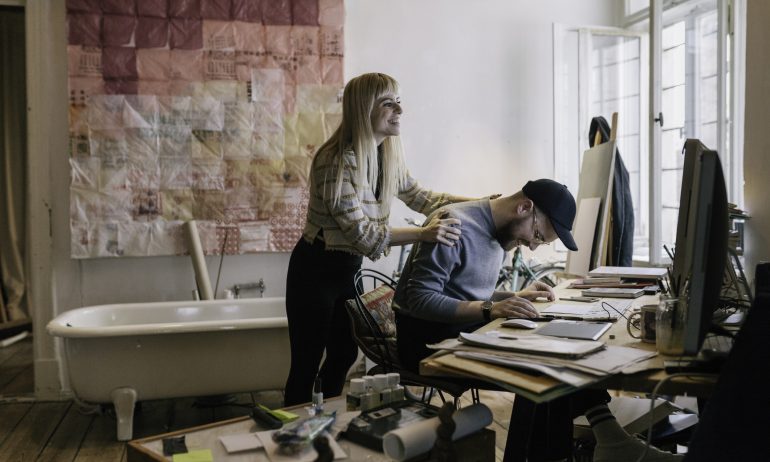 Many or all of the products featured here are from our partners who compensate us. This influences which products we write about and where and how the product appears on a page. However, this does not influence our evaluations. Our opinions are our own. Here is a list of our partners and here's how we make money.
If you want to live out your dream to be an entrepreneur without starting from scratch, here's an idea for you: Find a small business available for sale and buy it. In fact, buying an existing business is a great way to become an entrepreneur. If you buy a business that's been around for a while, there's no need to reinvent the wheel — there'll already be at least some structure in place.
So if this is the entrepreneurial path for you, you'll need some helping finding and buying a small business for sale. Here's your step-by-step guide to buying an existing business.
How to find a small business for sale
Where can you find a small business for sale? In most cases, you won't just stumble across an established business for sale — you'll probably need to do some searching. Here are some ways to start the search.
Your first step for figuring out how to find a business for sale is to just to call some local businesses directly to get a feel for the current market in your area. This may seem daunting if you aren't close with any of the small business owners in your area but it can be incredibly helpful.
A lot of businesses for sale don't actually advertise that they're for sale. Some business owners don't want to scare off customers or employees by putting a flashy "for sale" sign on their front door. So if you start calling around, you might actually connect with an owner that's selling. Or more likely, the business owner might be able to refer you to other businesses in the industry or location that are for sale.
You should also tap into your industry or small-business network by attending meetups and industry conferences. While there, you can ask around for references or professionals who can help you find the right business to buy.
When it comes down to it, networking with other small businesses is a crucial step to finding a small business for sale. Don't be afraid to reach out to any and all businesses, professionals, family and friends to ask for help.
Most business brokers are hired by sellers to find buyers and help them negotiate deals. Individual business brokers or brokerage firms will usually have a list of small businesses for sale, so they can connect you with multiple options.
If you've heard anything about shady broker practices within the small-business lending industry, you might shy away from using one to buy a business. But business brokers are a little different, and there are a few perks to using them.
Help you figure out what you're interested in. If you don't even know where to start when it comes to buying a business, a broker can help you move in the right direction. A good broker will help you pinpoint your skills and interests and then connect you with businesses that might be a good fit. A business broker might even introduce you to an industry that you might not have thought to pursue.
Tell you which businesses to avoid. A good business broker will know which small businesses you shouldn't buy. With some experience under their belts, brokers can help you steer clear of bad deals and failing businesses.
Help you negotiate. Once you find a small business available for sale that's the perfect fit for you, you'll enter a complicated negotiation process. A business broker can tell you what you need to consider and what you should be asking for in the negotiation.
A business broker is a great way to find an established business for sale, but you should make sure you're working with a good one. Try to work with a broker who understands and represents your interests, not just the seller's.
Also, get a sense of the broker's track record before you work with them. You'll want to make sure that the broker can successfully connect you to a small business available for sale — and not just lead you on a wild goose chase.
And finally, keep in mind that you'll have to pay a business broker for their services. Business brokers usually charge a 5%-10% commission on the price of the business. If you're new to buying businesses, working with a broker could be well worth the cost.
But if you think you can handle the process on your own, you might want to wait to hire a broker until the very end. All the paperwork associated with buying a small business for sale can be complicated, so it helps to have a second set of eyes and a professional during the final process.
3. Check small-business-for-sale websites
If you want to know how to find businesses for sale, an excellent place to look is on websites that list small businesses for sale.
Websites like bizbuysell.com, bizquest.com, and franchisegator.com are online aggregators for small businesses and franchises for sale. These websites let you filter your search by industry, location and price. So if you're still unsure of the kind of business you want to buy or where you want to operate, you can use these sites to compare and contrast your options to find the best small business for sale.
And if you do know which type of business you want to buy and where you want to look, these websites can be a huge time-saver. If you know exactly what you want, you'll spend less time weeding through businesses that you've already ruled out.
Most of these websites will set up alerts when businesses go on sale that meet your criteria, helping you stay on top of your search for a small business for sale. You'll also be able to see details and photos of each business you're considering, so you can see online whether a business is a good fit — and not waste time visiting businesses in person that aren't good options for you.
Bizbuysell.com might be your best bet if you choose to find an established business for sale on a website. With over 100,000 businesses for sale at various price ranges, you're bound to find a good match for your needs. On top of business listings, bizbuysell.com has a long list of affiliate business brokers and tools to find local brokers in your area.
4. Look for other advertisements (or put out your own)
Another way people have found success when figuring out how to find businesses for sale is to keep an eye out for ads in local newspapers, industry publications or sites like Craigslist posting a small business for sale.
Finding a business for sale is a two-way street; it helps if businesses in your area know that you're in the business of buying, too. You never know where a business buying opportunity might come from, so it helps to get the word out as much as possible.
5. Stay in touch with your network
As a small-business owner, your network is a powerful resource.
Stay in touch with the business people you're connected to; you might get a tip for a small business for sale that could be a perfect fit for you.
There are two advantages to using your network to find a small business that's for sale. First, if you're active and known as a helpful person in your network, you might be more likely to get a good deal on a small business for sale from someone in your network.
Second, people in your network are likely in the same industry you might currently be in, or in a field that you're interested in. And you're more likely to be successful if you're buying a business for sale in an industry you're familiar with or a field you're passionate about.
Found the perfect small business for sale? Here are the next steps
You've considered a few small businesses for sale and have done some digging to find the perfect one for you. You made it past the first steps, but there's still a lot ahead of you before you can call that business yours.
Gather all the information you need to move forward
You've already vetted the business when you were considering whether to go forward with buying it, but now you'll need to work with a banker, accountant, and lawyer to get all that information you'll need about the business to move forward with the deal.
There are many documents you'll need to collect, but here are the essentials you need to gather:
Confidentiality agreement.

Business financial statements.

Status of inventory, equipment, machinery and building.
When you're buying a business, these documents tie it all together. You've already looked into the details of the small business for sale, but you'll want all this information in writing before agreeing to a deal.
Evaluate the price of the business
There are a few ways to assess the value of an existing business, like cash flow, tangible assets or intangible assets.
Whichever method you choose to use to evaluate pricing, make sure you're looking at both the current financial health and the growth potential that you're paying for. To get a sense of this, take a look at the business's balance sheet, cash flow projection, tax returns and income statements to get the full picture of what you're paying for.
You'll also want some help negotiating the price of a business — because not every price tag is set in stone. This is a great time to consult your business broker, lawyer, banker and accountant for help.
And once you know what you'll need to dish out to buy the small business for sale, figure out how you'll get the cash or a loan to buy the business. There are a few different ways to gather the capital you need to make the purchase — such as partnering with others, selling stocks, leasing, business acquisition loans and so on.
Your last step? Sealing the deal.
To do so, you'll need to put together a lot of legal documents, notes and agreements — like the bill of sale, adjusted purchase price, patents, trademarks, non-compete agreement and more.