American Airlines and JetBlue Deepen Partnership, Announce Reciprocal Earnings
AAdvantage members can earn miles flying JetBlue, and TrueBlue members can earn points on American.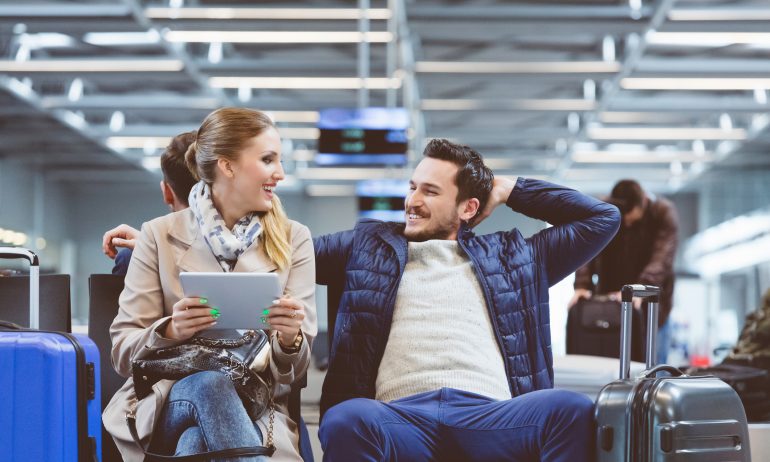 Many or all of the products featured here are from our partners who compensate us. This may influence which products we write about and where and how the product appears on a page. However, this does not influence our evaluations. Our opinions are our own. Here is a list of our partners and here's how we make money.
American Airlines and JetBlue's  is starting to kick in and benefit the two airlines' loyalty program members. Since the agreement was announced last year, the two airlines launched a new code-share partnership and promised that more is in the works — including possible changes to earning and redeeming miles, plus elite benefits.
Travelers can now earn AAdvantage miles and elite status credits when flying JetBlue. On the flip side, flyers can also now earn TrueBlue points and Mosaic elite status credit when flying American.
However, this partnership works like no other mileage partnership that either airline currently has. Rather than earning miles based on the distance of the flight, you'll earn AAdvantage miles or TrueBlue points based on the fare that you paid. This potentially has interesting implications for the future of both programs.
Here's a deeper look at what travelers can expect with these new changes.
American Airlines flyers can now earn AAdvantage miles on JetBlue flights the same way they do on most American Airlines fares. AAdvantage members flying JetBlue can earn 5 miles per dollar spent on the base fare and carrier-imposed surcharges.
And earn a bonus on top of those base earnings:
In addition to earning AAdvantage miles, travelers will also now earn elite status credits for AAdvantage, even when flying on JetBlue-marketed flights.
The earning chart closely mirrors the elite status credits you'd earn flying on American Airlines-marketed flights.
Your elite status earnings will vary both by ticket type and the cost of the ticket. Here's how the earnings shake out:
Going forward, your mileage and elite status earnings will be nearly identical whether you fly American or JetBlue. If you currently have AAdvantage elite status, you may want to stick to American flights to enjoy elite benefits. However, you'll earn the same amount of AAdvantage miles and elite status credits flying either airline.
On its own, this isn't a big development. However, it may mark a turning point in how AAdvantage members earn miles and elite status credits on other partner airlines. If American and JetBlue can share data to make this revenue-based earning system work, American might be able to do so with other partners — especially joint business partners, like , Iberia, Finnair, Japan Airlines and .
If implemented, this could potentially spell the end of a shortcut to AAdvantage elite status. Currently, savvy AAdvantage members can to earn more EQMs and EQDs than they'd earn on American Airlines flights. For instance, AAdvantage members can earn a lot more miles and elite status credits flying on inexpensive Japan Airlines or British Airways premium economy fares than they would booking the same fares through American Airlines.
TrueBlue members now earn points when flying on American Airlines flights. The earning rates are quite similar to how you earn points on JetBlue flights — but there's a catch to be aware of.
You'll earn a base of 3 TrueBlue points per dollar spent on all ticket types except basic economy (these flyers will earn 1 TrueBlue point per dollar). members flying any American Airlines fare type will earn an additional 3 TrueBlue points per dollar spent.
However, there are a couple of important exceptions. For American Airlines flights booked through AA.com but credited to TrueBlue, you won't earn the JetBlue app/website booking bonus. If you're a holder, the news is worse still: You won't earn bonus miles for spending on the airline's credit card.
This means you'll earn a lot more TrueBlue points by booking an American Airlines flight through JetBlue's website — especially if you're a  holder.
As part of this expanded partnership, flyers can now earn elite qualifying points on American Airlines-operated flights that count toward your Mosaic status. You will earn 3 Mosaic-qualifying points per dollar spent on all fares but basic economy, which earns 1 Mosaic-qualifying point per dollar spent.
If you're aiming for Mosaic status, you may want to forgo flying on basic economy fares.
This partnership opens a lot more opportunities for TrueBlue loyalists to earn points in their preferred program. You can now fly on American's extensive network and earn both TrueBlue points and Mosaic status credits.
TrueBlue members could already earn miles on a few other partners — including Emirates, , Icelandair and . However, American is the first partner on which TrueBlue members can earn Mosaic status credits. It will be interesting to see if American remains the only partner where this is possible, or if JetBlue will launch similar partnerships with other airlines in the future.
Whether you're an American elite or a JetBlue loyalist, you just gained a new way to earn miles, points and elite status credits with your favorite program. You can now earn AAdvantage miles and elite status credits on JetBlue flights similar to American flights. And as long as you book through JetBlue's website, you'll earn TrueBlue points on American Airlines flights just as you would on JetBlue.
This is an exciting development. However, the unique way that the airlines have set up earning rates has us wondering if this is a pivot point for how you'll earn miles and elite status credits on partners going forward — for better or worse.
What's next for the American-JetBlue partnership? Based on what's been teased by the airlines, we hope to see mileage redemptions and reciprocal elite status benefits added soon.
You want a travel credit card that prioritizes what's important to you. Here are our picks for the , including those best for: