Ask a Points Nerd: How Can I Celebrate the Holidays Without Travel?
Think of it as an opportunity to relax and try new things, instead of a sad alternative to the normal holidays.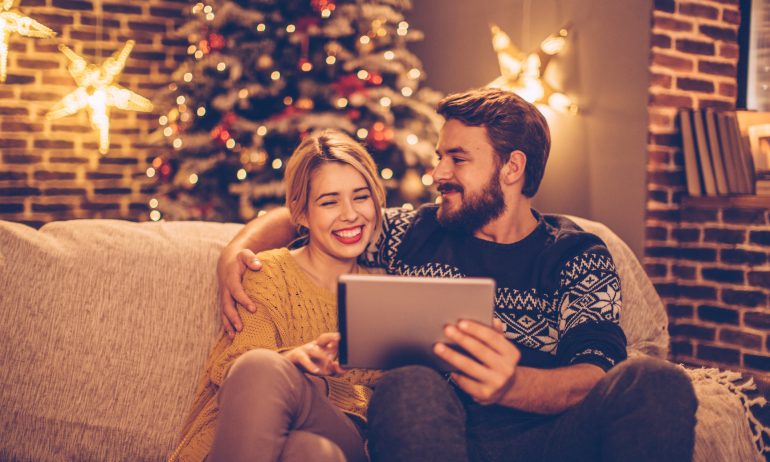 Many or all of the products featured here are from our partners who compensate us. This influences which products we write about and where and how the product appears on a page. However, this does not influence our evaluations. Our opinions are our own. Here is a list of our partners and here's how we make money.
For months, the question has loomed: Should we travel for the holidays? Like almost every question this year, the answer has been a resounding "it depends," but every day the prospect of safe and responsible holiday travel seems to dim. Should we really cram into crowded airports while case numbers continue to climb?
The Centers for Disease Control and Prevention recently chimed in, strongly encouraging would-be Thanksgiving travelers to nix their plans. "Postponing travel and staying home is the best way to protect yourself and others this year," the CDC's website reads, and it seems like the pandemic will only worsen through December. In short, the answer is getting clearer: We probably shouldn't travel for the holidays or host big family gatherings.
So what should we do? Eat the whole pie ourselves? Wrap presents for our cats? Spend even more time with our insufferable …. errr, beloved … household?
How many years have you dithered about buying a plane ticket home for the holidays, then purchased a too-expensive fare at the last minute because your family guilt-tripped you? Well, guess what? You have an ironclad excuse this year.
In other words, it's important to focus on the positives. The CDC, bless it, has attempted to offer encouraging alternatives to standard holiday get-togethers, and even released a colorful cartoon PDF, presumably in an attempt to buoy our collective spirits. Check out the uplifting "hard choices" panel.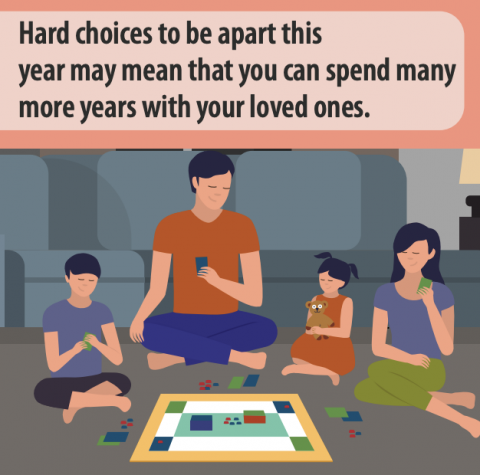 The problem with the CDC's guidance, other than the father's unrealistic hip flexibility, is its focus on how challenging it will be to isolate for the holidays, rather than focusing on the opportunities it opens and the stresses it reduces.
Seriously: Traveling during the holidays is horrible. Coordinating plans with extended family is stressful. We've all dreamed of skipping the holiday hullabaloo altogether and keeping it simple. The pandemic has handed us the opportunity to take a break this year without feeling guilty. No matter what our plans entail this year, at least they don't have to involve flight delays and icy roads.
Many sources online suggest planning a video chat feast with your extended family. "Host a virtual Thanksgiving meal with friends and family who don't live with you," recommends the CDC.
No, seriously, has anyone thought about this even a little bit? The only thing worse than yet another video call with our families is one in which everybody is loudly eating the entire time. This sounds less like a festive treat than a Dantean circle of the underworld.
There's no use trying to keep things "normal" during abnormal times. Rather, we should try to make the most of the reality in which we find ourselves. Here are some ideas:
Themed walks: Taking walks together can be a great way to socially connect. Elevate your walking game: Invite friends and neighbors to themed walks, replete with costumes, gift sharing, hot cocoa, etc. Walking is pretty much all we've got, so we better make the most of it.

Feast swaps: Cook your signature dish, split it into several reheatable containers, and share it with friends and family. Ask others to do the same. No pressure to reciprocate, of course.

Thank-you cards: Maybe you want to open gifts with your family on video chat. I sure don't. Instead of opening gifts together in real time over video chat, open them separately and write a nice handwritten thank-you card.

Forge new traditions: Rather than trying to fit the square peg of normal holiday traditions into the round hole of pandemic reality, try something different this year. No gifts? New kinds of food? Winter solstice moon-worshipping ceremony? The stakes are low this year, so branch out.
What's most important is to notice all the extra time you have, free of the hassle of holiday travel. Maybe you use that time to learn a new hobby. Maybe you use it to sleep. This holiday season is an unprecedented opportunity to relax and reset.
The laziest time of the year
You know reality has taken a left turn into the bizarre when the CDC's website encourages Americans to "watch Thanksgiving Day parades, sports, and movies at home."
An equally bizarre German public service announcement makes the same point: The fate of our country and our health depends on our willingness to be as lazy as humanly possible this holiday season. Take advantage.
---
How to maximize your rewards
Get more smart money moves – straight to your inbox
Sign up and we'll send you Nerdy articles about the money topics that matter most to you along with other ways to help you get more from your money.