Guide to Delta First Class and Delta One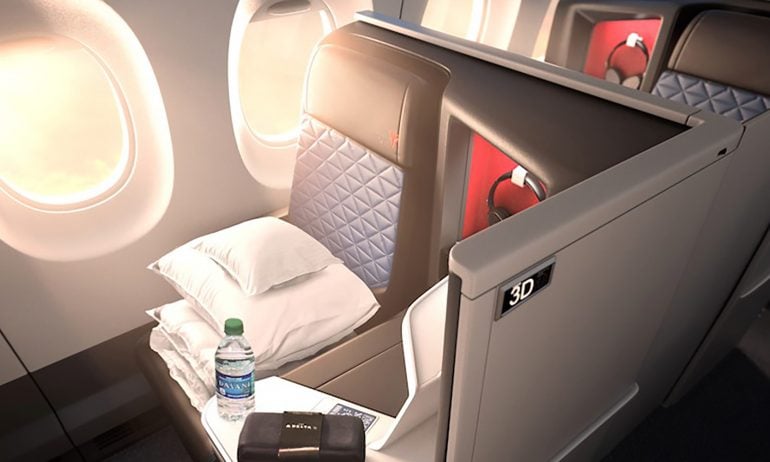 Many or all of the products featured here are from our partners who compensate us. This influences which products we write about and where and how the product appears on a page. However, this does not influence our evaluations. Our opinions are our own. Here is a list of our partners and here's how we make money.
Delta Air Lines offers either "Delta One" or "first class" premium fares on its flights. Somewhat confusingly, first class is not the most premium class — Delta One is. The difference is:
Delta One is the most premium product, available (mostly) on long-haul international flights. It offers lie-flat seats and premium food and beverage service.

Delta first class is typically available on shorter or domestic flights. It offers a larger but not lie-flight seat.
There are several exceptions, like Delta One to Hawaii from Atlanta or Minneapolis/St. Paul, which has the same bedding and flat-bed seats, but less elaborate meals than international flights. And both fares are totally separate from "comfort plus" and "premium select" fares, Delta's premium economy offerings.
Shop our Best-Of Awards to see 2023's top hotel and airline rewards programs, picked by our Nerds.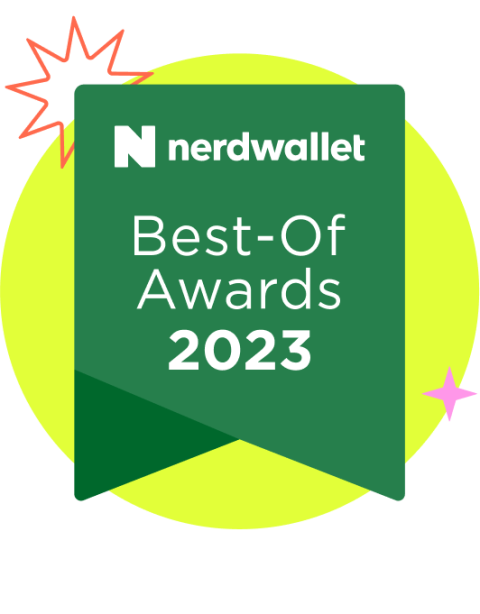 Delta offers several perks to first class customers including SkyPriority check-in lines and accelerated security queues at some airports. Travelers can check two bags, up to 70 pounds each, without charge. During boarding, first class customers have priority boarding through the SkyPriority lane at each gate.
On board, passengers will find a small bottle of water at each seat. Delta also offers pre-departure beverages to first class passengers. Other airlines are not as consistent as Delta in this regard, often bypassing pre-departure beverages for first class even when there is ample time to offer them.
Each of Delta's aircrafts vary when it comes to onboard amenities, seat size and space. Delta's first class seats can offer up to eight inches of additional leg room when compared to economy class. It also has up to a 5.4-inch recline. Each seat also has a pillow and blanket (rare these days on other airlines).
Delta offers power outlets at each seat in first class. And on most planes (Boeing 717s and MD88/MD90s are the exceptions), there is a television screen at first class seats offering movies, TV shows, music and often live TV. Seat screens in first class range in size with the largest being 11 inches wide. Earbuds are free for first class passengers.
This is quite a differentiator between Delta and other airlines. American is in the process of ripping out onboard seat screens in favor of entertainment programming accessible via Wi-Fi signal. This, however, requires travelers to bring their own mobile device for viewing.
Almost all Delta flights offer Wi-Fi, which means travelers can stay productive in flight, although it comes with a surcharge.
In-flight food and beverage
Delta in-flight service varies by flight time and distance.
On Delta's shortest flights (under 900 miles), a full beverage service is available. This includes a long list of refreshments including Starbucks coffee, wine, beer, Coca-Cola products such as Minute Maid juices, and a full range of spirits and other soft drinks.

On flights under 350 miles, a snack basket is passed around with Biscoff cookies, Cheez-Its and salted almonds. These selections can change during different times of the year. On flights over 350 miles, passengers can enjoy a wider range of choices in the snack basket including things like potato chips and chocolate.

Flights over 900 miles in distance provide meal service to first class passengers depending upon the time of day. Breakfast is served between 5 and 9:45 a.m. Lunch options are available on flights between 9:45 a.m. and 1:30 p.m. Dinner is offered between 4 and 8 p.m. Customers can pre-select their meal 72 hours before departure via the Delta app or through a link emailed to passengers.

On flights over 1,500 miles in distance, meals follow a similar schedule but tend to be more filling given the flight time.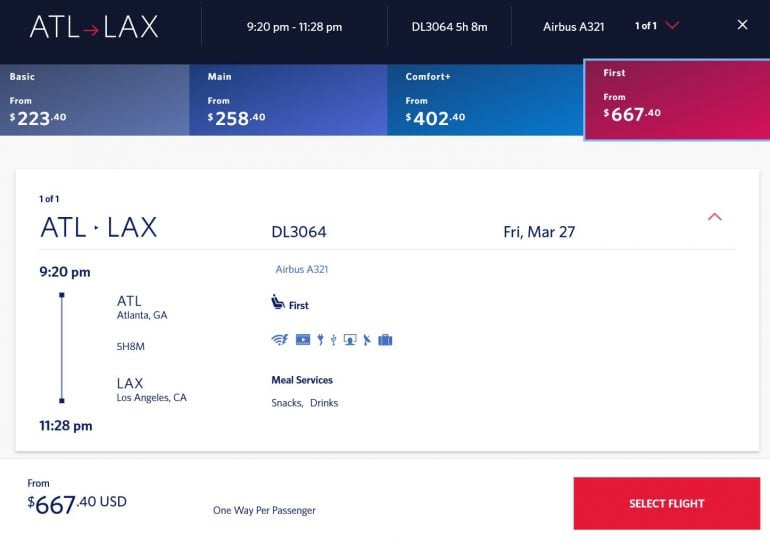 There are a few exceptions to this rule on some longer flights, but Delta does not publish a full list of these. This can include late-night departures from Atlanta to the West Coast where instead of "refreshments," Delta lists "snacks" for first class. It is usually a sandwich with dessert, and there is no choice (on other flights, there would be a choice of two dishes).
Delta flight attendants lay table cloths down before serving trays with the meal. Food is plated on stylish Alessi servingware. Delta typically does not offer an aperitif service before meals; drinks are served just before the meal tray is served. Meanwhile, Alaska, American and United offer ramekins of nuts before the meal on most mealtime flights in domestic first class.
This is Delta's 180-degree, lie-flat business class international service. It also operates on a limited scale between select domestic cities. Since it is available on Delta's longest flights, it is more lavish in its scale and amenities.
Delta One customers are treated to the same amenities as domestic first class passengers with the addition of enjoying access to Sky Clubs on their day of departure. Unlike American and United, Delta does not offer dedicated lounges for its international premium cabin passengers.
All Delta One seats are full, lie-flat seats. Almost all Delta One seats have direct aisle access (the Boeing 757 is the only plane without it), but many of Delta's seats can be narrow with smaller TV screens than its primary competitors American and United. The airline has a convenient online chart allowing customers to compare what's available on each aircraft.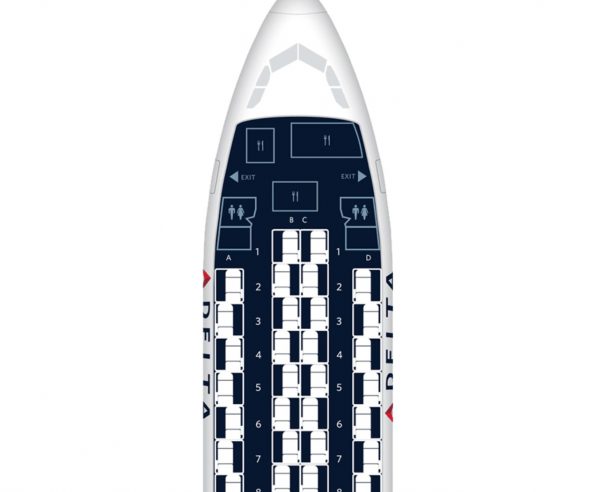 Passengers on Boeing 777-200LR and Airbus A330-900 neo or A350 aircraft enjoy the new Delta One suite with full-height doors that slide closed for maximum privacy and 18-inch entertainment screens.
On board, passengers will find a bottle of water and TUMI amenity kit stocked with Le Labo toiletries waiting at each seat. All Delta One customers enjoy noise-reducing headphones as well as a Westin Heavenly duvet and pillow. Delta offers pre-departure beverages to Delta One passengers, which typically includes orange juice, water, beer and sparkling wine.
There is variety when it comes to seat style and space. All Delta One seats have power and USB outlets, in addition to remote controls for the onboard entertainment screens. A wide variety of movies, TV shows, audio programming and often live TV is available. There is more personal space, too, with side tables or storage nooks built into the seat.
Delta invests quite a bit into the culinary experience on Delta One flights. Printed menus give guests a guide to what meals are offered and in what order they will be served. Multi-course meals begin with an aperitif service with mixed nuts. Drink refills are plentiful and followed by a tray of appetizers, salads and soup. The meal is served atop table cloths using designer Alessi servingware.
Travelers can choose from one of several main courses, usually a beef, poultry, seafood and pasta option. Meals and beverages are served via carts in the aisles, but the main dish is delivered by hand from the galley. Dessert includes an impressive fruit, cheese, dessert and ice cream sundae cart rolled through the aisle and prepared at each seat.
Customers can pre-select their meal 72 hours before departure via the Delta app or through a link emailed to passengers. This list includes numerous special meals like Asian vegetarian, diabetic and kosher options. All of these special meals must be ordered at least 24 hours before departure.
On certain flights, Delta partners with specialty chefs who are representative of the origin or destination to prepare meals for Delta One passengers. For example, on Delta flights from Atlanta to Amsterdam, Dusseldorf, Frankfurt, London, Madrid, Munich, Paris, Rome or Stuttgart, travelers can enjoy Southern-inspired cuisine from Linton Hopkins. Flights from Los Angeles to Amsterdam, Paris, Shanghai and Tokyo enjoy cuisine by chef partners Jon Shook and Vinny Dotolo. Certain regional culinary dishes are available on trans-Pacific flights to China and Japan as well.
The wine list, detailed in the printed menu available before takeoff, enjoys special attention, too, courtesy of Master Sommelier Andrea Robinson, who has overseen the airline's wine program since 2007.
Frequently asked questions
What is Delta first class called?
Is Delta One the same as first class?
Can I get upgraded to Delta One?

Delta offers a wide variety of products that depend upon aircraft type and route, but the airline is very transparent about which amenities and services are available on each flight. Those traveling in the Delta premium cabin are in for a treat, no matter where they are headed.
---
How to maximize your rewards
Get more smart money moves – straight to your inbox
Sign up and we'll send you Nerdy articles about the money topics that matter most to you along with other ways to help you get more from your money.