How to Navigate Hilton Honors Award Levels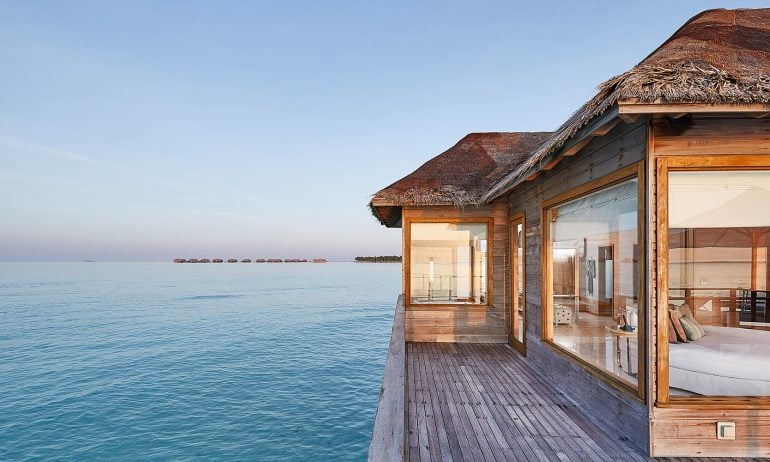 Many or all of the products featured here are from our partners who compensate us. This may influence which products we write about and where and how the product appears on a page. However, this does not influence our evaluations. Our opinions are our own. Here is a list of our partners and here's how we make money.
Whether you're sitting on a pile of Hilton Honors points or are just starting your journey to rack them up, you're likely curious about what types of rooms and hotels you can book using your points. Since Hilton does not offer an award chart, we're here to help you navigate Hilton's different booking award levels.
Points needed for award stays
The minimum number of points needed for a Hilton stay varies depending on the hotel and the room. Unlike other large hotel chains, Hilton does not have published hotel categories — meaning that if you want to find out the minimum number of points that are required to book a specific hotel, you will need to use Hilton's Points Explorer tool.
The amount of points needed to book a "Standard Room" (we'll discuss this more below) range from 5,000 to 120,000 Hilton Honors points per night. Notably, all of the hotels that cost only 5,000 points per night are outside of the U.S. To book an award stay in the U.S., you'll need at least 10,000 points for a Standard Room redemption. For Standard Room redemptions, Hilton also sets a maximum number of points you'd pay for each room. Currently, the most expensive standard rooms will set you back a maximum of 120,000 per night, with only two hotels charging this premium rate: the Waldorf Astoria Maldives Ithaafushi and the Waldorf Astoria Los Cabos Pedregal.
Standard vs. Premium room reward rates
Standard Rooms: The least expensive category of rooms to book using Hilton Honors points is Standard Room Rewards. Hilton sets a cap on the price of Standard room redemptions, which you can find for each hotel using the Points Explorer tool.
Premium Rooms: Hilton classifies everything that is not a Standard Room Reward as a Premium Room Reward. The hotel chain does not place a price cap on this room type.
Let's look at the Hilton Times Square as an example: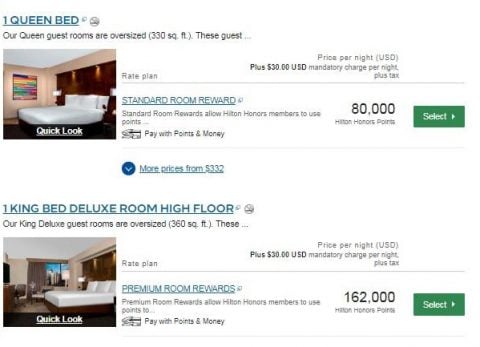 As you can see, moving from a Standard to a Premium Reward will cost more than double the points at the Hilton Times Square.
The type of room that qualifies for a Standard Room Reward changes depending on the hotel. A favorite Standard room in the Hilton ecosystem is at the Conrad Maldives Rangali Island, which counts the overwater Water Villa as one of the hotel's Standard rooms.
Regardless of whether the room is Standard or Premium or has a capped award rate, award bookings with Hilton work on variable pricing — which means the same room doesn't always cost the same number of points.
For example, we were able to find a Premium Reward King Executive room at the Hilton Tokyo in May 2020 for 79,000 Hilton Honors points per night. However, if we wanted to stay in the exact same room at the same hotel from July 20-22, 2020, it would set us back 201,000 Hilton Honors points per night. The same applies for Standard award bookings, where the price can vary between the low end and the capped amount.
While other hotel chains, including Marriott, publish a list of peak and off-peak seasons for reward bookings so you know when you'll end up paying more, Hilton does not. As a result, Hilton Honors members with flexibility looking to book award stays should look at a number of dates before pulling the trigger in order to optimize point value.
Although not having an award chart or hotel categories can make the pricing for Hilton Honors award bookings more unpredictable, with enough legwork, there are still some great deals to be found. Bookmark Hilton's Points Explorer tool, keep an eye on variable pricing and make sure you're factoring in the difference between Standard and Premium award bookings.
Photo courtesy of Hilton Hotels (© 2020 Hilton).
How to Maximize Your Rewards