The Complete Guide to Using Hilton Honors Points
There are plenty of ways to use your Hilton points, but some are better than others.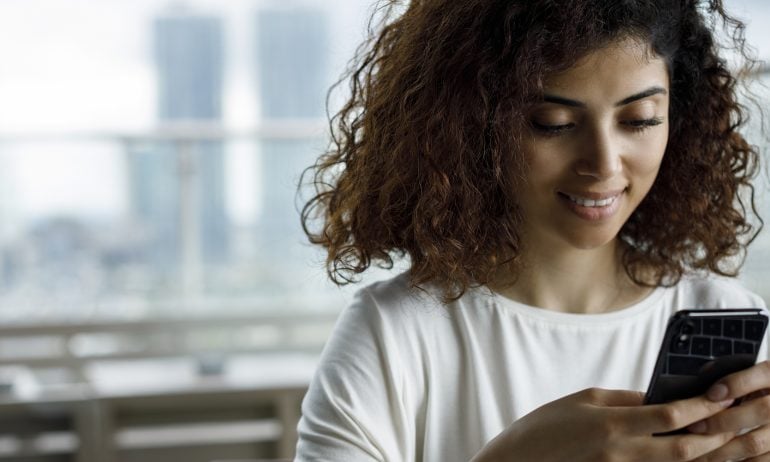 Many or all of the products featured here are from our partners who compensate us. This may influence which products we write about and where and how the product appears on a page. However, this does not influence our evaluations. Our opinions are our own. Here is a list of our partners and here's how we make money.
Hilton Honors points aren't the most valuable in the travel rewards world — NerdWallet currently values them at 0.6 cent each. Yet Hilton doles them out like candy, leaving frequent guests and credit card holders with plenty of points to use.
You can redeem Hilton points for hotel rooms, of course, and in this guide we lay out how to do just that. We also explain how (and when) to use a combination of points and miles, and include a calculator for determining if a potential redemption is "worth it."
You can also use Hilton points in other ways, such as transferring to airline partners, booking unique "experiences," paying for Amazon purchases and even renting cars. Are these other Hilton Honors points redemptions worth the time (and points)? Read on to find out.
Hilton Honors points can be redeemed at any of Hilton's 6,800+ hotels and resorts. This is the most common — and usually most valuable — way to use the points.
To search for award availability, select the "Use Points" box on the Hilton search tool:

This will bring up a search results page with the number of points needed to book the property: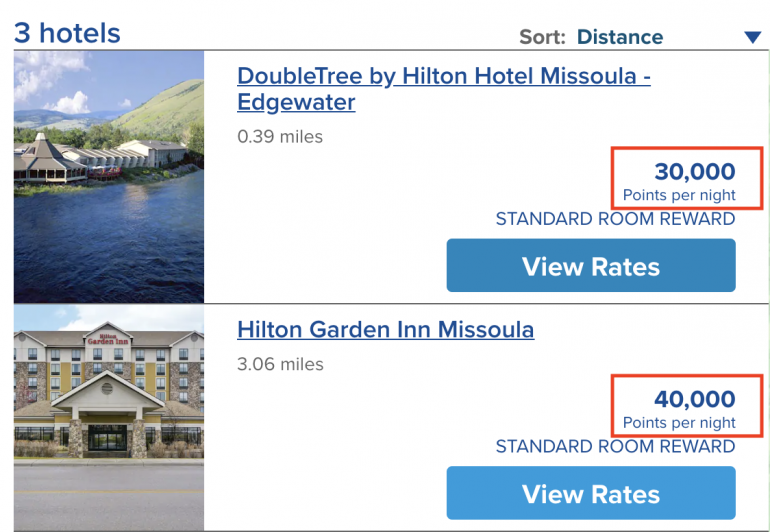 Confusingly, these prices often switch to dollar amounts when clicking through to the room selection screen, though the point amounts are also displayed (much smaller) above the cash rate, as highlighted in red below.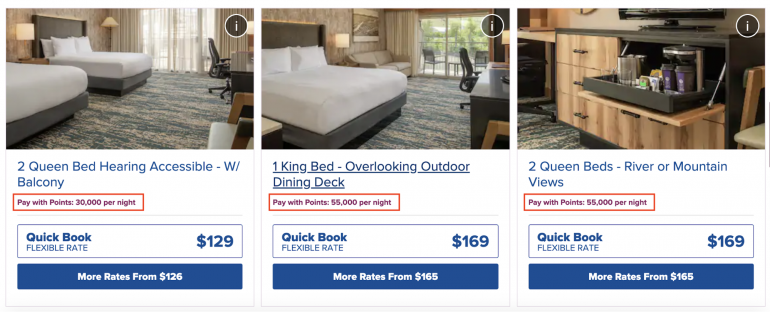 Hilton allows award bookings for several different room types, including suites. This is unusual for a hotel rewards program, and provides far greater flexibility for special getaways. Of course, more expensive rooms cost more points.
How to maximize Hilton Honors redemptions
Hilton does not use an award chart for its properties, meaning the number of points needed to book a given room dynamically changes based on supply and demand. So there are no clear "sweet spots" for using Hilton points as there are in other programs. The best way to find good deals is to manually search for them.
To ease this burden (somewhat), Hilton has a dedicated Points Explorer tool that lets you filter results by the number of points you actually have.
Once you've found a booking and want to know if it's a good use of points, do a calculation — either with our Hilton points calculator below or on your own.
Since we've determined the baseline Hilton point value is 0.6 cent, simply divide the total in cash by the number of points. If the value is higher than our baseline, it's a maximized redemption. If it's lower, you might consider holding out for a better opportunity in the future and pay with cash.
Make sure to determine all the fees associated with both the cash and award bookings (i.e., get as far through the checkout flow as you can without paying) when comparing costs.
Hilton Honors elite members get a fifth consecutive night free on all standard room award bookings. In other words, if you are a Hilton Silver member or higher and book five consecutive nights with points, you'll only pay for four nights. This can make the difference between an average redemption and a great one.
Elite status holders should book five nights to improve their odds of getting a high Hilton Honors points value.
Use Hilton's Points + Money option
If you don't have enough Hilton points in your account to complete a booking, you can use the "Points + Money" feature to, well, pay with a combination of cash and points.
Many hotel rewards programs offer something similar, but what makes Hilton's feature unique is the "slider" that lets you select any 1,000-point increment to offset the cash price of the room.

To determine whether using more points is "worth it," pay attention to the amount of cash offset by each 1,000-point increment. If it's more than 0.5 per point, then using points is a good value.
You have to have at least 5,000 points in your Hilton account to use this option, so it won't work for clearing the few remaining points rattling around in your account.
Redeem Hilton points for Amazon purchases
If you're not going to use your Hilton points for hotel stays, using them for Amazon purchases offers an easy alternative. Amazon's Shop with Points feature gives customers an opportunity to use rewards points from many different programs to pay for purchases and Hilton participates in this program. To get started you'll need to head over to Amazon.com, log into your account and link your Hilton Honors account to your Amazon account.
The redemption rate is 500 Hilton points per $1, which means that you'll extract a value of 0.2 cent for each Hilton point. Since our valuation for Hilton points is 0.6 cent each, you'd be getting less than half the value of the points when redeeming in this way. Although you'll get more bang for your buck when booking hotel stays using Hilton points, if you don't have any plans to use the points in this fashion, redeeming for Amazon purchases can be a good way to put your points to use.
You can also donate Hilton points if you do have a few spare points left and no redemption in mind.
Hilton partners with PointWorthy to manage these transactions. The value of these transfers often isn't the highest compared with other redemption options, but they can be a great way to clear your account.
Hilton lets you convert points into "event vouchers," which can be used for planning meetings and events like weddings or conferences. However, points transfer at a measly 25,000-points-to-$50 ratio, or 0.2 cent per point, well below our valuation.
Our recommendation? Use those points to book a honeymoon, not an event space.
Book a rental car with Hilton points
You can use Hilton points to book cars from Alamo, Enterprise and National using a special search function on the Hilton Honors site.
Hilton does not publish a set value for using points this way (that we could find), so we researched it and found a 0.21 cent per point value. Again, this is not a very good value for Hilton points and is kind of a pain compared with using a normal car rental search engine. We'd recommend steering clear.
Use Hilton points for Lyft
Hilton also partners with Lyft to both earn and redeem Hilton points when pairing your accounts. To use your Hilton points for ride sharing, you will need to redeem our points for Lyft credits.

That's 0.22 cent per Hilton point, which is not a great value for redeeming points
However, earning Hilton points for Lyft rides is a great way to rack up some extra points. You earn 3 Hilton points per $1 spent on Lyft rides (economy, luxury and extra seats). Shared rides will earn 2 Hilton points per $1. To take advantage, you'll first need to link your accounts by logging into both Lyft and Hilton.
Redeem Hilton points for flights
You can transfer your Hilton points to numerous airlines, and then use those airline miles to book flights. The initial process to do it is a little cumbersome. First, you'll need to log into your account, then navigate over to "Preferences." In the "preferred travel partners" section, you will need to select an airline from the list and add your member number.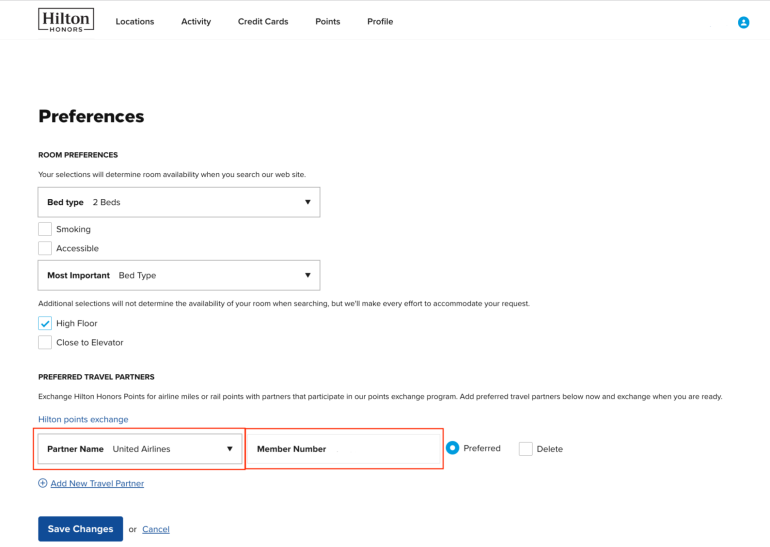 The following airlines are available for exchanging your Hilton points: Aeromexico, Aeroplan, AirAsia BIG, ANA All Nippon, Asiana Airlines, British Airways, Cathay Pacific, China Eastern, Delta Air, Ethiopian Airlines, Etihad Airways, EVA Air, Flying Blue (Air France/KLM), Genting Rewards, Hainan Airlines, JAL Japan Airlines, Jet Airways, Malaysia Airlines, Qantas Airways, Qatar Airlines, Saudi Arabian Airlines, Singapore Airlines, Skywards (Emirates), Turkish Airlines, V United Airlines, Virgin Atlantic and Virgin Australia.
Once you've added your airline head over to the "Exchange your Points" page, select your travel partner and from the drop down, choose the quantity of points you're looking to exchange.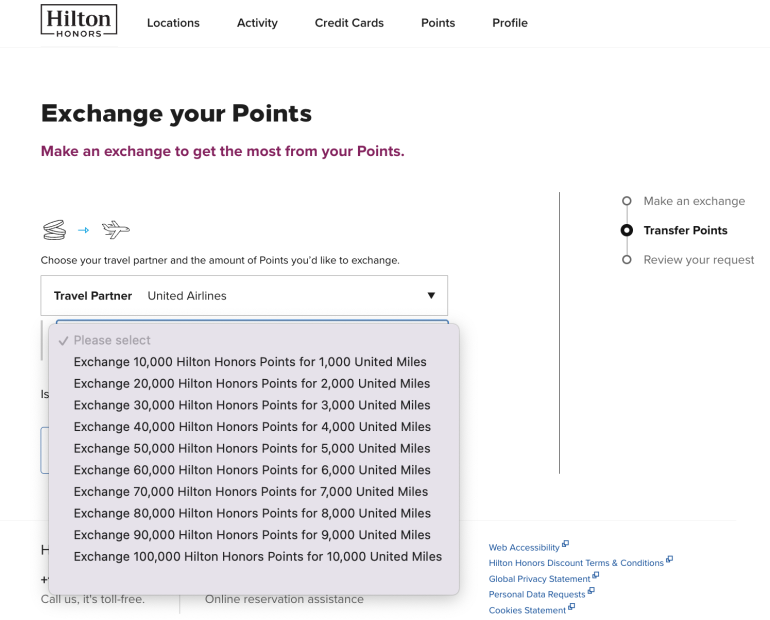 For United Airlines, you can exchange a minimum of 10,000 Hilton points and you'll get 1,000 United miles. Since Hilton points are worth 0.6 cent each, 10,000 Hilton points is equivalent to $60. Meanwhile, United miles are worth 1.2 cents each, meaning that 1,000 United miles are worth $12.
From a purely mathematical standpoint, this isn't a good use of your Hilton points. However, if you really don't have any other use for them, then this option can be worth considering.
More and more travel programs have begun offering "experiences," bookable with rewards points, including Hilton Honors. What kind of experiences?
The more exclusive events are sold as live auctions, which let you bid Hilton points until a certain date. Other events can be purchased outright using points. In both cases, it's hard to peg a clear "value" to these redemptions since there's no equivalent cash price.
To determine if an experience is worth the points for you, multiply the cost in points by 0.5, then multiply again by 0.01 to determine a rough cash value. Then ask yourself if you would pay that much for the event you're considering.
Use Hilton points for Ticketmaster purchases
You can also redeem your Hilton points to purchase tickets to concerts, sports games and other events on Ticketmaster and LiveNation. To do so, you will need to log into your Ticketmaster account and attach your Hilton account to your profile.
Your 500 Hilton points are worth $1 on Ticketmaster, yielding a terrible value of 0.2 cent per point.
You can transfer your Hilton points to dozens of airline programs including American, Delta and United.
The exchange ratios are terrible, however. For example, 10,000 Hilton points convert to 1,500 AAdvantage miles, which is one of the better exchange ratios and still not even close to worth it. American miles are worth about 1.5 cents each, while Hilton's are worth 0.6 cent each, so the ratio would have to be more like 2-to-1 or 3-to-1 to make this a decent option.
Frequently asked questions
How do I redeem Hilton Honors points?
How much is 50,000 Hilton points worth?
Do Hilton Honors points expire?
Can I use my Hilton Honors points on Amazon?
Final thoughts on redeeming Hilton points
Hilton offers members tons of ways to use its rewards points, but only a few ways generally offer good value. When in doubt, use your points to book hotel rooms. Use the calculator above or run the numbers yourself to find a higher-than-average value redemption. And don't agonize looking for "sweet spots" — in general, Hilton doesn't have them.
---
How to maximize your rewards
Get more smart money moves – straight to your inbox
Sign up and we'll send you Nerdy articles about the money topics that matter most to you along with other ways to help you get more from your money.