At NerdWallet, we strive to help you make financial decisions with confidence. To do this, many or all of the products featured here are from our partners. However, this doesn't influence our evaluations. Our opinions are our own.
---
» This article is being updated.
---
Two years after Alaska Airlines and Singapore Airlines announced a partnership, it's finally possible to redeem Alaska Airlines Mileage Plan miles for flights on Singapore Airlines. Unfortunately, for most people, doing so probably doesn't make sense.
Alaska Airlines offers one of the most valuable reward currencies, thanks to competitive redemption rates on some great partners like Cathay Pacific and Japan Airlines.
The airline allows stopovers, even on one-way awards, and doesn't pass on fuel surcharges imposed by partners (except on British Airways and Hainan).
Alaska miles are some of the hardest to accumulate since you can only transfer points from Marriott Bonvoy.
Meanwhile, there is no shortage of ways to get Singapore Krisflyer miles: You can transfer miles to Singapore Krisflyer from Citi ThankYou Points, Chase Ultimate Rewards®, American Express Membership Rewards, Marriott Bonvoy and Capital One. You can also book Singapore economy flights with miles from any Star Alliance carrier, like United, Air Canada, or Avianca.
With that in mind, here's what you'll find on Alaska's award charts for Singapore Airlines:
Alaska has three award charts for Singapore Airlines flights from the U.S. to Asia: U.S. to Japan, U.S. to India and Southeast Asia and China.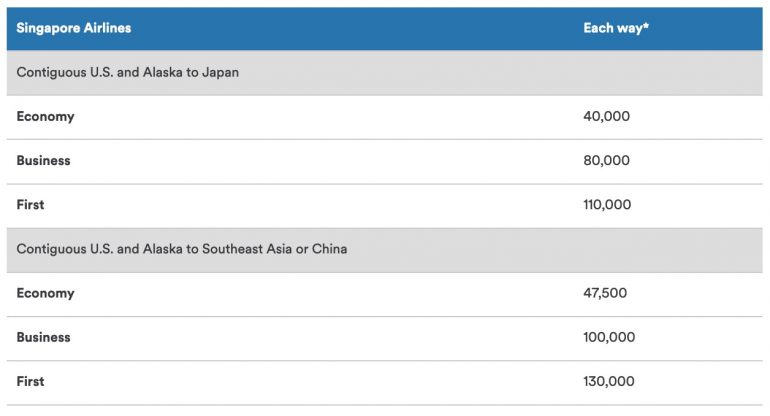 Depending on the class of service and destination, you might find a better deal using Singapore Krisflyer miles over Alaska MileagePlan. It's always best to compare prices before you book.
Flights between the U.S. and elsewhere in Asia are a bit more complicated.
Flights from the East Coast to China, Hong Kong or Taiwan are significantly cheaper with Alaska miles than with Krisflyer. You'll save 500 to 8,000 miles in economy, 10,000 to 30,000 in business and 20,000 to 40,000 miles on Singapore first class.
Other flights from the U.S. to Asia are generally cheaper with Krisflyer miles in economy. For example, if you want to book a one-way flight from the West Coast to Thailand, you'll pay 47,500 Alaska miles in economy, 100,000 in business class or 130,000 Alaska miles in first. To book the same flights with Singapore miles, you'd pay 38,000, 95,000 or 130,000 miles respectively.
You can't book flights from the West Coast to North China (Beijing and Shanghai) with Krisflyer miles. You may be able to with Alaska, but we weren't able to find any results on Singapore to confirm that.
Alaska's rates on Singapore to Africa are dramatically higher than Krisflyer, which charges 52,000 miles in economy, 113,000 in business and 158,000 in first. However, Krisflyer only allows redemptions to Africa from the U.S. West Coast.

Alaska divides intra-Asia flights into two categories:
Southeast Asia to Southeast Asia.

Southeast Asia to Japan, China and Korea.
If you have both Singapore Krisflyer miles and Alaska Mileage Plan miles, intra-Asia prices are higher across the board with Alaska — in some cases dramatically so. For example, an economy flight from Singapore to Malaysia costs just 7,500 Krisflyer miles, while Alaska will charge you 17,500.
There are a couple of exceptions.
Economy tickets from Southeast Asia to Japan and Korea are slightly cheaper when booked through Alaska Airlines Mileage Plan (22,500 miles) than when booked with Singapore Krisflyer miles (25,000).

For business and first class flights from Southeast Asia to Hong Kong and Taiwan, you'll save 5,500 miles booking through Alaska. That's because Alaska considers the two part of Southeast Asia, while Singapore Krisflyer groups them with South China.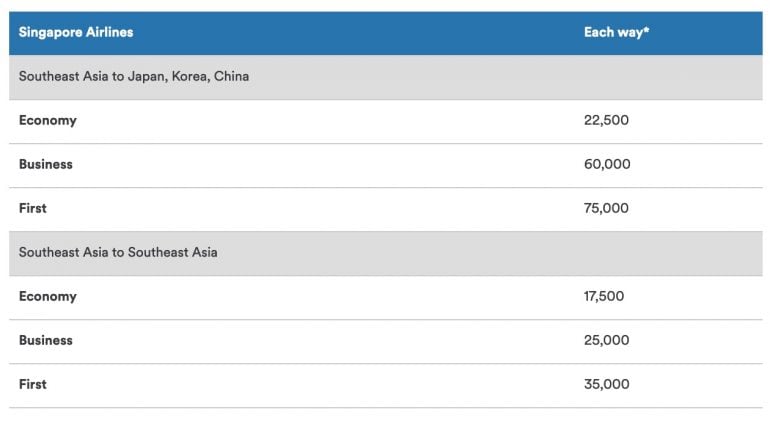 Alaska's prices between Europe and Asia are significantly higher than Singapore's own prices. Some of the differences are relatively small: Flying from Europe to Southeast Asia in economy costs 38,000 Krisflyer miles or 42,500 Alaska miles.
The gap widens for premium cabins: The same flight in business costs 92,000 Krisflyer miles or 110,000 Alaska miles.
Which Singapore Airlines flights can't be booked with Alaska miles?
U.S. to/from Europe: Singapore flies from Houston to Manchester and New York to Frankfurt, but you can't book these flights with Alaska miles.

Intra-Asia flights with stopovers.
When does it make sense to use Alaska miles to book flights on Singapore Airlines?
1. When you want to take advantage of stopovers
Alaska allows one stopover on one-way awards and two on round-trips.
2. When you want to book something that isn't allowed by Krisflyer's rules
Singapore Airlines Krisflyer has various routing rules that prohibit booking certain tickets, like flying from Mainland China to Hong Kong. While Krisflyer doesn't even offer a price for that on its award chart, Alaska is more than happy to sell you that ticket.
3. When you have easier access to Alaska Airlines Mileage Plan miles than Singapore Krisflyer miles
If you have access to U.S. credit cards, you probably have easy access to Singapore Krisflyer miles, since you can transfer points to Krisflyer from every major transferable points currency. However, if you don't  have access to these programs, Alaska may be a useful route — especially since you can often purchase Mileage Plan miles for a reasonable price during a sale.
While it's always good to have more options for award travel, the number of miles Alaska is charging for flights on Singapore Airlines makes it a fairly unattractive option in most cases. Even in the rare case that booking with Alaska miles is cheaper than Singapore's own program, the fact that Singapore Krisflyer miles are so much easier to acquire for most people means it's usually better to use those — unless you're trying to book a route that isn't allowed under Krisflyer's rules.
How to Maximize Your Rewards