Is the Disney Park Hopper Worth It?
A highly regimented parkgoer looking to hit as many spots as possible will benefit most from the Park Hopper pass.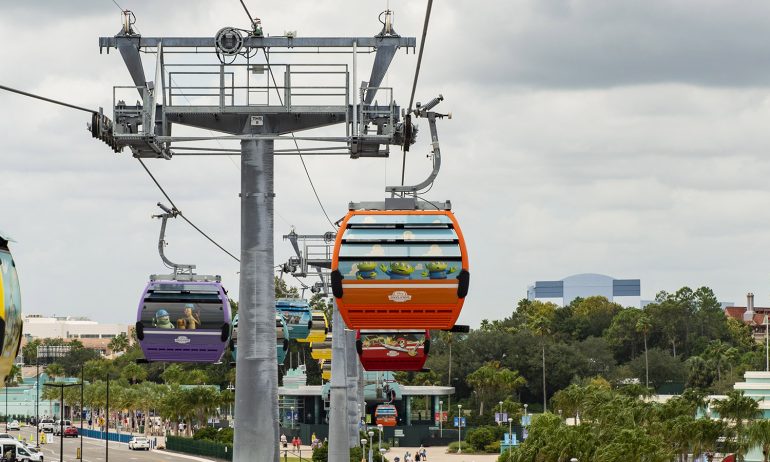 Many or all of the products featured here are from our partners who compensate us. This influences which products we write about and where and how the product appears on a page. However, this does not influence our evaluations. Our opinions are our own. Here is a list of our partners and here's how we make money.
Heading to Disney World or Disneyland? If you're ready to buy tickets and are debating which one of the many parks these two locations offer is right for you, you may have a few questions. Like, what is a Park Hopper at Disney World? How does it work? Is it worth it?
Let us help answer these questions about Disney Park Hopper so you can hit the parks for some fun.
What is Disney Park Hopper?
First things first, the Disney Park Hopper option allows you to visit multiple parks in a day as opposed to a regular park ticket that allows access to only one park per day. So you can hop from one park to another fairly often.
That doesn't mean you can hop around whenever you want; there are restricted hours for using the pass. For example, Park Hopper hours don't start until 2 p.m. at Disney World and 1 p.m. at Disneyland, and they end when the parks close.
At Disney World in Florida, you can use the Park Hopper at four parks:
Disney's Hollywood Studios.
There is also a Park Hopper Plus option, which you can use at these additional Disney parks in Florida:
Disney's Fantasia Gardens Miniature Golf Course.

Disney's Oak Trail Golf Course.

Disney's Winter Summerland Miniature Golf Course.

ESPN Wide World of Sports Complex.
At Disneyland in California, there are two parks, and you can visit both with a Park Hopper ticket:
Disney California Adventure.
How does Disney Park Hopper work?
Start by selecting how many days you want to explore Disney parks, and then pick the Park Hopper option.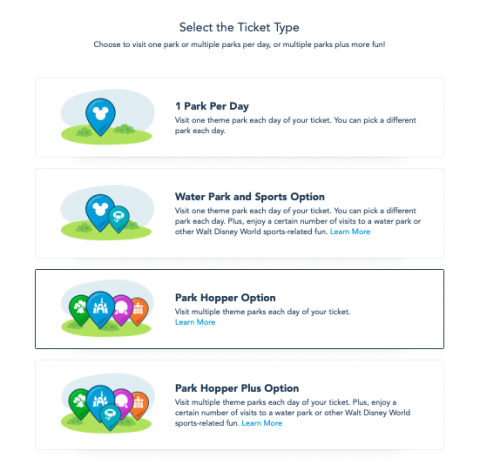 You'll then select the dates you want to visit the parks. Pro tip: Check park reservation availability first because you have to make a Disney Park Pass reservation for the first park you plan to visit for the day and go to that park before you hop to the next. You won't have to make a reservation for the next park.
Capacity restrictions are still in place, so second park availability may vary. If using your Park Hopper isn't an option at one or more parks, you'll be notified via the My Disney Experience app.
After you purchase tickets, you can make reservations at your preferred park(s).
As for transportation, the parks provide a way to get from park to park for those with a pass, and service starts just before Park Hopper hours begin.
How much are Disney Park Hopper tickets?
Disney World Park Hopper tickets vary, as do prices for single-park day passes. Weekends and holidays (aka peak times) tend to be more expensive than off-peak weekdays.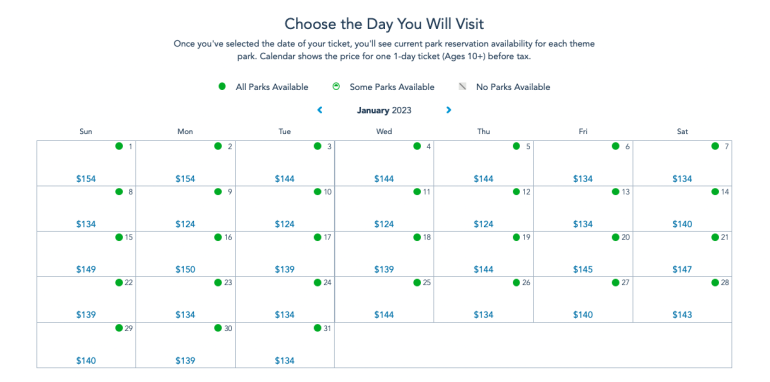 As an example, while a single-park weekday pass in January might be $124, the Park Hopper option on the same day is $189 — a $65 difference. Though prices may fluctuate from day to day, Park Hopper passes are constant at $65 for a single day.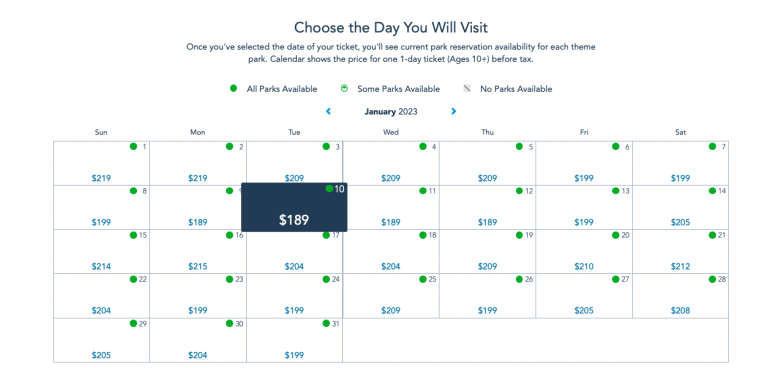 It's not $65 per day, though; that's a single-day price. A two-day park pass may cost $282, whereas two days with a Park Hopper costs $357, a difference of $75. That means a Park Hopper, just like a regular day pass, is cheaper per day the more days you plan to visit, at least at Disney World.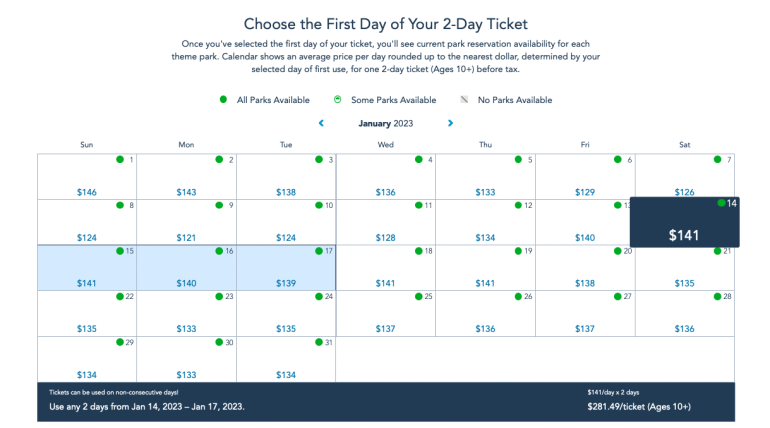 The Park Hopper Plus option is a few dollars more, coming in at $376 — about $20 more for access to the Disney water parks and more.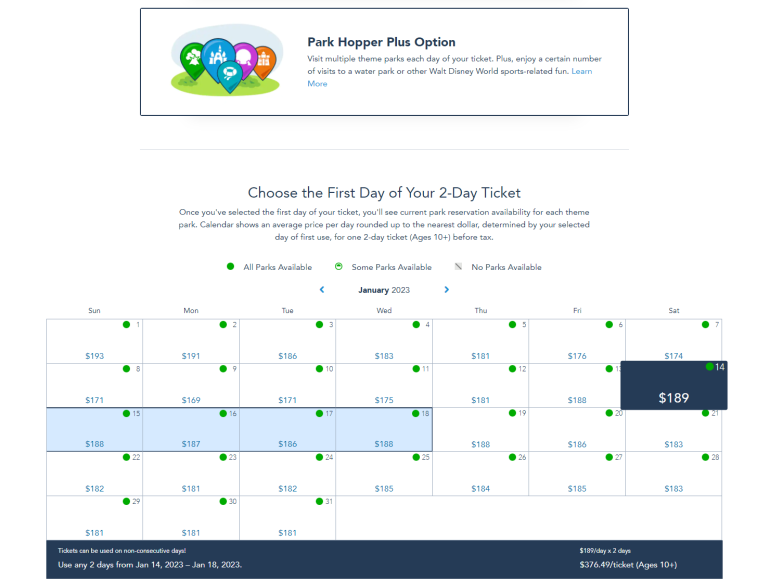 Disneyland works a little bit differently from Disney World. Disneyland tickets vary in price, but the Park Hopper option doesn't fluctuate in the same way it does at Disney World. A single-day Park Hopper will set you back $65 per day, but any other length of time will cost $60 per day.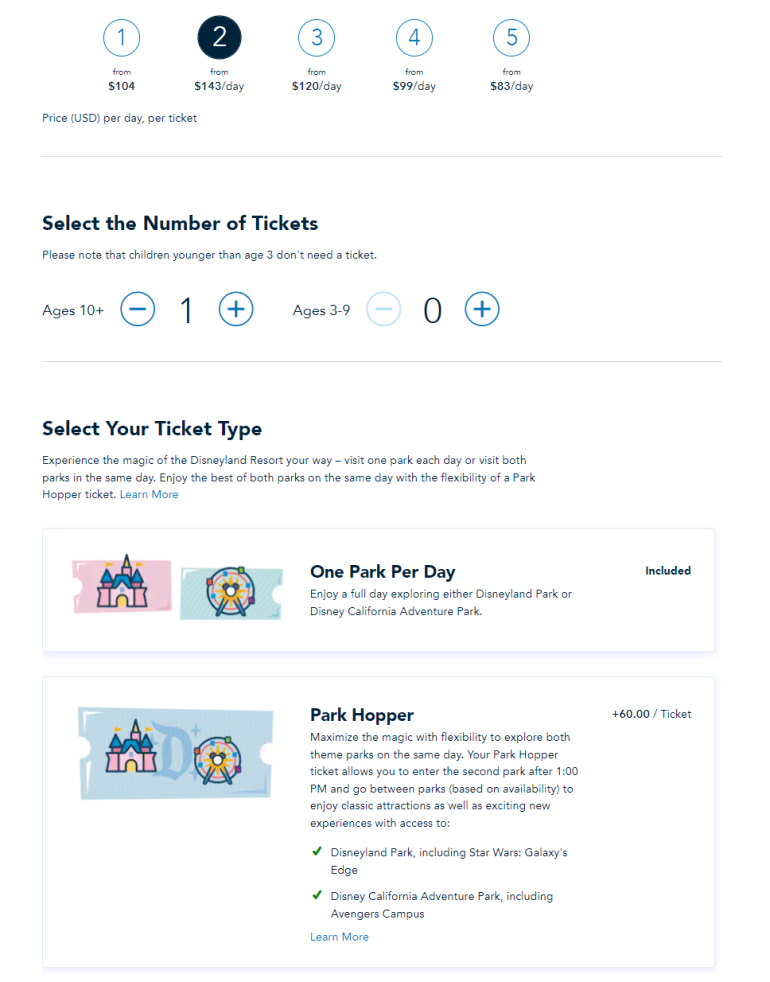 If you plan to spend one full day in one park and your second day between two parks, you still have to pay for the Park Hopper option for both days unless you make two separate purchases and reservations.
The best Disney Park Hopper benefits
The Disney Park Hopper is a great way to visit multiple Disney parks for less than purchasing additional day passes at several parks. For example, you could visit three or even four parks on a single two-day pass for only slightly more than if you were going to visit one or two.
On the other hand, you don't have to visit as many parks as possible in a short period of time. You could spend a day and a half at one and then a half day at another if you think two full days is too much at the first park but one day isn't enough. Or you could spend the hottest part of the day at a waterpark (with a Park Hopper Plus option) and the rest of the day at a theme park.
How to know if Disney Park Hopper is right for you
If you're trying to decide if the Park Hopper option is the right choice for you, ask yourself a few questions:
How many days do you plan to visit Disney parks?

How many parks do you want to enjoy while you're there?

Does each deserve a full day or would you get plenty of enjoyment out of a half day at one or two?
If you don't like to rush and don't want to waste time catching a ride from park to park, then you might be better off skipping the Park Hopper in lieu of a regular day pass. If, on the other hand, you want to experience as many parks as possible in a limited amount of time, it's probably worth it.
The Park Hopper is also a fun upgrade if you're spending several days in the area and want to see different shows each evening, want some spontaneity and flexibility to change plans or have visited the parks before and prefer to focus on your favorite rides and attractions at each park instead of exploring anew.
If it's your first visit to the parks or you're visiting during busy seasons when it's crowded and lines are long, on the other hand, you're likely better off sticking with one park per day.
So, is the Disney Park Hopper worth it?
Still wondering how to park hop at Disney and whether a Hopper pass is worth it? That depends on you. Consider how you want to spend your time, if you think you'll have the capacity to visit more than one park per day and whether flexibility is important to you. Then purchase your Disney passes with confidence, and enjoy the ride.
(Top photo courtesy of Walt Disney World Resort)
---
How to maximize your rewards
Get more smart money moves – straight to your inbox
Sign up and we'll send you Nerdy articles about the money topics that matter most to you along with other ways to help you get more from your money.