Marriott Bonvoy Rolls Out Incentives for 2021
Easier ways to earn and redeem points plus faster tracks to elite status are all good news for Bonvoy members.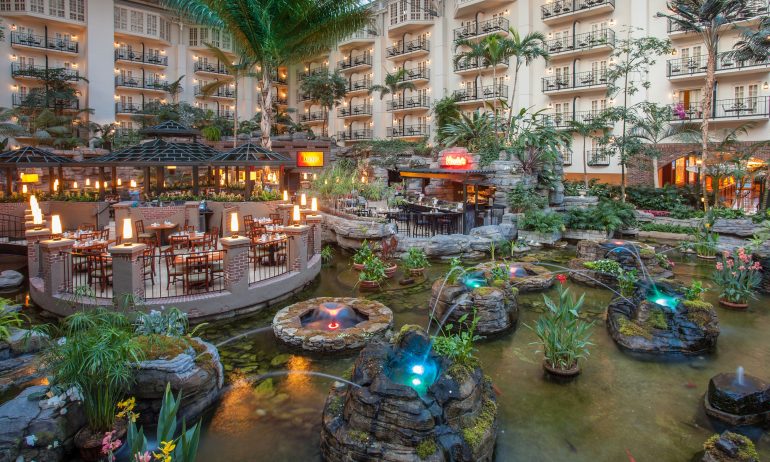 Many or all of the products featured here are from our partners who compensate us. This may influence which products we write about and where and how the product appears on a page. However, this does not influence our evaluations. Our opinions are our own. Here is a list of our partners and here's how we make money.
Marriott has announced several new incentives for Bonvoy members this year that will help members maintain elite status, save on award stays, reach top-tier status and earn elite nights faster in early 2021.
Here's what you need to know about the changes.
If you had Marriott Bonvoy elite status in 2020, you'll get a boost toward re-earning elite status in 2021. Just like last year, Bonvoy members will receive Elite Night Credits (ENCs) equal to 50% of the requirements for the elite status they held.
Members who held Ambassador Elite status in 2020 are guaranteed to earn at least Platinum Elite status in 2021 thanks to the 50-ENC boost.
The rest of the elites will earn boosts as follows:
Marriott has confirmed that these bonus ENCs will count toward earning and achieving . However, don't check your Bonvoy account for these bonus credits yet. Marriott says that the bonus ENCs will be deposited in Bonvoy accounts in February.
All Marriott credit cards currently available grant cardholders 15 ENCs. A Bonvoy member who holds both a personal and business Marriott credit card can get 30 ENCs — enough for Gold Elite status before even completing a Marriott stay.
So this ENC status boost is excellent news for Bonvoy elites who are also Marriott credit card holders. Just by holding both a Marriott personal and business credit card, you'll start 2021 with at least 30 Elite Night Credits plus whatever boost you earned. This creates some easy-to-earn scenarios such as:
For bookings between Jan. 11 and Feb. 21, 2021, Marriott has reduced the points required to book off-peak award nights. This pricing is only valid for stays through Sept. 30, 2021.
Here's the new award pricing for off-peak awards during this promotion:
Also, a Marriott representative confirmed that it has reduced off-peak award pricing for three PointSaver categories as well:
Thanks to this promotion, you can book Marriott award stays for as few as 4,500 points per night. And if you're able to find five nights of off-peak dates, you'll pay just 18,000 for a five-night stay after Marriott's automatic fifth night free on awards.
Or you could book some of the best properties in the Marriott portfolio for 63,000 points per night on off-peak dates (save another 1,000 points per night if you can find those top properties on the PointSaver list).
In addition to an elite status boost, Marriott will make it easier to earn elite status in 2021 through a new promotion. From Feb. 16 to April 27, 2021, Bonvoy members will earn double Bonvoy points and double ENCs on all stays of two or more nights.
Keep an eye on and enroll when the promotion is launched. However, it's great to know about this promotion ahead of time so Bonvoy members thinking of booking stays for the promotional period can factor in this bonus when planning elite status earnings for 2021.
Marriott is also making it a bit easier to earn Ambassador Elite status. Marriott's top-tier status comes with valuable perks like "ambassador service" and a checkout time 24 full hours after your flexible arrival time. Typically, members need to stay 100 nights and spend at least $20,000 at Marriott to earn this status.
In 2021, that spending requirement is being dropped by 30% to $14,000. You'll still need to earn 100 elite nights. However, that's much more achievable in 2021 thanks to the ENC boost and promotion offering double ENCs.
But wait, there's more: Marriott rolled out plenty of member-centric policy changes in 2020, and some of these changes are still in effect in 2021.
In 2020, Marriott earned in 2019 through Feb. 1, 2022. Additionally, any Suite Night Awards earned in 2019 as part of have been extended through Dec. 31, 2021.
Non-elite members can breathe easier knowing that Marriott has paused points expiration through Aug. 1, 2021. Plus, any Free Night Awards — such as those earned — that originally expired in 2020 are now valid through Aug. 1, 2021.
As with all travel loyalty programs, Marriott is looking for ways to keep members loyal while also factoring in these turbulent times.
Marriott's bonus Elite Night Credits are a great way to give elite members a boost toward re-earning status. For members traveling now, the double ENCs promotion will help you earn elite status even quicker.
The 10% discount on off-peak award nights is nice too. However, hotel cash rates have generally dropped, so this aspect of Marriott's changes is not as valuable. If you're planning travel over the next few months, it's worth comparing points and cash prices.
. So if you're getting less than this in value from an award booking, it's worth considering paying cash for the stay.
You want a travel credit card that prioritizes what's important to you. Here are our picks for the , including those best for: