Review: TWA Hotel at JFK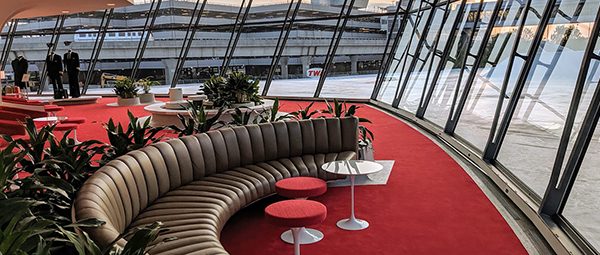 Many or all of the products featured here are from our partners who compensate us. This influences which products we write about and where and how the product appears on a page. However, this does not influence our evaluations. Our opinions are our own. Here is a list of our partners and here's how we make money.
Remember when air travel was glamorous? Me neither.
But the new TWA Hotel at New York's John F. Kennedy International Airport does a spectacular job of bringing the golden age of flying back to life. It's the "Mad Men" of airport hotels: sure to give you a sense of nostalgia for a long-lost era, regardless of whether you actually lived through it.
Despite a few small issues, such as limited in-room storage space and an extremely windy tarmac-side bar, the TWA Hotel is one of the most attractive boutique hotel experiences in the world. Even if you don't stay the night in a room, you should swing through the spacious, beautiful lobby during your next JFK layover.
The hotel lobby is situated in the old Trans World Flight Center terminal at JFK, directly across from the modern Terminal 5. The terminal was designed by Eero Saarinen, architect of the Gateway Arch in St. Louis. The building bears his sweeping, nonlinear style.
The building served as the terminal for Trans World Airlines from its construction in 1962 through TWA's acquisition by American Airlines in 2001. Starting in 2015, JetBlue began a partnership with a developer to reopen the terminal as a hotel.
The hotel opened in May 2019 to mixed reviews thanks to a slew of kinks on opening day — many of which seem to have been resolved by my stay in early July.
I found myself with slightly less than 24 hours in New York between a trip back from Iceland and on to Seattle in early July. I'd been dreading the schlep back and forth from JFK before I heard the new hotel had opened. I leapt at the opportunity to both avoid some annoying train rides and satisfy my inner aviation nerd.
The hotel is not a part of any major hotel brand, so award bookings were out of the question. I settled for booking directly through the hotel with my Chase Sapphire Reserve®, which earned me 3 points per $1 spent. My total came to $243 for a single weekday night, yielding 729 Chase Ultimate Rewards® points. I passed on a room with a direct runway view, which sounded cool but not worth an extra $80.
Transportation and check-In
We arrived from our Reykjavik flight into Terminal 4 and could see the TWA Hotel's distinctive swoops as we taxied to the gate. We took the free AirTrain one stop to Terminal 5 and navigated to the out-of-the-way branded elevator. I was, let's say, a bit excited to see the TWA logo back in action.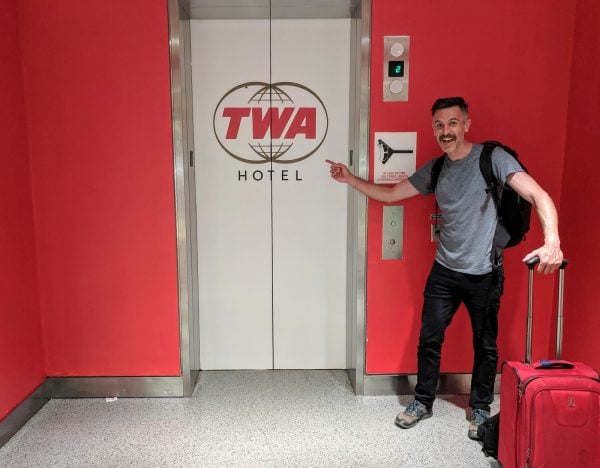 Before reaching the terminal itself, we encountered a replica of former TWA owner Howard Hughes's office, including delightful details like fake booze and ice in the lowball glass.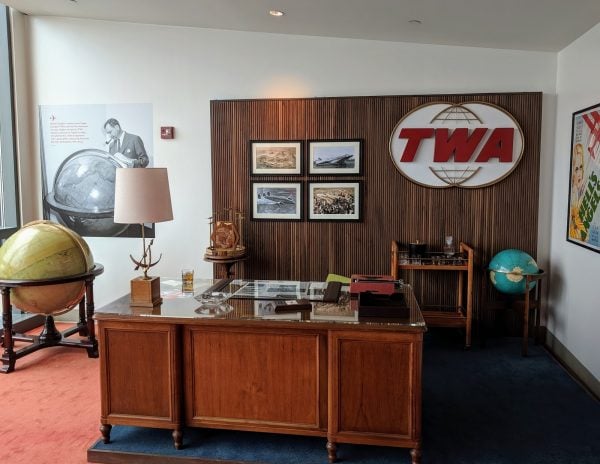 I had expected a typical boutique-y hotel with a few nods to vintage aviation. It was quickly becoming clear that those expectations were far too low.
Following a tube-like walkway brought us into the enormous, bright lobby.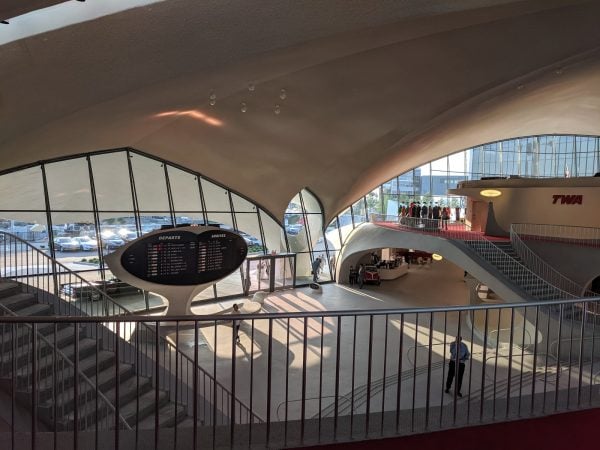 I had been in the terminal once or twice when it was in operation with JetBlue, but at the time it was full of ad-hoc security checkpoints, TV monitors and other modern junk. The terminal restored to its original elegance is remarkable. There's hardly a right angle in the joint.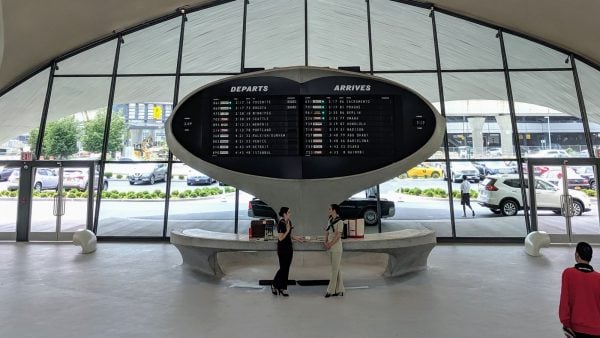 Two employees in vintage TWA uniforms were managing the welcome desk, which mostly involved posing for photos. Indeed, the whole place felt like a kind of upscale theme park for aviation nerds.
Check-in was handled at a kiosk backed by human helpers. It was surprisingly smooth — my room keys were in hand within a minute or so.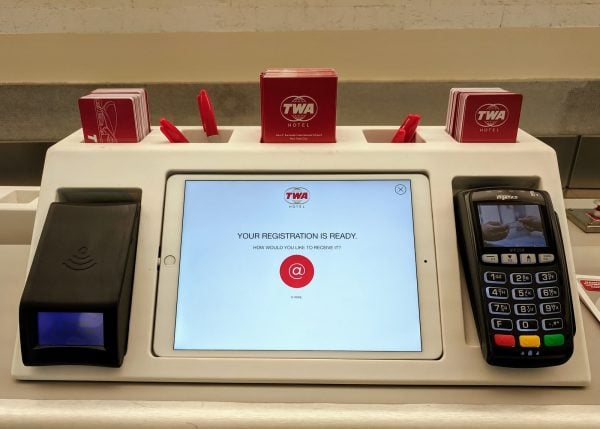 The rooms are split between two adjoining buildings: the Saarinen Wing and the Hughes Wing. Our room was on the 7th floor of the Saarinen Wing.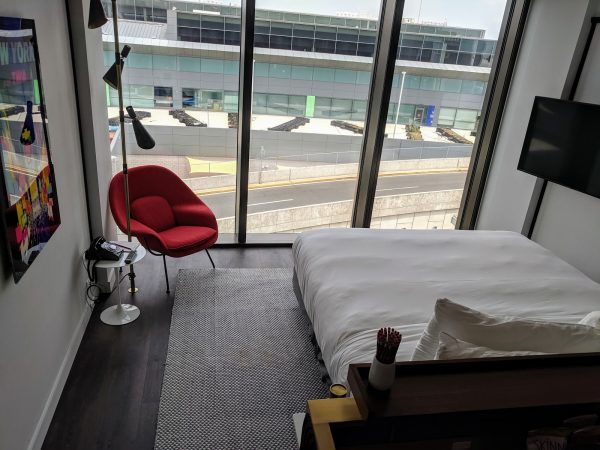 The room itself was small by airport hotel standards, but large by New York City standards. It looked out over an unappealing traffic ramp, but I had opted for the cheaper option.
My only major gripe came when I tried to unpack my bags and found that the room had absolutely no storage — no closet or even a chest of drawers. My suitcase's contents were soon strewn across the small room, which ruined the chic modern minimalist thing it had going.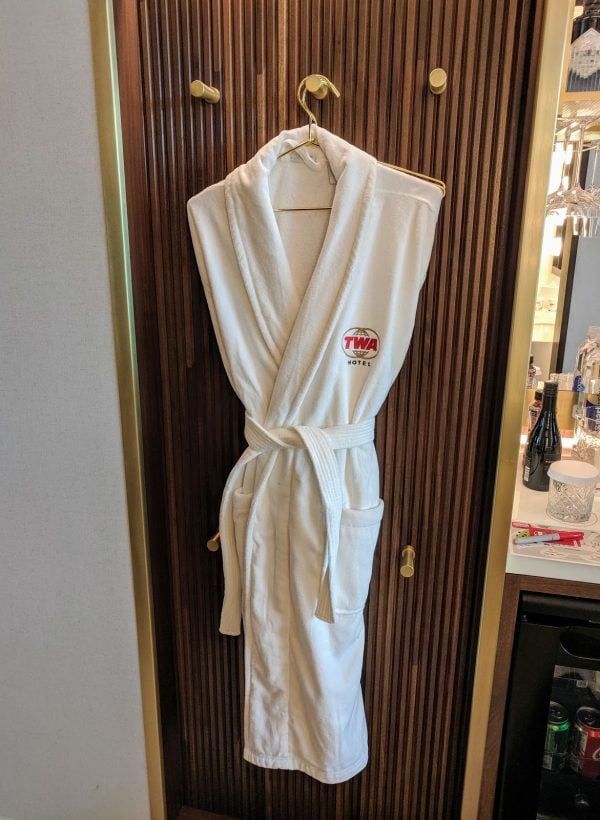 My appetite for the old TWA logo was quickly satisfied. Everything was branded — and I mean everything. The robes, pencils, soap, coasters, Sharpies and notepads all bore the logo. It felt more fun than garish to me, but then again, I do love that logo.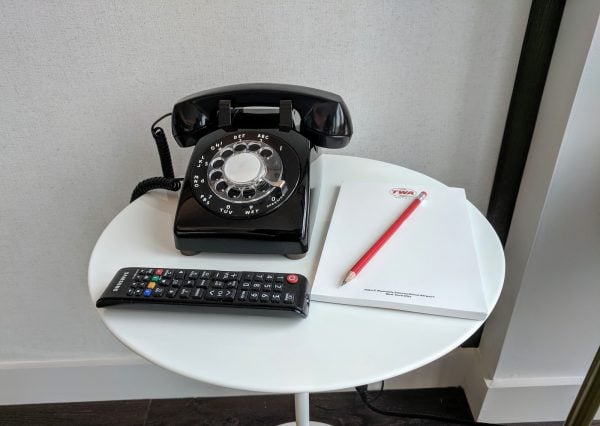 The room included nice vintage touches, like a small bar straight out of Don Draper's office and a working rotary phone.
The most amazing feature about the room can't be pictured: It was amazingly quiet thanks to 4.5-inch-thick soundproof glass. Between that and the blackout curtains, I was able to catch up on the rest that Iceland's 22 hours of daylight had denied me.
The hotel features a few dining options, including a rooftop bar, a French cafe and a somewhat unappealing food court. The standout star, however, is "Connie," a converted Lockheed L-1649A propeller plane that has been converted into a cocktail bar.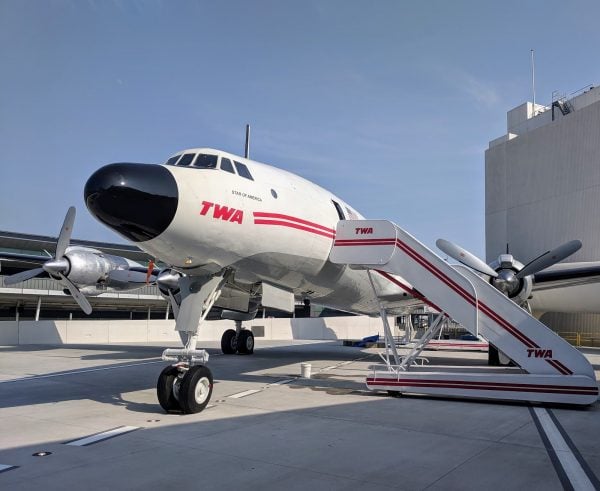 We needed reservations to get in after 6 p.m., but that was easy to do on the hotel website.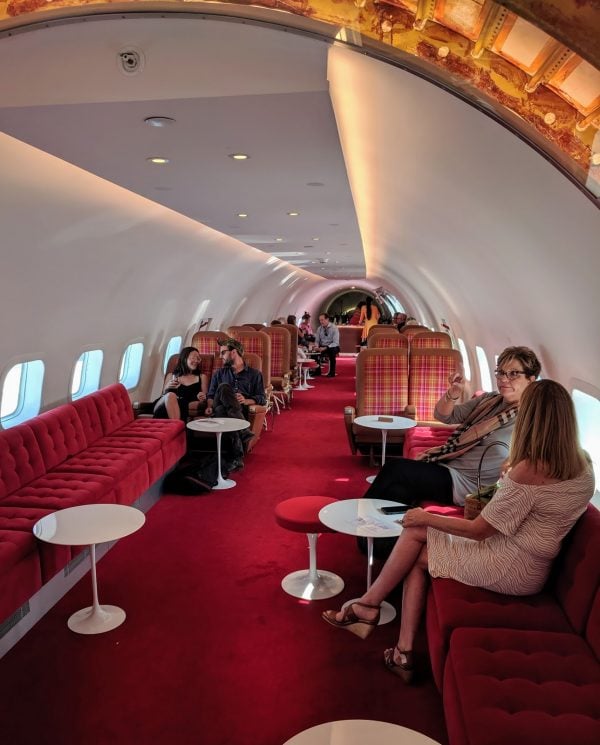 I'm running out of superlatives to describe how much I enjoyed the careful design throughout the hotel, so I'll just say I liked the bar/plane's interior a lot.
The hotel also boasts a surprisingly large and comprehensive fitness center, as well as a rooftop pool overlooking the runway.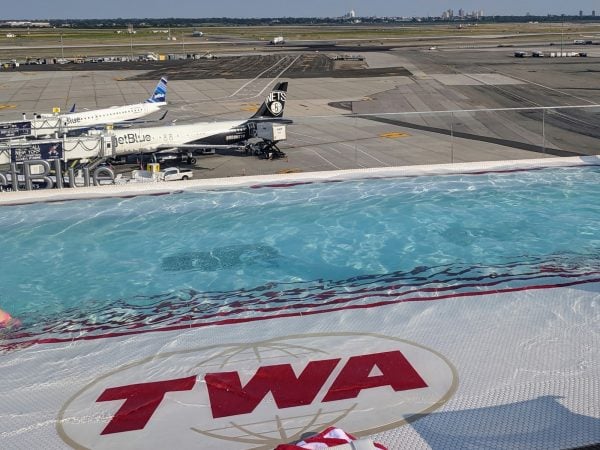 It was incredibly windy on the roof, making it almost impossible to eat there. The bartenders said the wind was typical, so that's a major downside to this otherwise fun and unique pool experience. A higher, wind-blocking Plexiglas window would go a long way.
For me, the best "amenities" were all the small details and features throughout the property, such as this beautiful and uninhabited lounge area: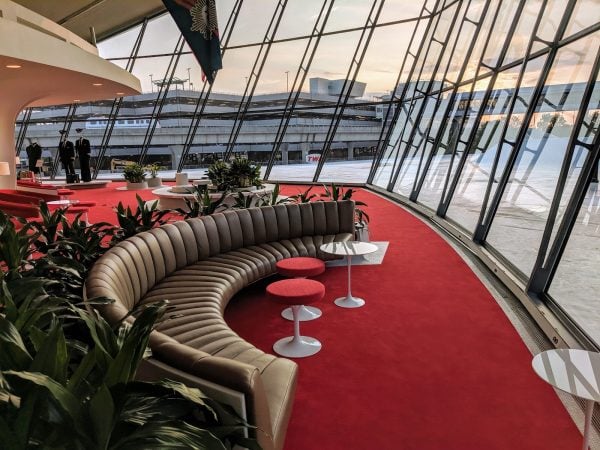 And this retro "smoking" nook upstairs: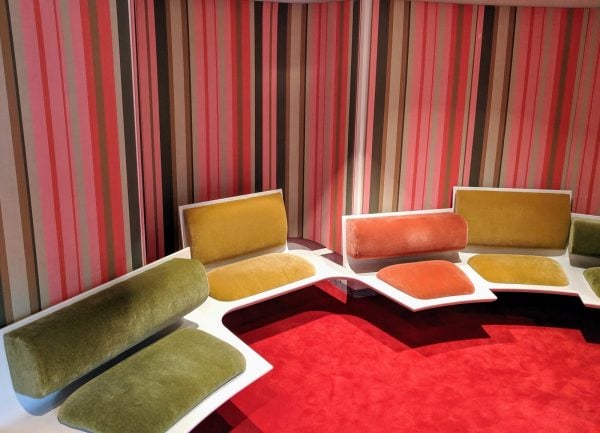 The upstairs also housed a display of TWA flight attendant uniforms through the ages.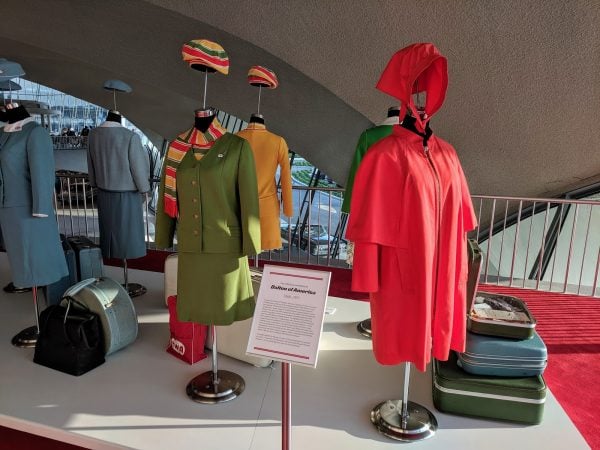 Again, these could have been tacked-on features to give the hotel a retro veneer, but the designers clearly put a great deal of attention into each element.
I paid a couple hundred bucks to get a room, but one of the most appealing features of the hotel is that anyone at the airport can visit for free.
You wouldn't want to make the trek on a short layover. With a few hours to kill, you could do a lot worse than grabbing an Intelligentsia coffee and enjoying the lobby, or reading an art book in the Herman Miller reading lounge. It's surprising that more savvy travelers hadn't (by July) figured out this swanky and free alternative to JFK's lackluster lounges.
Note: The hotel recently limited access to the observation roof/pool/bar to guests only, so don't bring your bathing suit if you're just stopping by.
As mentioned, the lack of storage space in the room was a serious flaw and a clear case of too much form over function.
The constant wind on the rooftop bar and pool area might not bother everyone, but for me it rendered the area almost unusable.
Finally, the service was spotty and clearly felt like a "new hotel." I called the front desk a few times with no answer and received a weird amount of hassle for trying to visit the pool area, even though I was a guest.
Those are just quibbles. Overall, the TWA Hotel at JFK was the most impressively designed accommodation I've ever had. From the small details like the fake bourbon in Howard Hughes's glass to the stunning restoration of an architectural masterpiece, I was amazed at how much attention was given throughout the property. It is clearly somebody's labor of love.
For even the slightest aviation nerd, the hotel is a must-visit when flying to or through JFK. And for anyone else looking to pass some time at the airport: You won't regret it.
---
How to maximize your rewards
Get more smart money moves – straight to your inbox
Sign up and we'll send you Nerdy articles about the money topics that matter most to you along with other ways to help you get more from your money.