Top 10 Beers to Try in Germany
Any trip to Germany is incomplete without a sampling of these top 10 brews.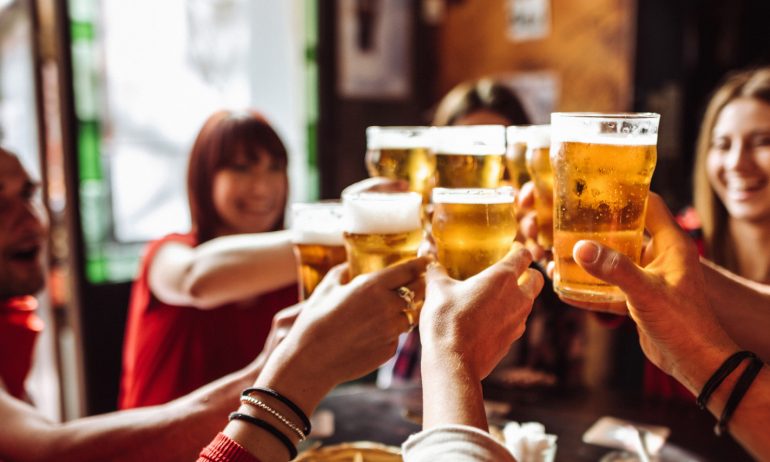 Many or all of the products featured here are from our partners who compensate us. This may influence which products we write about and where and how the product appears on a page. However, this does not influence our evaluations. Our opinions are our own. Here is a list of our partners and here's how we make money.
Germany's passion for well-made, delicious beer is known the world over. Many German brewers still make beer in accordance with the Reinheitsgebot (Beer Purity Law) of 1516, which states that beer may only be made with water, barley and hops. (The existence of yeast was unknown at the time.)
It wasn't even until 1993 that brewers were legally allowed to add yeast and malts to beer.
Germans are renowned for their beer for good reason, and any trip to Germany is incomplete without a sampling of these top 10 brews.
1. Weihenstephan Hefe Weissbier
Hefeweizen, a cloudy, Bavarian-style wheat brew, tops the list of beers to try. A light, yeasty sweetness (which some liken to bananas or bubblegum) makes it an extremely refreshing beer to drink before a meal or with a light dinner. As the oldest brewery in the world, Weihenstephan has been producing phenomenal hefeweizens since 1040.
Erdinger is the world's largest wheat beer brewery, and Kristall is one of its best-loved beers. A crystal-clear version of the traditional Hefeweizen, Kristall is the perfect thirst quencher on hot summer days. Serve it with a lemon wedge and enjoy after a long bike ride.
Traditionally brewed in March and served in Autumn, around the Oktoberfest celebration, Spaten Oktoberfest is a sweet, brown beer with a mildly malty taste and roasted notes. It's surprisingly crisp for such a sweet beer but has a round, earthy finish. Spaten's Oktoberfest is only available from August until October or November.
4. Aecht Schlenkerla Rauchbier
This beer is a little harder to find than most, but it's well worth it if you can snag a bottle. The Schlenkerla brewery, located in the hills of Bamberg, was founded in 1405 and still brews this sweet, malty beer. Its distinctly smoky aroma — reminiscent of leather or even beef jerky — comes from exposing the malt to intense, aromatic beech smoke. You can best enjoy a glass with a hot meal served in the brewery's beer garden.
5. Paulaner Salvator Doppel Bock
Paulaner is a major player in the German beer world, and their doppel bock is a fine example of this bottom-fermented beer. Darker and richer than a regular bock, doppel bock is full of big flavor, but still clean, with aromas of toasted spice, caramel and burnt sugar. Dark barley malt gives it its characteristically malty taste.
6. Schneider Weisse Aventinus Eisbock
Eisbock is a type of beer made by freezing off a portion of water in the brew and removing it. The resulting beer is super-concentrated, increasing its body, flavor and alcohol content. The Schneider Aventius is heavy and malty with nutty, caramel notes and a hint of ripe plum. It pairs extremely well with buttery cheeses like brie or gouda, as well as with chocolate.
Despite the name, this isn't a place bad people go to roast, but an extremely cool beer made by the oldest brewery in Munich. Mild, sparkling, refreshing and dry, this easy-to-drink beer is a go-to for city dwellers, who grab a bottle from the local Späti (late night store) and wander the streets before heading to a party.
If you're ever in Cologne, you'll see patrons at numerous outdoor cafés ordering round after round of Kölsch, a light, refreshing beer brewed only in and around the eponymous city. Less bitter than a pilsner, Kölsch is moderately hoppy and gently fruity. Don't be surprised at the small 200 ml glasses in which it's served — that's the only way you'll get it.
A classic summer drink in Berlin, Berliner Weisse is a tart, tangy beer which gets its characteristic flavor from deliberately soured grains. It's traditionally served in a large, boule-like glass and often colored green with a shot of sweet woodruff syrup or red with raspberry.
A classic German pils in every way. This palatable beer is clean and refreshing and makes a nice, easy accompaniment to any meal. A predominant hop flavor gives the beer a verdant, herbal finish. Though there's nothing out of the ordinary about this beer, it's on the list for this reason because even the most standard of German beers is made to such high standards.
How to travel to Germany for cheap
Use smart financial strategies to lessen the load on your wallet during your vacation in Germany. Follow tips like:
Get more smart money moves – straight to your inbox
Sign up and we'll send you Nerdy articles about the money topics that matter most to you along with other ways to help you get more from your money.