United Airlines' Bistro on Board: A Food Review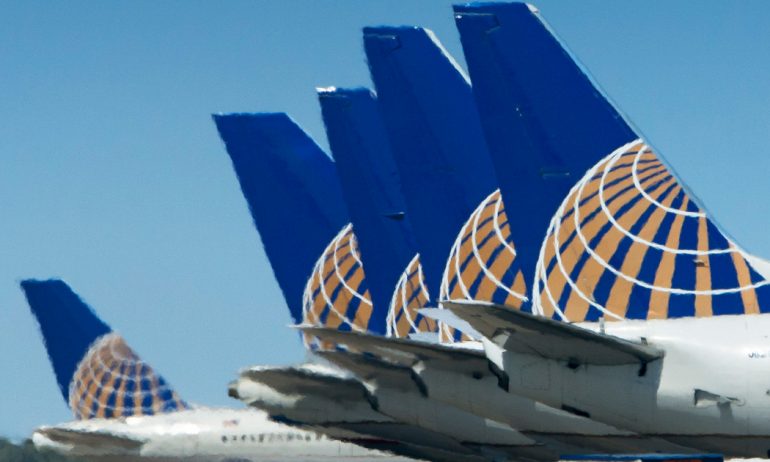 Many or all of the products featured here are from our partners who compensate us. This may influence which products we write about and where and how the product appears on a page. However, this does not influence our evaluations. Our opinions are our own. Here is a list of our partners and here's how we make money.
Due to shrinking connection times, many flyers must choose between getting to their gate on time and getting a quick meal. Unfortunately, many of those meals aren't so quick: In major airports, navigating a line to get food to go can be an ordeal in and of itself.
Airlines are aware of this decision and have spent time and money improving their menus. Gone are the days where flyers get complimentary meals of questionable quality. Today, American carriers are offering "chef-inspired" menu items to passengers. But are they worth the price?
UNO pepperoni deep dish pizza: Not true deep dish
Rating: 7/10 Price: $9.99
Considering United is based in Chicago, it only makes sense to offer a deep dish pizza on the lunch/dinner menu. But what's advertised as a pizza fell short of the promises, although it was a hit with my kids.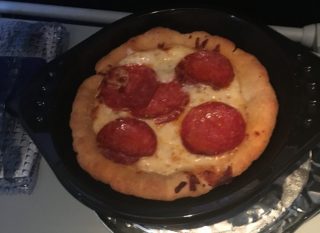 The pizza didn't resemble a slice of true Chicago-style pie. Instead, it was more of a thick crust with lots of sauce and cheese. The crust itself was the most disappointing part of the meal. It was a bit soggy on the bottom and then dry on the sides. It tasted like pastry dough, but wasn't quite buttery enough.
But the flavor and ingredients made it edible at altitude. The cheese was gooey and hot, and the extra sauce ensured you get a tangy and bright flavor. But the pepperoni is pretty standard. It tasted like what you get on a Domino's Pizza – which means it's what you expect.
My take: Compared to the picture on United's website, the pizza looks good. But it wouldn't be my first choice unless I wanted something familiar and comfortable.
Mezze sampler: A satisfying, healthier option
Rating: 9/10 Price: $9.99
Of all the menu items, my favorite was the mezze sampler. The box is simple, containing hummus, wheat berry salad, pita bread and almonds. For a cold plate, I enjoyed this one the most for the variety of flavors.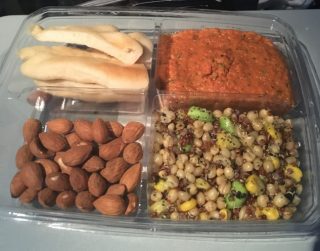 The hummus is the highlight of this box. The sun-dried tomatoes come through, with that tanginess that's so satisfying for high-altitude tastebuds, and the unsalted almonds go well with the hummus.
While the salad was good, the flavors were very muted and mild. The texture was great, but nothing popped. A vinegary or stronger lemon dressing would have helped.
What prevented this plate from being a full 10 was the hummus texture combined with the pita bread. While good hummus should be creamy, I found the hummus to be rather grainy. When paired with the pita bread, which was a bit dry with some soggy corners, the entire dish fell short of a perfect score.
My take: When it comes to vegan options at 30,000 feet, United does a great job of building an attractive option. Those looking for a healthier alternative will find this dish delivers good ingredients with good flavor.
Barbecue chicken sandwich: The bread is the majority of the flavor
Rating: 5/10 Price: $9.99
Airlines are having difficulty perfecting the barbecue sandwich. Whether it's too little meat or an unbalanced flavor profile, putting together "pulled smoked chicken, barbecue sauce, cheddar jack cheese and a dill pickle on a focaccia roll" isn't easy.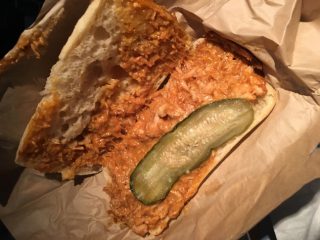 Simply put: The United barbecue chicken sandwich is underwhelming. The bread is really the majority of the of the flavor; the meat filling is secondary. If you're expecting more of a chicken barbeque sandwich and not a focaccia with a barbecue-flavored spread, you'll be disappointed.
The biggest difficulty of the sandwich was getting past the meat. It felt like mystery meat. It had an OK flavor — meaning it was tangy and tasted faintly like barbecue. But without an appealing look or flavor, it just wasn't palatable
My take: Why can't airlines get a barbecue chicken sandwich right? If you want a good pulled chicken sandwich, get one on the ground. Avoid this one at all costs.
Smoked gouda cheeseburger: Like a McDLT
Rating: 8/10 Price: $9.99
For those old enough to remember McDonald's McDLT sandwich — featuring both a hot and a cold side — the smoked gouda cheeseburger is presented similarly. But I was impressed by the high-quality: The lettuce and tomatoes were very fresh, and the beef came very warm. Paired with ketchup, mustard and chipotle mayonnaise, there was a lot to enjoy in this meal.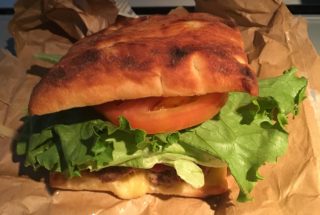 The beef tastes like … beef, in a good way and was it juicy. Overall, I thought it was a pretty good burger, meaning I would get it even if I wasn't on an airplane.
On the downside, the melted cheese from the burger made the entire package a little greasy, which wasn't nice to handle. And the bun was too chewy in a tough way. I wish the hamburger had the bread from the chicken sandwich, instead.
My take: Despite some small flaws, the smoked gouda cheeseburger is enjoyable both on the ground and in the air. If you decide to buy any meat-based meal on a United flight, this is the one to opt for.
Although airline food has come a long way, there are still obvious shortcomings. But the United food options are surprisingly good. If you do decide to spend $10 on an in-flight lunch or dinner item, go for the mezze sampler or the smoked gouda cheeseburger.
But, as with other airline chicken sandwiches, avoid the United version at all costs.
Feature photo courtesy United Airlines; meal photos by Kevin Yuann for NerdWallet
Get more smart money moves – straight to your inbox
Sign up and we'll send you Nerdy articles about the money topics that matter most to you along with other ways to help you get more from your money.