What Are Travel Points Worth and Why Do They Matter?
Travel points earned via loyalty programs and credit cards vary in value but are a good way to cut vacation costs.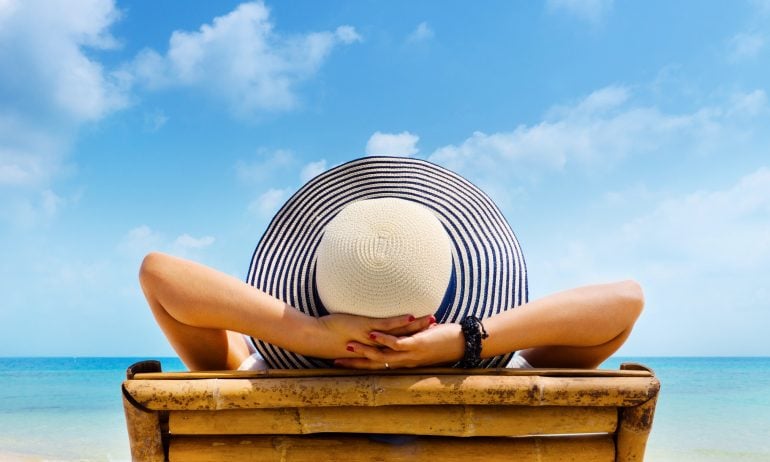 Many or all of the products featured here are from our partners who compensate us. This may influence which products we write about and where and how the product appears on a page. However, this does not influence our evaluations. Our opinions are our own. Here is a list of our partners and here's how we make money.
When was the last time you took a vacation? A real "toes in the sand, cold drink in the hand" kind of vacation? If you're like most of us, it's been too long.
One of the main reasons it can be tough to book a great trip is that those carefree vacation days don't always come cheap. But the solution might be hiding in plain sight: travel points.
We're going to walk you through the basics of what travel points are, what they're worth and why they matter — so you can spend time in your vacation destination without spending a big chunk of your savings.
Travel points are a type of currency that can be earned in many different ways. For the purpose of this explainer, we're going to use the umbrella term "travel points" to include both airline miles and hotel points — the two most common types of travel points.
One way to earn travel points is through loyalty programs. For example, you can earn when you fly on American Airlines and when you stay at Hyatt properties.
Another common way to earn travel points is by spending on credit cards. Chase, American Express and other financial institutions offer co-branded credit cards, like the and the , that pay you points or miles when you make purchases. Terms apply.
Different travel points systems have members earn and redeem awards at different rates, and generally speaking, the value of individual travel points varies widely.
Citi, Chase, Capital One, American Express and other card issuers each have their own type of currency — , , and . Their points tend to be than airline and hotel points. These points leverage transfer partners to offer members a wide variety of opportunities to earn and redeem points, whereas hotel- or airline-specific travel points are generally designed to be redeemed with the specific hotel group or airline.
Points from financial institutions can be redeemed in a variety of ways. We'll talk more about that in a moment.
The value of points and miles varies. While it can be useful to think of points as being worth about 1 cent apiece, there are ways to squeeze more value out of each point. On the flip side, there are also several ways to redeem points for a not-so-great value, so it's important to do the math to determine if a deal is really a deal.
NerdWallet analyzed the value of dozens of rewards programs to when making award bookings. These valuations are a nice starting point: If you can get this baseline value from a redemption, you know you're doing well.
A simple math trick will help you determine the value of your points redemption: Simply divide the cash value by the number of points needed to book the flight, then multiply times 100.
Generally speaking, the best way to redeem travel points is with the company most closely associated with the loyalty program. So, use your miles to book United flights, and use your points to book stays at a Marriott hotel.
While you can get outsized value by using transferable currencies wisely, it is not as common among specific airline or hotel groups to get such high-value redemptions with external partners (the caveat being that savvy travelers can sometimes leverage high-value award tickets via ).
The worst ways to redeem points or miles include for things like merchandise and magazine subscriptions.
Let's say you've earned 25,000 Chase Ultimate Rewards® points. You decide to transfer them to Hyatt, one of . The points transfer at a 1:1 ratio, so you get 25,000 World of Hyatt points.
NerdWallet values , so those points are worth $475.
Hyatt offers hotel properties that span budget to luxury, and you can often find for points redemption at any quality level. For example, Hyatt Category 2 properties cost 8,000 points per night; with 25,000 points, you can book a three-night stay — with 1,000 points to spare.
Since some of these same Category 2 properties can cost over $250 per night, your 24,000 points could equate to $750 in value — a big jump from the $475 baseline value you hoped to get.
Let's say you have 30,000 American Express Membership Rewards points. You browse the American Express shopping portal and consider adding a very nice tea kettle to your cart for 27,312 points. This tea kettle typically sells for $125, so it might seem like a great redemption. After all, those points were free — and what a lovely tea kettle.
However, 27,312 points is a lot of points. Armed with NerdWallet's points valuations, you can do the math to determine exactly what those points are worth. Since NerdWallet has determined that American Express Membership Rewards points are worth about apiece, this number of points is roughly worth $546.24.
That would have been one expensive tea kettle.
Some travelers have built entire lifestyles around the points and miles hobby. Even so, you might ask: Do travel points matter?
For individuals motivated to save on travel expenses, the answer is short: Yes. Here are some additional reasons why learning — and using — travel points is worth it.
What are travel points worth? A lot. There are many different types of travel points — airline miles, hotel points and credit card points, which you can spend on a variety of things. The value of points and miles can be significant, but some points redemptions are much more valuable than others. Do the math to determine if a redemption makes sense for you.
You want a travel credit card that prioritizes what's important to you. Here are our picks for the , including those best for: