Advertiser Disclosure
Pack These Useful Money Tips When You Study Abroad
Each semester, thousands of college students take to the skies to study in a foreign country. It's no secret that the experience can be one of the best activities a student can participate in, but minor financial details when you study abroad can cause major headaches in an unfamiliar country.
Things as simple as paying for a sandwich may become overwhelming if you don't know what to expect. Here are some money tips that can be useful during a trip abroad.
Know about fees
When you use a debit card or credit card in a foreign country, there are generally two types of transaction fees that may apply:
Foreign transaction fee – a percentage of the amount when using a debit or credit card to make a purchase or withdrawal in a foreign currency
International ATM fee – a flat operator-access fee charged for each ATM withdrawal
In most cases, expect to pay 1% to 3% of a transaction amount when making a debit card purchase in a foreign country, and an additional fee of around $2 to $5 each time you use an ATM. Typically, the transaction fee is for converting dollars into another currency. If you choose to use a credit card for purchases, know that it may have a similar charge, though you could choose one with no foreign transaction fee to avoid the extra cost.
>> MORE: NerdWallet's best travel credit cards
Understand exchange rates
The exchange rate tells you how much local currency you can get for every U.S. dollar, absent any fees. There are "sell" rates for people who are exchanging U.S. dollars for foreign currency, and, vice versa, "buy" rates. It's a good idea to know what the local currency is worth in dollars so you can understand the value of your purchases abroad.
Sites like X-Rates offer a currency converter that gives the current exchange rate (in the middle of the buy and sell rates), so you can make quick comparisons. You can use it to get a feel for how much certain amounts (say $1, $10, $25, $50, $100) are worth in local currency (or vice versa). Keep in mind that rates fluctuate, so you may not be able to anticipate exactly how much a purchase made in a foreign currency will cost you in U.S. dollars.
To get cash, check for buddy banks abroad
You'll probably want to bring along a debit card when you travel to get cash in local currency from ATMs. If you already have an account with a large bank or credit union in the U.S., you may have an advantage. Being a customer of a big financial institution with a large ATM network may make it easier to find an affiliated cash machine and avoid an out-of-network fee.
Bank of America, for example, is part of the Global ATM Alliance, which lets customers of participating banks use their debit cards to withdraw money at any Alliance ATM without paying the machine's operator an access fee, although you may still be charged for converting dollars into local currency used for purchases. The Alliance includes banks in Western Europe, Australia, China, Canada and Mexico.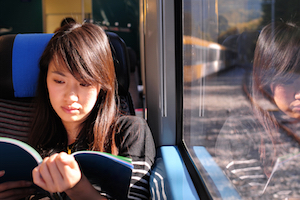 Citibank is another popular bank for travelers because it has 45,000 ATMs in more than 30 countries, including popular study-abroad destinations such as the U.K., Italy and Spain.
ATMs in a foreign country may allow withdrawals only from a checking account, and not from savings, so be sure to keep a sufficient checking balance. And ATM withdrawal limits will apply just as they do in the U.S., but the amount may vary based on the local currency and exchange rates.
Weigh the benefits of other banks
For general needs, online banks and even foreign banks can also be good options.  With online banks, you don't have to visit physical branches, and these institutions typically have lower fees. Use our checking account tool to find one that's a good fit.
Many American debit cards may not work in Europe, Asia and Latin America, especially those that don't have an EMV chip that help prevent fraud. Or some cards may work at one ATM, but not another.
One option for students who expect a more extended stay in a foreign country is to open a new account at a local bank. This will let you have better access to ATMs, and to make purchases more easily and without as many fees. See our chart below for the names of the largest banks in several countries.
There can be drawbacks to opening up a foreign account, however. Banking options vary from country to country, and you'll probably be unfamiliar with how the accounts work and what you might be charged for. And it could be harder for your parents to make a wire transfer into your foreign account, depending on the country you're in. This can be a major concern in case of an emergency.
>> MORE: How to choose a travel credit card
Guard against fraud and identity theft
One of the most important things you can do as you plan your trip is to let your bank know that you'll be abroad. Include exact countries and dates, when possible, to avoid having your card flagged for fraud.
Unfortunately, incidents may still arise despite providing ample warning to your bank. Bring a backup credit card or debit card so you can still access some sort of money in case one is canceled. Passports are also critical — not just for traveling from place to place, but also as identification to open a bank account and for everyday purposes. You'll want to make two photocopies and give one to a friend or family member to keep at home and put the other in a separate, secure location, just in case your actual passport is lost or stolen.
Just as in the U.S., you don't want to carry excessive amounts of cash around on a daily basis. If you take a lump sum out from an ATM (which is a smart way to avoid multiple ATM fees), keep most of it in a safe place wherever you're staying and carry only as much as you need for the day or night. Also, consider general safety tips when using ATMs. Stick with machines that are in well-lit places, and leave if you notice anything suspicious.
Studying abroad can be an exciting opportunity. By taking the time now to consider your best bank options, you can spend less time worrying about money and more time enjoying your trip.
Local banks and currencies
When you need to withdraw cash, make sure to do so at a trusted banking institution. This will help limit the possibility of identity theft as well as excessive fees.
Margarette Burnette is a staff writer at NerdWallet, a personal finance website. Email: mburnette@nerdwallet.com. Twitter: @margarette. John Gower of NerdWallet contributed to this article.
Updated Aug. 7, 2015.
---
Images via iStock.