---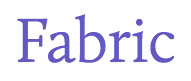 Fabric
at a glance
Offers accidental death and term life insurance online.
Quick application.
No medical exam required for some term life applicants.
Shopping for life insurance during the pandemic? Be aware that insurers may have changed their products and policy applications. For the latest information on how to cope with financial stress during this emergency, see NerdWallet's financial guide to COVID-19.
Launched in March 2017, Fabric sells accidental death insurance and term life insurance policies online. One or both types are available nationwide except in Montana. Only term life is available in Colorado, Massachusetts, North Dakota, Pennsylvania, Virginia and Washington.
» MORE: Compare life insurance quotes
The policies are issued by Vantis Life Insurance Co. In October 2017, the company began offering a free will-writing tool on its website.
Fabric life insurance
Fabric earned 4 stars out of 5 for overall performance. NerdWallet's ratings are determined by our editorial team. The scoring formula takes into account complaint data from the National Association of Insurance Commissioners and financial strength ratings from A.M. Best.
Consumer complaints: Better than the median
Compared to other companies with its market share, Vantis drew significantly fewer than the median number of complaints about life insurance to state regulators in 2017, according to the National Association of Insurance Commissioners.
The association assigns a complaint ratio score to insurance companies, based on the number of complaints to state insurance commissioners, adjusted for market share. The median score is 1. A score less than 1 means fewer complaints. Vantis Life's score for individual life insurance in 2017 was zero.
» MORE: The best life insurance companies
Fabric insurance options
Fabric Insurance has no agents and sells policies online nationwide, except in Montana. In most states you can choose whether to purchase Fabric Instant, the accidental death policy, or Fabric Premium, a 20-year term life policy. Accidental death insurance pays out only if the insured person dies in an accident, not from any other cause, such as cancer. The buyer can keep the accidental death policy until age 60, or until purchasing Fabric's term life policy. Term life pays out for death from accidents or illnesses.
» MORE: Term life insurance vs. accidental death & dismemberment
California and New York residents start by purchasing the accidental death policy, and then can upgrade to term life. The accident policy is automatically canceled when the term life policy is issued.
Only the term life policy is available in Colorado, Massachusetts, North Dakota, Pennsylvania, Virginia and Washington.
Buying the accidental death policy takes only a few minutes online. No health information is required, and acceptance is guaranteed.
Term life applicants must answer health questions online. In most states, some applicants may then qualify for a policy immediately without taking a health exam. Applicants who are required to take a health exam can schedule a time on the website, and a paramedical professional will visit their home or office. It takes about five to seven business days for the life insurance company to review exam results and an additional few days to give a decision and set a price.
in 2018, Fabric introduced Trusted Contacts, which lets policyholders give beneficiary spouses or partners digital access to policy information and customer service.
Fabric also offers a free will-writing tool on its website. The tool lets you specify wishes for final arrangements and designate guardians, beneficiaries, executors and bequests. It also gives steps for making the document legally binding and provides conversation starters for talking to loved ones.
More about Fabric
Types of life insurance sold
Other products & services
Term life.

Accidental death insurance.

Free online will-writing tool.

Methodology: Life insurance ratings
NerdWallet's life insurance ratings are based on weighted averages of complaint index scores from the National Association of Insurance Commissioners for individual life insurance, and financial strength ratings from A.M. Best, which indicate a company's ability to pay future claims. To calculate each insurer's rating, we adjusted the NAIC and A.M. Best scores to a curved 5-point scale.
These ratings are a guide, but we encourage you to shop around and compare several insurance quotes to find the best rate for you. NerdWallet does not receive compensation for any reviews.
Methodology: Insurer complaints
NerdWallet examined complaints received by state insurance regulators and reported to the National Association of Insurance Commissioners in 2016-2018. To assess how insurers compare to one another, the NAIC calculates a complaint index each year for each subsidiary, measuring its share of total complaints relative to its size, or share of total premiums in the industry. To evaluate a company's complaint history, NerdWallet calculated a similar index for each insurer, weighted by market shares of each subsidiary, over the three-year period. Ratios are determined separately for auto, home (including renters and condo) and life insurance.