---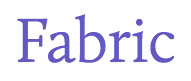 Fabric Insurance at a glance
Offers instant accidental death insurance online
Buyers can upgrade accidental death policies to 20-year term life policies
Term life application requires a medical exam
Overview
Launched in March 2017, Fabric sells accidental death insurance and term life insurance policies online to people ages 25 to 50. Accidental death policies are available in the District of Columbia and all states except Colorado, Massachusetts, Montana, North Dakota, Pennsylvania, Virginia and Washington. Term life policies are available in the District of Columbia and all states except Colorado, Massachusetts, Montana, New Jersey, North Dakota, Oklahoma, Pennsylvania, South Dakota, Virginia and Washington. The policies are issued by Vantis Life Insurance Co. In October 2017, the company began offering a free will writing tool on its website.
Financial Strength: A ("Excellent")
The financial strength of Vantis Life Insurance Co., which issues Fabric policies, is excellent, according to ratings firm A.M. Best. Financial strength indicates an insurance company's ability to pay claims.
Complaints: Better than the median
Compared to other companies with its market share, Vantis drew significantly fewer than the median number of complaints about life insurance to state regulators in 2016, according to the National Association of Insurance Commissioners.
The association assigns a complaint ratio score to insurance companies, based on the number of complaints to state insurance commissioners, adjusted for market share. The median score is 1. A score less than 1 means fewer complaints.  Vantis Life's score for individual life insurance in 2016 was zero.
More about Fabric
Fabric Insurance has no agents and sells only online. It takes a different tack from most companies by offering accidental death insurance as a starter policy. Buyers then can upgrade to term life insurance after purchasing accidental death coverage.
The website makes everything look simple. But it's important to understand understand the difference between the two types of coverage.
To purchase coverage on Fabric, users sign up first for Fabric Instant, an accidental death policy. Accidental death insurance pays out only if the insured person dies in an accident, not from any other cause, such as cancer. The buyer can keep the accidental death policy until age 60, or until purchasing Fabric's term life policy.
The company says it starts buyers out with Fabric Instant because accidents pose the single greatest risk of death for people ages 25 to 44. However, accidents don't cause more deaths than all other causes put together.
While many accidental death policies on the market include coverage for dismemberment, such as the loss of a limb or eyesight, Fabric's accidental death policies do not.
Buying Fabric Instant takes only about a couple of minutes online. No health information is required, and acceptance is guaranteed.
» MORE: Term life insurance vs. accidental death & dismemberment
Fabric's term life insurance
Buyers of the accidental death coverage can apply to upgrade to "Fabric Premium," a 20-year term life policy, immediately or years after buying the accidental death coverage. Up to $5 million in term life coverage is available.
Unlike the instant accidental death policy, a medical exam is required for the term life policy. Results are reviewed in about a week and the final price is set in about another week if all other health check requirements are met.
Upon converting to term life, the accidental death policy is canceled. The term life policy is convertible to whole life insurance.
You have to buy the accidental death coverage before upgrading to term life. But you can get an idea of Fabric's term life pricing before making any payments.
A preliminary term life quote is available when selecting but before paying for an accidental death policy from Fabric. A final term life price is set after the application and medical exam results are reviewed.