Automated investing service Betterment has expanded its offerings with the launch of account aggregation, which allows customers to sync all of their investment accounts within the company's dashboard.
Betterment says the new functionality will give customers access to better-personalized advice, including increased insight into investment allocation and account fees.
"At Betterment we aim to be the central relationship of your financial life, and we believe seeing all of your wealth in one place is an obvious step in the right direction," CEO Jon Stein said in a statement.
---

Find The Best Robo-Advisors
Learn more about online advisors
Compare management fees and services
Open and fund your account
The new service also alerts investors to idle cash, showing where and how it can be invested, and notes which accounts and funds carry high fees. Users can then compare those to a Betterment portfolio.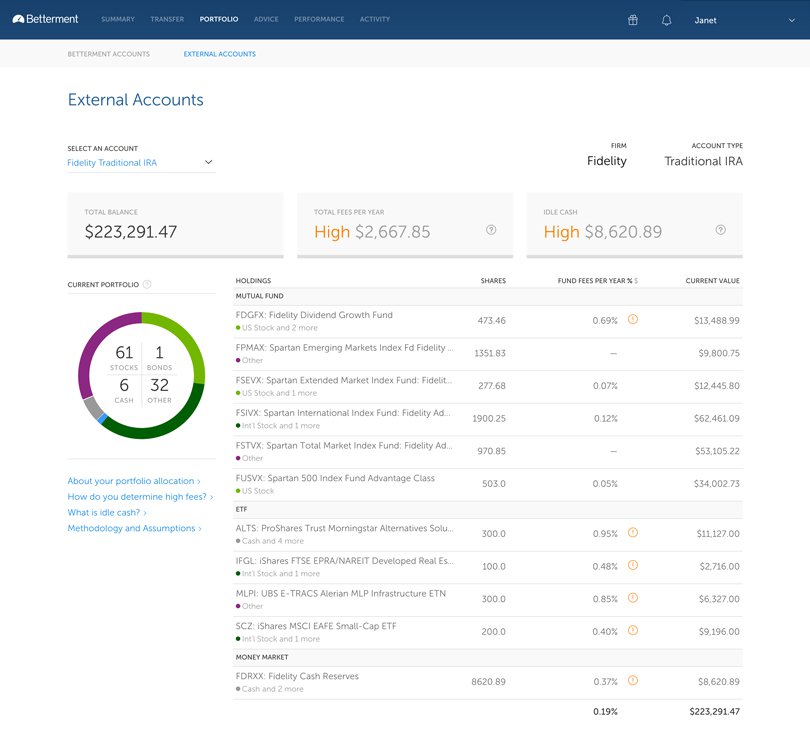 Accounts that can be synced include bank and investment accounts, loans, credit cards and mortgages, giving customers — and Betterment — insight into total net worth.
The company's last big feature addition, RetireGuide, launched in 2015 and let customers link their 401(k)s. That tool improved Betterment's retirement advice offering, allowing the company to consider outside retirement accounts and compare current savings levels to predicted retirement spending levels. RetireGuide calculates whether a user is saving enough, projects when he will be able to retire, and assesses whether he's using the correct savings vehicles and investments.
Robo-advisor competition continues to build
Underpinning all of these features, of course, is a push to bring more assets to Betterment. The company currently has $3.5 billion under management, making it the leading independent robo-advisor in an increasingly competitive market. Betterment also has a business-to-business 401(k) plan management and investment advisory service, called Betterment for Business.
Its closest competitor, Wealthfront, recently launched a portfolio review tool, also intended to help investors lower fees and see the value in its service. That tool is free and open to all investors, including those who aren't Wealthfront clients.
Both companies, like most other robo-advisors, build client portfolios out of low-cost exchange-traded funds.
» Ready to start investing? Choose the best robo-advisor for you
Arielle O'Shea is a staff writer at NerdWallet, a personal finance website. Email: [email protected]. Twitter: @arioshea.