NerdScholar's scholarship study, an analysis of the NerdScholar Scholarship Tool's 5,864 verified private scholarships, showed that there are 4 times as many scholarships specifically designated for women as opposed to those for men.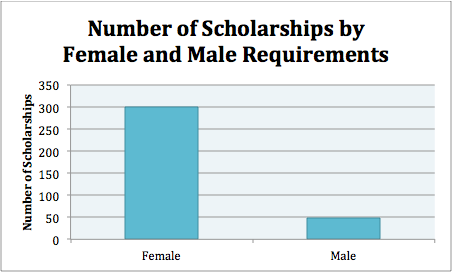 This particular finding was not surprising, considering that scholarships are traditionally meant to support those that have had to face personal obstacles on their road towards a higher degree.  Historically, women have been the minority in the educational landscape and have had to face greater acceptance in that space.  However, many have argued whether the support for females specifically should still exist, citing a higher graduating rate of females than males.  Have males truly become disadvantaged in the higher education space?  A new study published by Ohio State University (OSU) which took data fro the National Longitudinal Survey of Youth an looked at student loans and graduation rates of 3,676 individuals for over 10 years, has provided an interesting answer to this debate.  
1.  Women are more likely to take out loans than their male counterparts
40% of females acquired loans as opposed to only 34% of their male counterparts.  
2.  Women were willing to go into greater debt for the degree
According to the study by OSU, typically, greater debt correlates with greater graduation rates.  However, there is a threshold where greater debt doesn't necessarily mean greater graduation–where students might say "this is too much debt" and continue to drop out of school.  For women, this was $14,682 as versus $$12,711 for men.
3.  Women fare worse off without a college degree than their male counterparts
It was found that males who dropped out of college received almost the same as males that graduated early in their careers, while women who dropped out received $6,500 less than females who graduated.
Thus, OSU researchers concluded that the degree meant more to these women, but why?  According to the BLS, women make, on average, 81% of what men make.  So, it's not that women have a greater "advantage" in the higher education space–they're fighting tooth and nail for that degree and going into greater debt because that degree helps them fight their disadvantage in the work space.  That diploma can mean a much higher starting salary for these women moreso than for their male counterparts because of the nature of career opportunities available to women without an education as versus one with.
So, four times as many scholarships may not seem like such an advantage when one considers the fact that there are still careers where women earn less than 70% of what men make.   Women that graduate are deeper in debt than their average male counterpart and these scholarships can at least equalize that barrier.
Read more about Scholarships:  March, the month with the most scholarships.