Apple unveiled the iPhone SE in March 2016, months after releasing the iPhone 6S. The 6S marked the debut of some new features, such as 3D Touch and "live photos."
The iPhone SE boasts many iPhone 6S features in a compact shell, but does that make it better than its predecessor?
Check out our comparison of Apple's iPhone SE and iPhone 6S so you can find your smartphone soul mate.
At a glance
What we found: In a throwback to its iPhone 5S days, Apple offers the iPhone SE, a smartphone with a display that's just 4 inches. Compare that to the iPhone 6S, which has a 4.7-inch display.
What you'll learn: The iPhone SE is a chameleon, and its smaller package comes with a lower price. If the smaller screen works for you, this phone is the way to go.

| | iPhone SE | iPhone 6S |
| --- | --- | --- |
| Price | Starting at $399 from Apple | Starting at $649 from Apple |
| Colors | Silver, gold, space gray, rose gold | Silver, gold, space gray, rose gold |
| Operation system | iOS 9 | iOS 9 |
| Resolution | 1136x640 pixel resolution at 326 ppi | 1334x750 pixel resolution at 326 ppi |
| Screen size | 4 inches | 4.7 inches |
| Weight | 3.99 ounces | 5.04 ounces |
| Internal storage | 16GB, 64GB | 16GB, 64GB or 128GB |
| Battery life | Up to 14 hours of talk time on 3G | Up to 14 hours of talk time on 3G |
| Rear camera | 12-megapixel | 12-megapixel |
| Front camera | 1.2-megapixel | 5-megapixel |
| Video recording | 4K | 4K |
| Buy on Amazon | | |
Design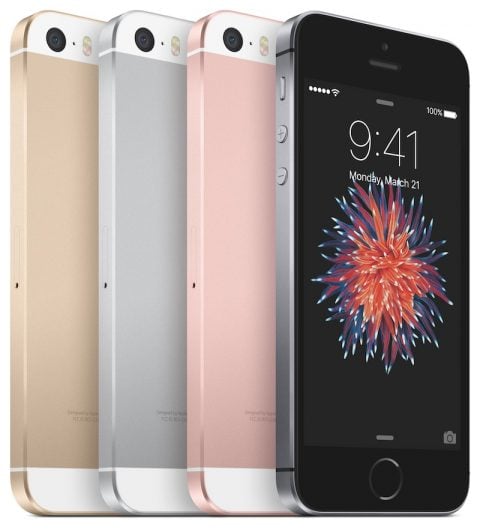 The main difference between the two phones is size. The SE has a 4-inch screen; the screen of the 6S is considerably larger at 4.7 inches. That also makes the 6S heavier than its new counterpart: 5.04 ounces compared to 3.99 ounces.
Both are smaller than the iPhone 6S Plus, the larger version of the iPhone 6S, which has a 5.5-inch screen and weighs 6.07 ounces.
» MORE: iPhone 6S vs. iPhone 6
Features
But phones are so much more than their appearance, and when it comes to functionality, each of these models offers more than enough to keep consumers satisfied.
Here's a look at some of the features that these phones share:
Picture taking. Both phones feature a 12-megapixel iSight camera (the rear-facing camera).
Video recording. Both of these iPhones are capable of recording 4K quality video.
Live photos. Record minivideos in the form of a picture that moves when you apply pressure to it.
Siri. Speak to your device to find information, send texts and more.
iOS 9. Surf on Apple's iOS 9 operating system, which comes on both phones.
Apple Pay. Use your phone like a credit card to make purchases.
But not everything is identical. Here are some of the differences:
3D Touch. The iPhone 6S offers 3D Touch, a new version of Multi-Touch that allows users to apply pressure to their phone's screen to "peek" at an email or app before fully "popping" into it. The iPhone SE does not have this feature.
Better selfies. The iPhone 6S features a 5-megapixel FaceTime camera (the front-facing camera), while the iPhone SE's front camera only takes 1.2-megapixel photos.
» MORE: 3 steps to finding a cheap cell phone plan
Price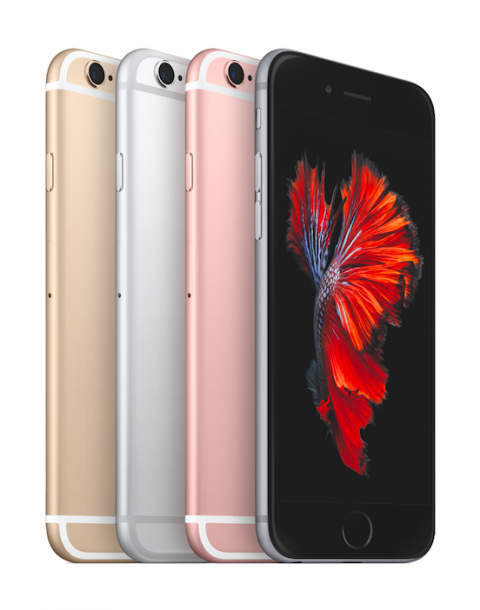 The iPhone SE starts at just $399, which is considerably more affordable than the iPhone 6S, which starts at $649. However, for enough room to store plenty of pictures and videos, you'll likely want a storage capacity that's larger than the introductory 16GB version.
The price increases incrementally based on capacity. The 64GB iPhone SE, for instance is $499. For the iPhone 6S, the 64GB is $749, and the 128GB is $849. The SE isn't sold with 128GB.
Before you shell out hundreds on a new smartphone, consider making your purchase with a rewards credit card. You'll pay the same price, but these cards can help you maximize your savings by earning cash back.
» MORE: iPhone 6S vs. Samsung Galaxy S6 Edge
Compare and decide
So which phone should earn a place next to your ear?
For the most part, these Apple devices are nearly identical. If cost is a concern for you, opt for the iPhone SE, especially if you value a phone that's compact and easy to handle on the go.
But for the most advanced iPhone to date, go for the iPhone 6S. It's also the perfect middle ground between the relatively small iPhone SE and the relatively large iPhone 6S, making it just the right mix between a size that can fit in your pocket and a screen that's large enough to view easily.
One more thing to consider: Apple fans expect the technology juggernaut to drop yet another new phone, the iPhone 7, later this year. That means you may want to wait until September to purchase the latest version.
Courtney Jespersen is a staff writer at NerdWallet, a personal finance website. Email: [email protected]. Twitter: @courtneynerd.