Pharmacy tech Alexandra Jaszczak decided to embark on her first solo trip. After deciding to cross the Northern Lights off her bucket list, she booked a weeklong trip using Chase Ultimate Rewards® points.
The cardholder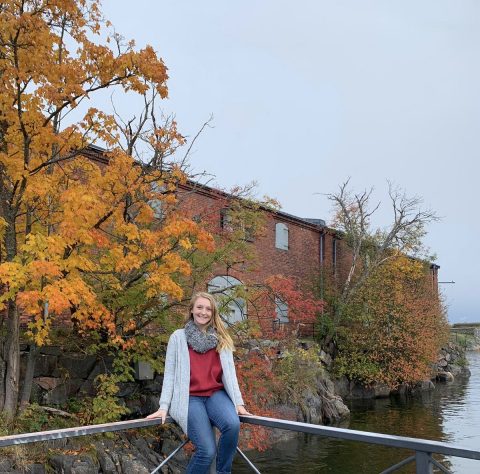 Name: Alexandra Jaszczak
Age: 21
Occupation: Pharmacy tech
Residence: Arlington, Texas
The trip
Route: Round trip from Dallas/Fort Worth International Airport to Helsinki, Finland
Dates of travel: Sept. 30 – Oct. 10, 2018
Airlines: British Airways and Finnair
Class of service: Economy
Q: Did you visit a lounge at the airport?
A: No.
Q: Did you travel alone or with someone?
A: I traveled alone. It was my first solo trip and it was it was to see the Northern Lights.
The credit card
Q: What program did you use to get a free trip?
A: The Chase Sapphire Preferred® Card.
» Learn more: Chase 5/24 rule explained
Q: How long were you a cardholder at that time?
A: Six months.
Q: How long were you planning for this trip?
A: Only a couple months.
Q: What's your favorite perk of this card?
A: My favorite thing is the welcome bonus: [nw_marketplace_field product_type="credit_cards" entity_type="offers" entity_id="7dce19da-5d96-4502-9fd2-70ff9655f13a" field="details.sign_up_bonus_details" card_id="3098" instance_id="1697121002"/].
I got this card right before I went to Europe for three weeks. It has no foreign transaction fees and double points on travel-related purchases. You also get 25% more value when you use your points for travel.
Redemption and booking
Q: Did you take advantage of promotions while earning points for this trip?
A: Yes! The 50,000 bonus points welcome bonus.
Q: How did you book?
A: On the Chase app. It was very easy.
Q: How many points did this cost?
A: The round-trip ticket was about 60,000 points.
Q: Did you book in conjunction with a promotion or deal?
A: No, I did not.
Q: Any surprises or hassles?
A: The only hassle was my connecting flight from Helsinki to Chicago was cancelled, but they booked me on another one the same day.
What's your next travel rewards goal?
I'm trying to get my friends to sign up for this card so they can receive all the benefits I have and I will get points for the referral. I am hoping to use them to travel to Egypt next October.
How to maximize your rewards
You want a travel credit card that prioritizes what's important to you. Here are our picks for
the best travel credit cards of 2020
, including those best for:
Planning a trip? Check out these articles for more inspiration and advice:
How I flew for free: Miles to the rescue for a family emergency
How I flew for free: Round trip NYC to India using Chase Ultimate Rewards
How I flew business class to Bangkok with my family for free