The Southwest Airlines Rapid Rewards program is unique in a couple of ways. First, it's a fare-based loyalty program when it comes to both earning and redeeming points. That means that instead of having a region or distance-based award chart, the number of points you'll need for a flight depends directly on the monetary cost of the ticket. This can be beneficial in a few situations, while detrimental in others. We'll address this in more detail shortly.
Next, every seat on every flight can be an award seat. This feature cuts out one of the most frustrating aspects of points redemption — award availability — and increases the flexibility of Rapids Rewards points to make them some of the most versatile points available.
That being said, getting the most value out of your Southwest points takes a bit of legwork due to the lack of any award chart. Southwest offers three types of fares for all of their flights: Business Select, Anytime and Wanna Get Away. Here's a comparison chart to see what's included in each fare: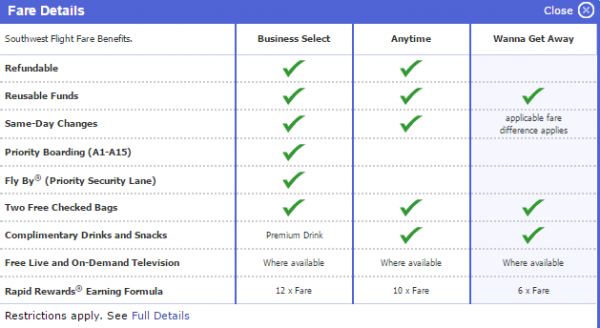 Before we look at some of the best sweet spots we've found, there are a few things to note about this program that can make your points go even further.
» Learn more: Southwest Rapid Rewards program: The complete guide
Southwest Companion Pass
The Southwest Companion Pass is one of the best travel deals out there. Essentially it's a buy-one-get-one-free pass for all Southwest flights purchased with cash or points. We have a guide with more information on how you can earn a Companion Pass and the ways you can use it to save thousands of dollars on travel. With the Companion Pass, your Rapid Rewards basically double in value every time you travel with someone else.
Low Fare Calendar
Southwest provides a useful low fare calendar tool that helps you identify the cheapest fares quickly and easily. It's a great way to find the cheapest time to travel to and from specific destinations.
In general, the lower your fare, the fewer points you'll need to redeem. We'll take a look at a popular flight to show you what we mean:
Atlanta to Nashville
You can book a one-way Wanna Get Away fare from Atlanta to Nashville for $49 many days: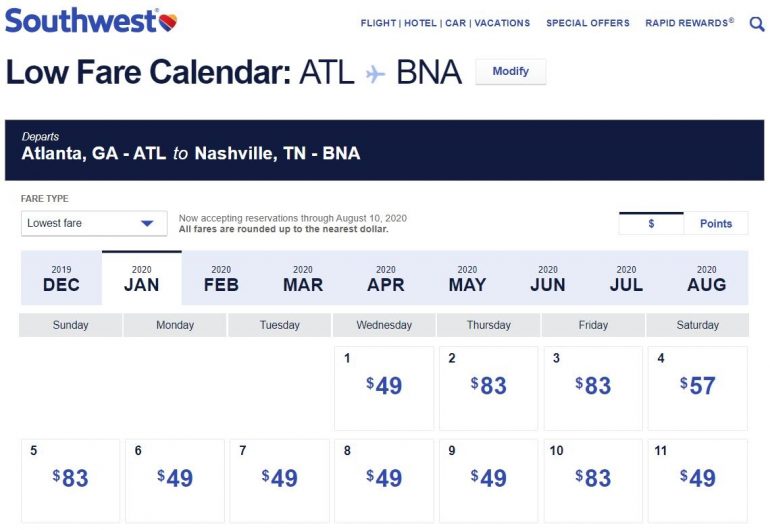 Let's take a look at the number of points you'll need to cover the cost of one of these tickets: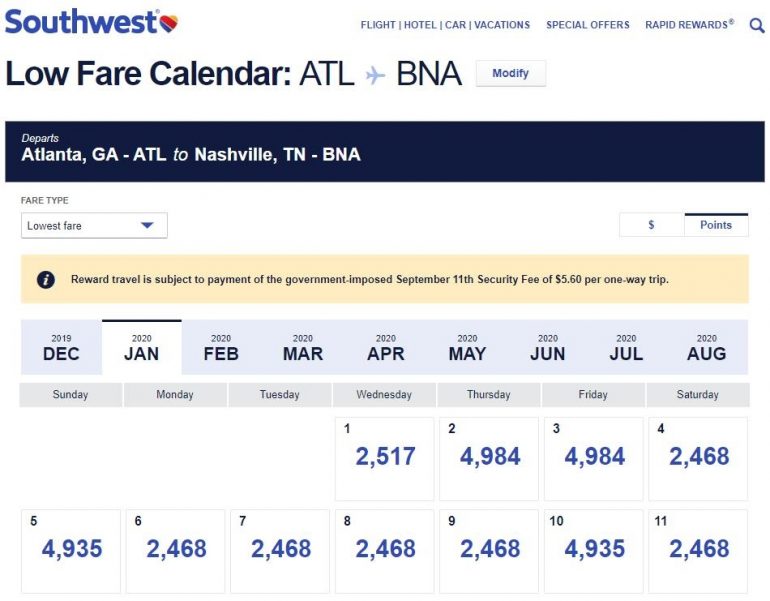 Booking one of these $49 tickets with your Rapid Rewards points will generally cost you 2,468 points, which works out to 1.99 cents per point — a good redemption rate. However, if you were to book one of the $83 tickets, your redemption rate would drop to 1.67 cents per point.
If you book the same flight in Business Select, the fare increases to $276: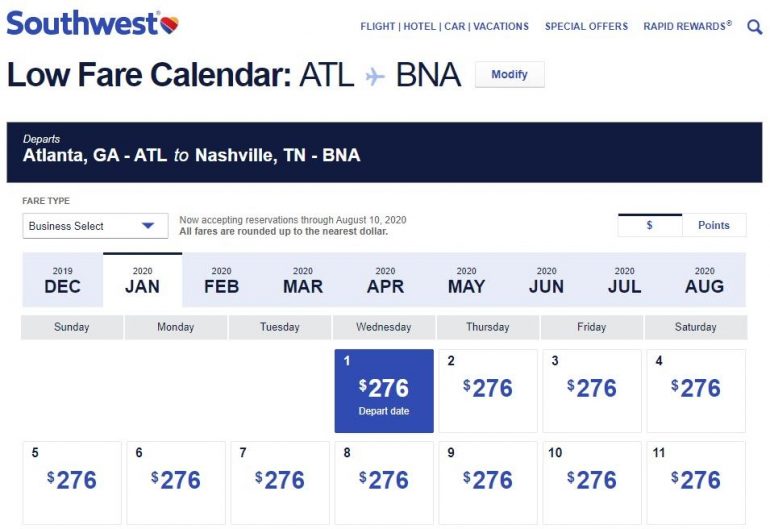 That will cost you 18,987 Rapid Rewards points: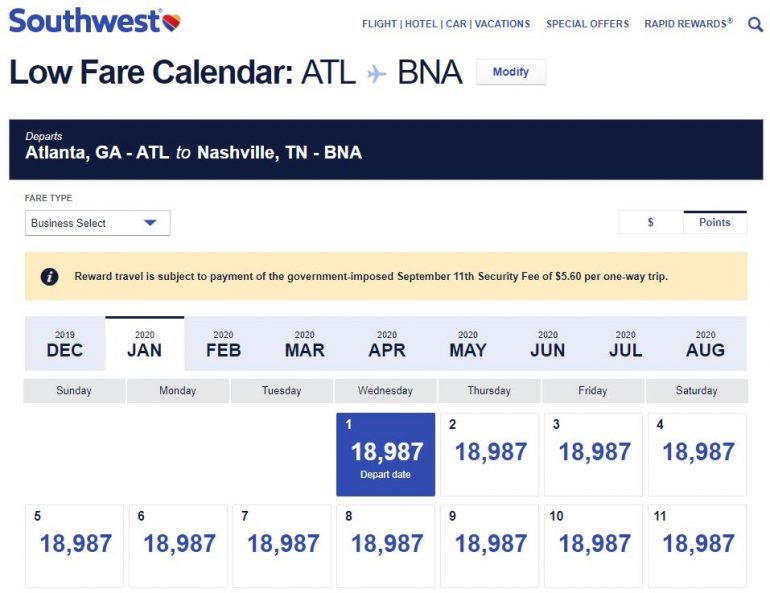 This yields a redemption rate of 1.45 cents per point — lower than the Wanna Get Away Fare. While this isn't a firm rule, you can expect your redemption value to decrease as the cost of your award flight increases.
Bearing all that in mind, here are some of the best sweet spots we've found that will help you get the best value out of your Rapid Rewards points.
» Learn more: Travel loyalty program reviews
New York to Los Angeles
You can fly from LaGuardia to LAX for a meager 6,152 points if you can fly during the week, or manage to score a cheap weekend ticket. The redemption rate on this flight is 1.76 cents per point, so it's not the maximum value, but it's still a pretty sweet deal. Anyone who has to travel coast to coast for work should be aware of this option.
Ft. Lauderdale to Cancun
Maybe instead of work, you're looking to take a vacation. Southwest has you covered: Fly Ft. Lauderdale to Cancun for $119 or 4,680 points (+$35.60 in fees) at an incredible redemption rate of 2.5 cents per point (excluding fees).
Fly around Hawaii
Instead of heading south, maybe you want to head west. Southwest's new routes to and around Hawaii can lead to some great deals. Flights between Kona and Honolulu cost as little as $29 or 1,379 points. That brings the redemption value to 2.1 cents per point.
The bottom line
Southwest Airlines Rapid Rewards is a unique loyalty program that yields a variety of redemption rates. The cheaper your flight is, the more valuable your rewards often are. This is a great way to book shorter flights with a low amount of points.
How to maximize your rewards
You want a travel credit card that prioritizes what's important to you. Here are our picks for
the best travel credit cards of 2020
, including those best for:
Planning a trip? Check out these articles for more inspiration and advice:
Which Southwest Airlines credit card should I get?
The cheapest ways to fly to Hawaii using points and miles
Find the best travel credit card for you