Ting overhauled its plan offerings, switching from a tiered, pay-as-you-go system to more traditional plans that fit the needs of more users. Ting's new plans beat their competitors on pricing, starting at just $10 for unlimited talk and text (no data). You can sign up for service via Ting's website. If your phone is unlocked and compatible with Ting, all you need is a SIM card to get started.
---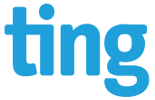 At a glance
Service starts at $10 per month.
Notables: Affordable, no-contract wireless plans with 5G coverage.
Ting cell phone plans
Ting's new plans forgo the carrier's tiered pay-as-you-go model. Instead, users can choose one of four plans: Flex, Set 5, Unlimited and Unlimited Pro. All plans include unlimited talk and text.
Flex: Base rate of $10 per month, plus $5 per gigabyte of data used
Set 5: $25 per month for 5GB of data, including hotspot usage
Unlimited: $45 per month for 22GB of data, including up to 12GB of mobile hotspot usage
Unlimited Pro: $60 per month for 35GB of data, including up to 30GB of hotspot usage
NerdWallet makes managing your finances easy.
Keep track of your spending, credit score, and even find fresh ways to save.
How Ting compares on prices
Use the table below to see how Ting stacks up against other prepaid providers.
2GB or less
3-5GB
6-9GB
10-25GB
Unlimited
*Google Fi customers pay $20 for unlimited talk and text. Data is billed at a rate of $10 per gigabyte.
**Republic Wireless customers pay $15 for unlimited talk and text. Data is billed at a rate of $5 per gigabyte.
AT&T Prepaid
$35 (2GB)
$50 (8GB)
$65
Boost Mobile
$10 (1GB)

$15 (2GB)
$25 (5GB)
$35 (10GB)

$45 (15GB)
$50
Cricket Wireless

$30 (2GB)
$40 (10GB)
$55
Google Fi*

$20 (talk, text and Wi-Fi)

$30 (1GB)

$40 (2GB)
$50 (3GB)

$60 (4GB)

$70 (5GB)
$80 (6GB+)

$70
Metro by T-Mobile

$30 (2GB)
$40 (10GB)
$50
Net10
$20 (2GB)
$35 (5GB)
$40 (10GB)
Republic Wireless**

$15 (talk, text and Wi-Fi)

$20 (1GB)

$25 (2GB)
$30 (3GB)

$35 (4GB)

$40 (5GB)

$45 (6GB)

$50 (7GB)

$55 (8GB)

$60 (9GB)
$65 (10GB)

$90 (15GB)
Straight Talk Wireless
$30 (1,500 minutes, unlimited texts and 100MB data)
$35 (5GB)
$45 (25GB)
$55
T-Mobile prepaid
$40 (10GB)
$50
Ting
$10 (talk and text)
$25 (5GB)
$45 (with 12GB of hotspot)

$60 (with 30GB of hotspot)
Total Wireless
$25 (talk and text only)
$35 (5GB)
$50
Tracfone
$20 (1GB)

$25 (2GB)

$30 (3GB)
U.S. Cellular prepaid
$30 (talk and text only)
$40 (5GB)
$55
Verizon prepaid

$35 (talk and text only)
$40 (5GB)
$50 (15GB)
$65