Ting offers decent prices with its unique approach to cell phone plans. If your usage fits into the company's rate system, you could find good value. Plus, you can probably bring your old phone, something that many mobile virtual network operators don't allow.
---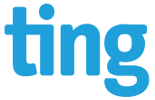 At a glance
Service starts at $6 per month, plus usage
Notables: Flexible, tiered service packages; no unlimited talk and text option, so not ideal for heavy phone users; you can most likely bring your phone
Ting cell phone 'plans'
Ting doesn't really have cell phone plans. Instead, it offers tiered rate packages that have a base price of $6 per line. On top of that, you pay separately for the minutes, text messages and data you use.
Do you know where your money is going?
NerdWallet tracks your spending and spots ways to save – for free.
If you don't use anything in one of those categories, you won't be charged for it at the end of the month. But you aren't charged less for using fractional amounts. So if you use 10 minutes during a month, that's $3, the same as if you had used 90 minutes. If you go over 100 minutes, you'll be charged $9 for the 500-minute tier.

Ting's network
Ting is a mobile virtual network operator, or MVNO, that partners with Sprint and T-Mobile for its network coverage. This is good news if you're thinking about switching to Ting, because your current phone probably is compatible with one of these networks. You can check your device's compatibility here.
» MORE: What's an MVNO?
Where to buy Ting
You can buy phones and SIM cards from Ting's website. If your phone is unlocked and compatible with Ting, all you need is a SIM card to get started.
How Ting compares on prices
Ting's pricing is hard to compare with other carriers since most others give you unlimited talk and text with different tiers of data.
Use the table below to see how Ting stacks up against prepaid providers that offer unlimited talk and text with their data plans.
1GB or less
2-4GB
5-7GB
8-10GB
Unlimited
*Project Fi customers pay $20 for unlimited talk and text. Data is billed at a rate of $10 per gigabyte.
**Republic Wireless customers pay $15 for unlimited talk and text. Data is billed at a rate of $5 per gigabyte.
AT&T GoPhone

$35 (1GB)
$50 (8GB)
$65
Boost Mobile

$35 (3GB)
$50
Cricket Wireless

$25 (talk and text only)

$30 (2GB)
$40 (5GB)
$55
MetroPCS

$30 (2GB)
$40 (10GB)
$50
Project Fi*

$20 (talk, text and Wi-Fi)

$30 (1GB)
$40 (2GB)

$50 (3GB)

$60 (4GB)
$70 (5GB)

$80 (6GB+)

$80
Republic Wireless**

$15 (talk, text and Wi-Fi)

$20 (1GB)
$25 (2GB)

$30 (3GB)

$35 (4GB)
$40 (5GB)

$45 (6GB)

$50 (7GB)
$55 (8GB)

$60 (9GB)

$65 (10GB)
N/A

Sprint prepaid
$45 (4GB)
$65
Straight Talk Wireless
$30 (1,500 minutes, unlimited texts and 100MB data)
$35 (2GB)
$45 (10GB)
$55
T-Mobile prepaid

$45 (4GB)
$50 (10GB)
$60
Verizon prepaid

$30 (500MB)
$40 (3GB)
$50 (8GB)
$70
Virgin Mobile

$35 (5GB)
$45 (10GB)
$60
NerdWallet makes managing your finances easy. Keep track of your spending, credit score, and even find fresh ways to save.
Stephen Layton is a staff writer at NerdWallet, a personal finance website. Email: slayton@nerdwallet.com.
Updated July 7, 2017.