Editorial Review
E-Trade Core Portfolios Review 2019
E-Trade's robo-advisor brings low expense ratios and strong portfolio choices. It will especially appeal to existing E-Trade customers.
At NerdWallet, we strive to help you make financial decisions with confidence. To do this, many or all of the products featured here are from our partners. However, this doesn't influence our evaluations. Our opinions are our own.
Our Take
The Bottom Line: E-Trade Core Portfolios offers notably low expense ratios and deep educational resources.
Fees
Account Minimum
Promotion
Up to $600
cash credit with a qualifying deposit
Pros & Cons
Pros
Portfolio choice.

Strong customer service.

Competitive management fee.
Cons
$5,000 account minimum.

No tax-loss harvesting.
Compare to Other Advisors
Promotion

Up to $600

cash credit with a qualifying deposit

Promotion

Up to 1 year

of free management with a qualifying deposit

Promotion

$5,000

amount of assets managed for free
Full Review
E-Trade is known for active traders, but hands-off investors will find much to like about its robo-advisor offering, E-Trade Core Portfolios.
The service has gone through a handful of changes in recent years, but the bones remain the same and worth a look: Core Portfolios offers low costs, a socially responsible investment option and — perhaps best of all — a year of free management to new customers.
E-Trade Core Portfolios is best for:
Current E-Trade customers.

Cost-conscious investors.

Hands-off investors.

Automatic rebalancing.
Where E-Trade Core Portfolio shines
Investor risk profile: Each customer or potential customer — admirably, the profile questionnaire is available without logging in or creating an account — is taken through a series of nine questions designed to assess risk tolerance. The questionnaire is one of the most thorough we've seen. E-Trade poses queries from multiple angles to try to figure out how the investor will tolerate various levels of risk and market fluctuations.
Once you've finished the questions, you're able to view a recommended portfolio. E-Trade doesn't disclose the specific investments used, but the company does share a recommended asset allocation, along with 15-year historical index returns in a best, worst and average case scenario for context. Investors are presented with two options — a recommended portfolio choice and a suitable alternative. All portfolios maintain a 4% cash allocation.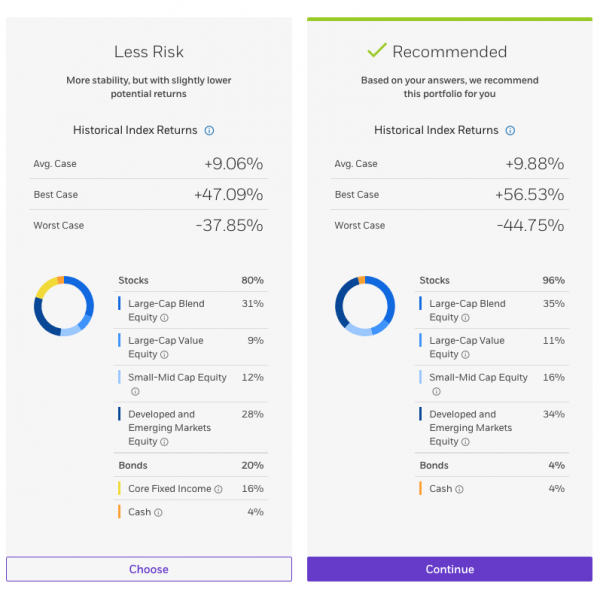 E-Trade uses low-cost exchange-traded funds, with expense ratios that range from 0.5% to 0.11%, depending on the portfolio. Unlike at many other broker-owned robo-advisors, the funds used by E-Trade are not proprietary. They come primarily from Vanguard and iShares.
Alternative portfolio choices: Clients have the option of personalizing the equity portion of their portfolios by swapping E-Trade's standard-issue large-cap ETF with a socially responsible ETF, which will screen out companies that don't align with common environmental and social values. There is also the option of a smart beta ETF. Smart beta funds take a more active approach to investing, with the goal of outperforming a benchmark rather than just mirroring it.
Integration with E-Trade brokerage accounts: The $5,000 minimum applies specifically to an E-Trade Core Portfolios account, rather than an aggregated balance across all E-Trade accounts. However, existing E-Trade clients can convert their accounts to Core Portfolios accounts by simply enrolling in the program. You don't need to sell any securities before doing so — the robo-advisor will do that for you by liquidating holdings that aren't in your recommended portfolio, commission-free. (You may, however, have capital gains or losses in the process.)
Clients also have access to all of the educational content provided by E-Trade, which is extensive: Investors can learn about everything from how to build an emergency fund to how to perform complex options trades. E-Trade's website also provides impressive retirement planning tools and guidance.
Where E-Trade Core Portfolios falls short
Account minimum: $5,000 is relatively high in today's robo-advisor landscape, especially among services like E-Trade that don't prove access to human financial advisors. (E-Trade Core Portfolios does have a managed account team available by phone Monday through Friday.)
Tax strategy: The company doesn't offer tax-loss harvesting, a service that can significantly reduce capital gains taxes: In taxable accounts, the practice involves selling losing investments to offset the gains from winners. It's widely available among robo-advisors, often for free, though some advisors do impose an additional balance requirement before the service takes effect. Instead, Core Portfolios offers a tax-sensitive strategy, which uses municipal bond ETFs to minimize Uncle Sam's bite.
Website transparency: A portion of our rating for customer support is devoted to how easily our testers are able to uncover key bits of information on the provider's website. With E-Trade Core Portfolios, we struggled to find details we feel are important for consumers, including the investments used in portfolios and instructions for closing an account.
Is E-Trade Core Portfolios right for you?
E-Trade has created a solid contender in the robo-advisor arena. While the service's management fee is a bit above that at two robo-advisor heavies — Wealthfront and Betterment each charge 0.25% — the ETFs used by E-Trade may have lower expense ratios, depending on your portfolio.
Current E-Trade clients in particular may want to give Core Portfolios a go. But if a $5,000 account minimum is a dealbreaker for you, you'll have to head somewhere else.
Jim Royal contributed to this review.