Check In to Your Hotel Room, Then Check It Out for Safety
For safety, hotel guests should evaluate smoke detectors, carbon monoxide detectors, and door and window locks upon checking in. Here's more that often get missed.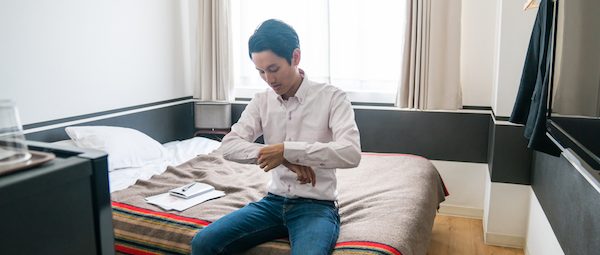 Many or all of the products featured here are from our partners who compensate us. This influences which products we write about and where and how the product appears on a page. However, this does not influence our evaluations. Our opinions are our own. Here is a list of our partners and here's how we make money.
Fans of Bravo's "The Real Housewives of Beverly Hills" are familiar with actress Lisa Rinna's routine when she checks into a hotel room: She immediately rubs antibacterial wipes all over the hotel phone, air conditioning unit and other commonly touched areas, in an effort to stay germ-free.
While that habit might take care of surface microbes, travel experts warn that there is a whole host of other potential dangers lurking in hotel rooms that also deserve your immediate attention. You might not always find something amiss, but running through this checklist will help you feel safe and secure while you're on the road.
1. Does the door shut and lock properly?
Dennis P. Gemberling, president at hotel management consultancy Perry Group International, says that while hotel rooms are generally safe, one common problem is that doors don't shut by themselves. That can lead to doors being left open accidentally.
"A lot of people don't think about this. The first thing you should do is make sure the door is closing all the way, both when you are entering and exiting," he suggests. "If there is a security chain or glide, then use it; if not, use the deadbolt," he says. Gemberling also advises that you check the windows to ensure they're locked — and that you keep them that way.
2. Does the room have a smoke detector and carbon monoxide detector?
While smoke detectors are standard in hotel rooms, carbon monoxide detectors are less so, Gemberling says. Carbon monoxide is a colorless, odorless gas that can leak from faulty appliances and lead to injury or even death.
Gemberling suggests asking at the front desk whether your room has one of these devices, especially if it is located near a pool heater, laundry room or water boiler, which could increase the risk of a carbon monoxide leak. If your room doesn't have one and is located near one of these sources, Gemberling suggests asking for a different room farther from those risks.
As for the smoke detectors, Gemberling advises making sure they're working by hitting the test button.
3. Do you see any bedbugs?
"I always recommend a quick inspection of the bed — the sides of the headboard, the underside of the box spring," says Jeff White, technical director of BedBug Central, a website about bedbugs. The main goal, he says, is to ensure there isn't a serious bedbug infestation. A more thorough exam to check for any signs of bedbugs takes longer and isn't necessary, White says, because the risk of bringing home bedbugs is low unless there is a large infestation.
"It's unlikely you will stay in a room with bedbugs, and if you do, there is a very low chance of taking a reproducing problem home with you," he says.
Still, he adds, a brief spot check is a good idea.
4. Do you detect any cigarette smoke or allergens?
For anyone sensitive to cigarette smoke, requesting a nonsmoking room or hotel is a must, says Alison Warner, a clinical manager at United Allergy Services, a San Antonio-based allergy treatment company. If you detect lingering smoke, you can ask for a new room.
Warner also suggests conducting your own inspection for allergens, including pet dander, excess dust, and leaves or dirt from outside that may have blown in through windows. "Check open windows, balconies and ledges for dust or pollen collection," she suggests. Wiping down the room's air vents with a wet washcloth, not unlike Rinna's technique, can also prevent allergens from being blown around, she adds.
5. Does the bathtub have a non-slip surface?
One of the most common accidents in hotel rooms is slipping and falling in the bathroom, Gemberling says. Not only is the layout unfamiliar to hotel guests, but tubs may not feature slip-resistant material as they often do in homes. "The average guest doesn't think about it, but if you fall and hit your head, you could get seriously hurt," Gemberling says. If you notice the tub is slippery, he suggests calling the front desk and asking for a non-slip bathmat.
6. Do you know where the light switches are?
It might sound simple, but unfamiliar light switch locations can be disorienting in the middle of the night or right before you fall asleep, says commercial photographer and hotel expert Rhiannon Taylor.
"Some hotels have a ridiculous amount of switches and are often not intuitively set up," Taylor says. She suggests checking the location of all the light switches shortly after arriving so you don't have to go searching for them later.
With these questions and concerns addressed, you can sleep soundly knowing you're safe, even far from home.
Find the right credit card for you.
Whether you want to pay less interest or earn more rewards, the right card's out there. Just answer a few questions and we'll narrow the search for you.
Get Started
Get more smart money moves – straight to your inbox
Sign up and we'll send you Nerdy articles about the money topics that matter most to you along with other ways to help you get more from your money.