On an Athleisure Trip, See the Sights and Stay in Shape
Athleisure travel can help mix exercise with your vacation, and experts say the trend is growing. The itineraries of these trips, and their level of intensity, can vary widely. Here's where to book them, what to look for and tips from people who've taken them.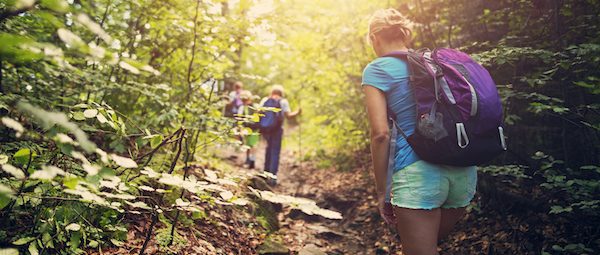 Many or all of the products featured here are from our partners who compensate us. This may influence which products we write about and where and how the product appears on a page. However, this does not influence our evaluations. Our opinions are our own. Here is a list of our partners and here's how we make money.
Just like athleisure clothing, which incorporates exercise wear into everyday life, athleisure travel mixes exercise with your vacation.
Lisa Kilday, an attorney in Washington, D.C., and a former competitive triathlete, is a fan of the concept. She recently traveled to Costa Rica for a women's surfing and yoga camp and is planning a kayaking, biking and hiking trip to Eastern Europe.
"The best part is that my trip is not spent lying on a beach chair," she says.
Fitness-themed athleisure trips are quickly becoming almost as ubiquitous as black yoga pants, and if you haven't yet considered taking one, you may want to join the trend.
"Our sales are up nearly 20% for 2018 over 2017, so there is clearly a demand," says Liz Einbinder, spokesperson for Backroads, which plans adventure trips. "People are living more active, healthy lifestyles," she says.
Different levels of athleisure
Many travel agents, hotels and tour companies are offering more fitness-focused getaways to meet the demand from travelers like Kilday. But the itineraries of these trips, and their level of intensity, can vary widely.
"From people wanting to incorporate a little active adventure in their leisure trip to those who want to travel the world to run marathons in different hemispheres, our travel agents tell us they see continuous growth [in active vacation planning]," says Erika Richter, spokesperson for the American Society of Travel Agents.
Becky Ryan Starks, a retiree living in Warren, Vermont, joined the athleisure trend in 2011, when she traveled to Machu Picchu with a tour company that organized biking, hiking and kayaking as part of the trip. She has since biked in Italy, Austria, Spain and more.
"Rather than just sit in a hotel or be on a bus, you ride your bike, sometimes for two to three hours a day or more," she says.
But it's not all work and no play. "We eat a lot and have a lot of wine, so to me being active is a nice mix," Starks says.
Companies such as Backroads and REI Adventures offer trips that incorporate different levels of exercise.
About 11,000 people go on trips with REI Adventures every year, says Megan Behrbaum, spokesperson for the company, which is part of retail and outdoor group REI. The trips, which are led by local guides, include different intensity levels, from taking a cruise to climbing a mountain.
"People who want to be active in nature might not want to hike eight to 12 hours a day," she says, which explains the popularity of what she calls "easy active" trips.
The athleisure trend can be as much about adventure or general wellness as it is physical fitness. Jeri Donovan, a wellness travel specialist based in Florida, says she often hears from clients who want to go whitewater rafting in Montana or visit an all-inclusive fitness resort featuring spin classes and snorkeling in the Caribbean.
"One of my clients just had an attack of Instagram envy as she watched friends hike through Yosemite National Park," she says. That client is now planning her own "wellness break."
Tips from active adventurers
Here are some guidelines from people who have taken fitness-themed vacations:
Decide on the type of trip you want
With so many companies offering guided adventure trips, you might find the kind of vacation you are looking for with a tour provider. Or you might prefer more of a do-it-yourself approach, incorporating fitness elements into your vacation.
Kelly Lewis, a women's travel expert who runs Gogirlguides.com, says deciding the goal of your trip is the first step toward planning a successful one. She often finds ways to supplement her trips with extra exercise by exploring the city on foot and doing a workout routine in her hotel room.
Get in shape before you go
While Starks says there's no need to be an expert biker before you embark on a biking tour, it does help to be in decent shape. "I do go to the gym, but I don't train for it," she says of her biking tours.
Pack for the great outdoors
Stark says packing items like sunscreen, a hat and clothing that protects you from the sun can help ward off sunburns when you're outside all day. Einbinder adds that moisture-wicking fabrics can help keep you comfortable, especially in cooler weather. Comfortable shoes with ankle support are also key, she says.
See what your hotel offers
Even if you're on a quick trip for business or pleasure, you might be able to incorporate exercise, thanks to hotel accessories. Kimpton Hotels places a yoga mat in every hotel room, and Westin Hotels offers to help guests plan running routes.
Catherine Smith, founder of the women's travel website Herbagswerepacked.com, says she often uses Facebook to find cheap or free fitness activities in the city she's visiting, which is especially useful when you're traveling on a budget. "Sometimes you can find free yoga classes in a park, guided hikes or dance lessons," she says.
Whatever your preference for exercise or degree of adventure, you can plan a memorable athleisure trip of your own with these tips to guide you.
Find the right credit card for you.
Whether you want to pay less interest or earn more rewards, the right card's out there. Just answer a few questions and we'll narrow the search for you.
Get Started
Get more smart money moves – straight to your inbox
Sign up and we'll send you Nerdy articles about the money topics that matter most to you along with other ways to help you get more from your money.