Use Form ADV to Check Out Your Financial Advisor's Record
This free disclosure document reveals everything from an advisor's fee structure and firm history to their management style and any misconduct.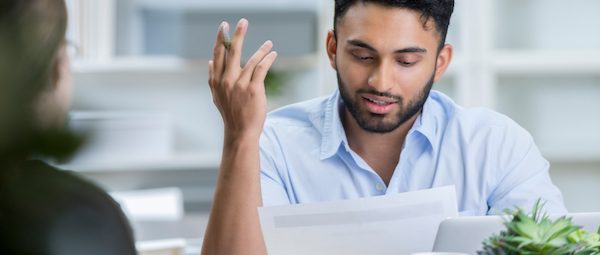 Many or all of the products featured here are from our partners who compensate us. This may influence which products we write about and where and how the product appears on a page. However, this does not influence our evaluations. Our opinions are our own. Here is a list of our partners and here's how we make money.
---
The investing information provided on this page is for educational purposes only. NerdWallet does not offer advisory or brokerage services, nor does it recommend or advise investors to buy or sell particular stocks or securities.
The most important document to check if you're going to hire a financial advisor (or already have one on the payroll) is Form ADV.
You can get a free copy of Form ADV through the Investment Adviser Public Disclosure website at . You can also check where the advisor operates.
Form ADV is the key disclosure document that investment advisors must file with the U.S. Securities and Exchange Commission and state securities authorities. Form ADV is a combination business profile, resume and rap sheet, and it contains the following information:
It's not just individual financial advisors and firms employing advisors that are required to file Form ADV. Even the online portfolio management companies known as robo-advisors, where clients might not even interact with a human advisor, must have Form ADV on file.
» Curious about automated investing? Learn more about
There are two parts to Form ADV. Part I is a fill-in-the-blank form that lays out the information mentioned above plus more details about the advisor's background and business.
Part II is what the SEC calls the "narrative brochure" and contains the meat of what you want to know.
This isn't a fluffy sales brochure diluting any dirt with vague language. It's a plain-English explainer about the person or firm you're considering entrusting with your money.
Pay particular attention to the sections that cover:
If an advisor gets a commission from a particular company for selling its products, you'll see the relationship disclosed in Form ADV. If they are paid based on a percentage of assets managed or via , that will be spelled out.
Don't be surprised to see red marks on an advisor's record. According to a paper from the National Bureau of Economic Research titled "The Market for Financial Adviser Misconduct," 7% of financial advisors have been cited for misconduct. Among the largest advisory firms, more than 15% of employees involved in the money advice business have been cited. If you see disciplinary actions listed for the person or firm you're considering, that's a sign to continue your search for help elsewhere.
Advisors you're considering hiring should readily offer a copy of Form ADV very early in the get-to-know-each-other process. Consider it a red flag if they don't.
Similarly, existing clients should receive an updated version annually and whenever material changes are made.
Beyond Form ADV, if you're hiring a human advisor there are ways to ensure the person you hire not only does right by you, but is the right fit:
If a provider offers other financial services beyond investment advice, check out their reputation via the appropriate regulatory entities. Here's , including accountants, financial planners and insurance salespeople.
Most financial advisors offer a free consultation with potential clients. Use that opportunity to ask the advisor to describe her philosophy, fee schedule and services offered. That can give you a sense of how well your personalities mesh and help you ensure that the terms haven't changed since the last ADV filing. (To help you get started, here are .)
Even after you've hired a money pro, don't stop asking questions. One good one to ask is why the advisor recommends a particular product over the alternatives. You want to make sure that they're pitching the insurance policy or mutual fund from XYZ company because it's the best one for you, not because it pads their bottom line. If they are a fiduciary they are required to put the client's best interests before their own. You can check whether an advisor is a fiduciary in Form ADV, which is one more reason it's essential to review this important document.
» Not sure who to hire for help? See our .