Sell Your Car Yourself in 7 Simple Steps
A little homework and a little elbow grease greatly improve your chances of selling your car privately.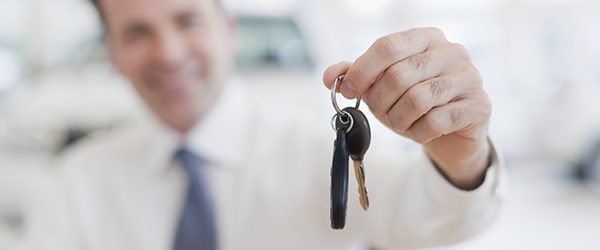 Many or all of the products featured here are from our partners who compensate us. This influences which products we write about and where and how the product appears on a page. However, this does not influence our evaluations. Our opinions are our own. Here is a list of our partners and here's how we make money.
Turn your car into cash with minimum hassle by pricing it strategically, advertising it on the right site, and sorting the serious buyers from the tire kickers.
Here's how to remove the stress and maximize the cash when you sell your car privately, rather than trading it in to a dealer locally or online.
1. Collect paperwork and set an asking price
Locate the following items and complete these tasks before you list your car for sale:
Your car's title. This is also called the pink slip; it gives you the legal right to sell your used car. But don't sign it yet.
Check with your lender. If you still owe money on your vehicle's loan, call the lender to learn how to arrange the sale. You'll want to be able to explain the process to buyers.
Visit the DMV online. Check with your state's department of motor vehicles to see what paperwork is required to transfer ownership. Many forms, such as a bill of sale, can be downloaded and printed out. Also, find out if the license plates go with the car after it's sold.
Order a vehicle history report. Be proactive and order a Carfax or AutoCheck report to show to prospective buyers. This provides answers to many potential questions, such as the number of owners and accidents.
You first need to estimate the value of your car so you can set an attractive "asking price" for your used car. Look up your car's value on Edmunds or Kelley Blue Book and check the price of similar cars in local ads. Set your price slightly above the current market value but still in the ballpark of a good deal. So, if the pricing guide says your car is worth $4,200, you might set the price at $4,750. This leaves you some negotiating room.
For cars priced under about $10,000, be careful not to go above the nearest $1,000. So, for a car worth $4,200, it would be a mistake to list it at $5,100. Many people will set search engine limits at, say, $5,000, so they'll never see your ad. Furthermore, there's a psychological difference between $4,900 and $5,100 that might put off some buyers.
2. Get a backup offer online
In truth, your car is worth only what someone is willing to pay for it. Establish a floor for your negotiations by getting bids for your vehicle from local dealerships or online from CarMax, Carvana or other big online car buyers. Online cash offers to buy your car outright are typically good for seven days.
Dealerships expect to spend money reconditioning your car and then price it to make a profit, so their offers will allow room for both. But it's good to know you have an alternative if credible buyers don't show.
3. Give your car curb appeal
The best way to sell your car is to give it curb appeal. When a buyer shows up to see your car, you want them to take one look and say, "It looks great!"
You don't have to fix every little dent and scratch, but wash and vacuum the car and remove all the junk that's accumulated over the years. Giving it a professional detail is good for newer, more expensive used cars. But the higher the price, the longer it will take to sell the car, and the gleam of the detailing will wear off after a few weeks.
Pay particular attention to all the details a prospective buyer will see as he or she approaches the car, opens the door and slides into the driver's seat. You want that positive impact to continue as she sits in the car and, hopefully, picture it as her very own.
Good photos — lots of them — will build confidence in the buyer's mind and make your car stand out from other used cars for sale by owner.
Photograph your car parked in a nice location just after sunset for the best lighting. Move around the car, shooting pictures of it from various angles. Inside, take a picture of the driver's seat, the back seat and the trunk. Experienced sellers also include shots of the odometer (to show the current mileage), the tires (to show tread depth) and the engine.
There are many places to post an ad for used cars for sale by owner and each serves a slightly different audience:
Most ads prompt you to add the basic information about your used car such as year, make, model, mileage and price. So in the body of the ad, don't repeat those details. Instead, provide additional information such as options, add-ons and any special details about the car that aren't obvious, such as "clean title" or "just passed smog." Avoid canned phrases such as "AC blows cold!" or "highway miles only!"
5. Screen callers carefully
When selling your used car, whether it's on Craigslist or AutoTrader, you can save time and headaches by screening callers before you begin interacting with them. Consider creating a separate email account and getting a free Google Voice phone number just to use for selling a car privately.
If you've listed a low price for a popular car, you can expect lots of phone calls. But let the calls go to voicemail and review them before you decide which caller to contact. Be alert for buyers who sound like they're calling multiple listings. They're probably trying to "flip" used cars — buying them cheap and then reselling them at a profit. Often, they throw out a lowball price or try to get you to negotiate before they even see the car.
When you get a buyer who sounds legit, call them back and be ready to review the basics about the car: year, make, model, mileage and condition. While talking with them, you usually can get a sense of whether they are serious about buying your car.
Arrange a safe place to meet and show them your used car. This can be at a mall or a local coffee shop. If possible, take a friend with you. Some cities are setting up safe locations for buyers and sellers to meet.
Let them test drive the car — but go along with them since they will probably be unfamiliar with the area and need directions. On the test drive, avoid the impulse to "sell" them your used car — instead, simply respond to any of their questions.
If the buyer wants to have a mechanic inspect the car, they should pay for the inspection. If they return with a long list of problems, you might have to lower your price. But only address problems requiring immediate attention, not to every last thing on the list.
After the test drive, the prospective buyer will, hopefully, begin negotiating to buy your used car. Let the buyer make the opening offer. For example, if he asks, "What's your best price?" you can answer, "Well, I think my asking price is fair. But you can make me an offer."
Negotiate slowly and repeat the numbers to make sure there's no misunderstanding. Before you agree to a deal, make sure the buyer is prepared to pay either in cash or with a cashier's check. If you still owe money on the loan, you might need to close the deal at your bank.
In most cases, you'll sign and date the title and give the buyer a bill of sale. In many states, you will also be required to file a "release of liability" form to prove you no longer own the car.
Once you've completed these steps, the only thing left is to cancel your auto insurance policy — and perhaps start shopping for a new car.
Get more smart money moves – straight to your inbox
Sign up and we'll send you Nerdy articles about the money topics that matter most to you along with other ways to help you get more from your money.