Buying Tires Online Can Save You Money
Shoppers can find cheap tires online that a local store might price match. Don't worry about delivery — tires ship directly to an installer.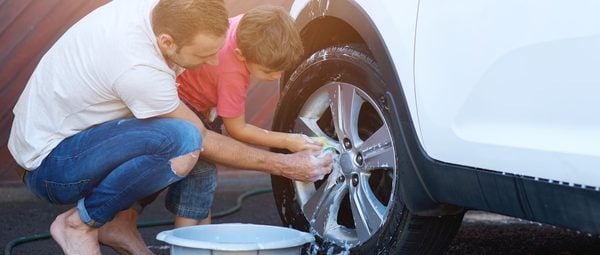 Many or all of the products featured here are from our partners who compensate us. This influences which products we write about and where and how the product appears on a page. However, this does not influence our evaluations. Our opinions are our own. Here is a list of our partners and here's how we make money.
It may sound surprising, but buying tires online simplifies the shopping process and will likely save you money.
You're probably envisioning a stack of heavy tires landing on your doorstep and having to lug them to a nearby shop. But, actually, when you buy tires online, they're shipped directly to a local installer, where your new rubber is quickly mounted, balanced and put on your car.
Plus, if you shop online, you have "the advantage of choice and brand," says Dan Edmunds, director of vehicle testing for car site Edmunds.com. "You can select your tires at your own pace and on your own turf and there's a lot to be said for that."
Here's a quick road map to help you plan and complete the process of buying tires online.
6 steps to buying tires online
2. Get your tire size: Enter the year, make and model of your car on the retailer's site and also answer any additional questions, such as the trim level.
3. Choose your tires: If you like the way the car rides and handles, you can buy the same tires the car came with. Otherwise, read reviews to find tires with the characteristics you want: quieter, less vibration, better traction, etc.
4. Find a good price: Once you know the tires you want, compare the total amount for four tires, plus shipping, from various online retailers; remember you still have to pay for installation.
5. Choose an installer: Select a local installer that gets good reviews — you can check Yelp or the Consumer Reports tire buying survey — and has reasonable prices. Then, set up an appointment with the installer when the tires arrive.
6. Get your new tires: Take your car to the installer and have the tires mounted, balanced and put on your car.
When you buy tires online, there's no need to demystify the string of letters and numbers on the sidewall of the tire that tells you its size. Instead, simply enter the year, make and model of your car on a tire site and it will tell you the right size for your car.
Then, you need to decide which tires are best for your car. On retailers' sites, you can sort through different brands and compare prices and read reviews. You can also check out tire ratings from Consumer Reports and SaferCar.gov.
Edmunds suggests you consider choosing the original equipment (OE) tires, which are the ones that came with the car.
"There are only one or two brands of tires that are developed specifically for that car," Edmunds says. "They are chosen to achieve the ride and quietness and handling that creates the personality [the manufacturer] wants that car to have."
So if you're pleased with the way your car rides and performs, and the traction the tires provide in the rain or snow, buy the same OE tires. If you want to change the ride characteristics, read tire reviews or refine your search by selecting winter, summer or performance tires.
Shopping for the best price
After you choose the tires you want, compare the total price for all four tires, plus tax and shipping, from a few online retailers.
Then, you can call a local tire store and ask it to beat the best price. In some cases, it might be able to match the price of discount tires from an online seller. Or it might offer additional incentives, such as free tire rotations. But often, the response will be that it doesn't carry that particular brand or size.
"

Once you get a price from an online tire store, you can call your local shop and ask them to match or beat the price.

"
The ability to find cheap tires online has forced some tire chain stores to cut prices in the hope that they can make back the money balancing tires or maybe doing a wheel alignment, Edmunds says.
While online tire retailers usually offer the cheapest tires, the real value is a wider selection, a more transparent transaction and an easier, faster shopping experience.
When budgeting, keep in mind that the cost of mounting, balancing and installing the tires costs about $13 to $45 per tire, according to education site ThoughtCo.com. There might also be a tire disposal fee of about $5 per tire.
Connecting with local installers
Generally, after you enter your location in the online buying process, tire sites will list approved tire shops and installation prices. You can also have the tires shipped to a mobile installer, who receives the tires, brings them to you at your home or office and installs them on the spot.
Buying tires online and having them delivered cuts down on your wait time, says Gene Petersen, tire program manager for Consumer Reports. Once the tires arrive, you'll make an appointment with the installer. When you drive there with your car, the installation begins immediately.
To test the online process, Consumer Reports ordered tires from three different online retailers, then had them delivered and installed. "In all three cases it was a pretty good experience — I would suggest that people consider doing that," Petersen says.
Want to refinance your auto loan? See if you pre-qualify.
Just answer a few questions to get personalized results from our lending partners.