What Is a Pell Grant?
The Pell Grant is a need-based federal financial aid program for undergraduates from low-income families.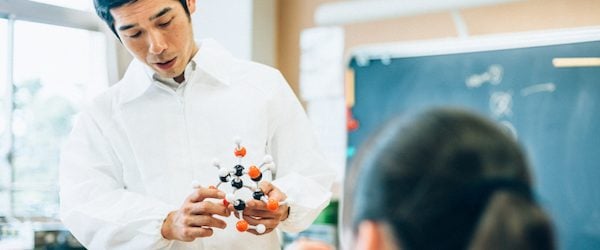 Many or all of the products featured here are from our partners who compensate us. This influences which products we write about and where and how the product appears on a page. However, this does not influence our evaluations. Our opinions are our own. Here is a list of our partners and here's how we make money.
Seeing the words "free money for college" might set off an alarm that you're being baited for a phony come-on or student loan scam. But unlike marketing ploys, Pell Grants are a very real way to get federal money for college that you generally don't have to pay back. Here's what you need to know to get this free money — and keep it.
About the federal Pell Grant
The Pell Grant is a need-based financial aid program from the federal government that is designed to help undergraduates from low-income families afford college. Grants don't require you to pay any money back and don't carry interest, unlike student loans. Your eligibility and the amount you receive is determined by your financial need based on information you provided in the Free Application for Federal Student Aid, more commonly known as the FAFSA.
How much is a Pell Grant?
The federal government changes the maximum award amount every year. The 2022-23 maximum is $6,895. For the 2023-24 academic year, the maximum will be $7,395 — a $500 increase from this year. All eligible students receive at least 10% of the maximum award amount for the year, depending on financial need.
Pell-eligible students can receive up to 150% of their scheduled award each year. That includes summer semesters, which may help students in financial need finish their degree sooner.
Withdrawal During COVID-19 Won't Affect Lifetime limits
Both coronavirus relief packages called to waive lifetime limits on Pell Grants for those who withdraw from school due to the COVID-19 pandemic. This means any Pell Grant money used for school during a semester you withdrew because of the pandemic won't count toward your lifetime limit.
To qualify for a Pell Grant, you must be a U.S. citizen currently or soon to be enrolled as an undergraduate. If you've already earned a bachelor's degree, you can't get a Pell Grant to pursue another bachelor's. However, Pell Grants are available to students enrolled in post-baccalaureate programs to become teachers.
Your eligibility will also depend on:
The cost to attend your college.

Whether you're attending part time or full time.

Whether you're attending for a year or less.
You can receive funding from only one school at a time, so if you're dually enrolled, you'll qualify for funding to attend one of them.
Eligibility updates coming to the Pell Grant program
As of the 2023-24 academic year, Pell Grant eligibility will be extended to those:
• Who are unable to complete their studies due to the closing of their school.
• Whose loans were discharged under borrowers defense to repayment.
Pell Grant eligibility will also be simplified for the 2024-25 academic year. The maximum available amount will go to students or, if dependent, their parent(s) who fall below income thresholds for tax filing — adjusted gross incomes below 225% (single) or 175% (married) of the poverty line.
How to apply for a Pell Grant
If you want a Pell Grant or any other form of financial aid — including scholarships, work-study and federal student loans — you'll need to submit the FAFSA. For the 2022-23 school year, you'll have until June 30, 2023, to file, but it's best to submit as close as possible to the Oct. 1, 2021, start date — when the 2022-23 FAFSA opens — to increase your chances of qualifying for the most aid money. To continue eligibility for any type of federal aid, students must submit a new FAFSA each year. Always accept any grants and scholarships first before taking on federal loans.
Estimate your Pell Grant award
Knowing how much aid you qualify for can help you decide where to attend college. To find out how much Pell money you might receive, use the FAFSA4caster tool available on the Federal Student Aid website. It's a fairly accurate tool for Pell Grant seekers since it bases its predictions of federal aid on your EFC, which is what the Pell Grant Program also uses for eligibility.
But the tool won't tell you about institution- or state-based aid, and it's not a reliable predictor of any work-study you may be eligible for. You may also want to talk with the financial aid counselor at your intended school to help you estimate Pell amounts, as well as other aid you may qualify for.
The financial aid award letter you get from your school will detail all the aid you're eligible for, including Pell Grants. The funds from a Pell Grant generally are disbursed directly toward tuition, fees and, if applicable, room and board. Leftover money typically is paid directly to you. You can receive Pell Grants for only 12 semesters, or six years. Contact your college to find out how you'll get your Pell Grant aid.
Do I have to repay a Pell Grant?
To keep your Pell Grant, you must meet a few conditions. You'll need to maintain enrollment in an undergraduate course of study at a U.S. school. You could lose all or part of your grant if your enrollment status changes — say, if you switch to part time from full time. Or, if you receive outside scholarships or other grants to pay for school after you accept the grant, your financial need would be reduced and you'd need to repay any Pell Grant money already given to you.
Your school will notify you if you must repay part of the grant. From there, you'll have 45 days to pay unless you make another arrangement with your school. That's crucial: If you don't repay or make an arrangement, you'll lose your eligibility for any federal student aid in the future.
Spot your saving opportunities
See your spending breakdown to show your top spending trends and where you can cut back.