How to Make the Most of an Initial Home Walk-Through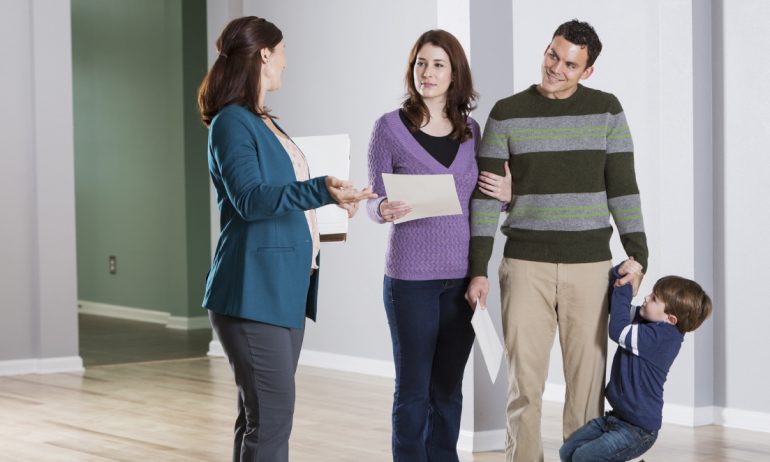 Some or all of the mortgage lenders featured on our site are advertising partners of NerdWallet, but this does not influence our evaluations, lender star ratings or the order in which lenders are listed on the page. Our opinions are our own. Here is a list of our partners.
All those hours of searching online real estate sites for the perfect home hopefully leads to this moment: spotting a place that makes you say, "This could be the one."
It's one of the highlights of buying a home. Go ahead, pore over all the photos. Picture how you'll arrange your furniture. But you should also call your real estate agent and schedule a walk-through.
In the homebuying process, the walk-through comes after you've been preapproved for a mortgage — you want to know what you can afford — and before you make any offers. This is your first opportunity as a homebuyer to get a feel for the property. "Can I live here?" should be your guiding question.
You'll spend years — possibly decades — of your life in the home you choose, so make sure it's the one that fits you best. Use your senses during the walk-through: Does the home smell funny? Do the floors slope? What does the neighborhood sound like? And do a gut check. Does anything feel off about the place?
Your real estate agent, who will be with you during the walk-through, is your professional second pair of eyes. She'll help keep track of the advantages or potential problems of each home you see.
As you're imagining your life within those walls, notice whether those walls are cracked or stained. Keep in mind, though, that no home is flawless, especially if you're not the first owner. Make a list of your wants and needs, and remain flexible with things that aren't hazardous to your health or your wallet.
If all this sounds like a lot to do during the already stressful homebuying process, don't worry. This guide will help you make the most of your walk-through.
Mortgage loans from our partners


Ask your real estate agent these questions to determine whether the property's worth seeing:
Why are the owners moving? When do they have to move? Owners might be more flexible on the price depending on their situation. They might be in a hurry to start a new job in another state, or they might need money from a sale to pay for their new home.
Find out if a spike in crime is scaring off the owners. Because of the Fair Housing Act, your agent can't legally tell you crime rate statistics. But that information is available through websites like MyLocalCrime.com or CrimeReports.com.
The asking price: Too high, too low or just right? Your agent is a market expert. She'll know what constitutes a high- or low-priced home. She'll also know the value of the home and how it compares with other homes in the area.
How long has the property been on the market? Has it had any offers? In 2015, homes were on the market a median of 50 days, according to the National Association of Realtors. A home that's been on the market for a long time may not be in the most desirable place to live. It's also possible the seller might not be in a hurry to leave, which could make it hard to negotiate the price.
Knowing how many offers the home has gotten will tell you what kind of competition you're up against. You might have room to negotiate the price if a home isn't getting much attention. Find out whether offers or contracts have fallen through — these can be red flags.
What's the neighborhood like? If proximity to schools or shopping districts is important to you, ask your Realtor what's nearby. Driving or walking through the neighborhood at different times of day can also give you a clearer picture of the area.
How much are taxes, utilities and insurance rates? You should know how much the owners pay, and whether costs will rise when you move in. Depending on where you live, property taxes can adjust to the market rate when the home changes hands.
Will you have to pay HOA fees? Your loan amount could be affected if you have to pay homeowners association fees. Do the fees fit into your budget, and can you abide by the HOA rules?
It might be love at first sight. Family meals in the dining room, movie nights in the living room — your future could unfold as you pass through each doorway. But don't forget to stay savvy and use your agent's expertise to your advantage. She'll act as the liaison between you and the seller or the seller's agent.
It's also good to keep this in mind: If the seller or the seller's agent is present during your walk-through, watch what you say. They may not want to sell to you if you're too critical of the home.
If you do love the home, try not to show too much enthusiasm. You want to put on your best negotiating face. Take notes as you examine the house, and keep these questions in mind:
What needs fixing? Take note of things like warped floorboards, cracks in the foundation or rusty water fixtures. Doors that don't close all the way and cracks in the ceiling can reveal issues with the foundation.
How old is the roof? Installing a new roof is expensive. If the roof is more than 20 years old, it may need replacing soon. If it's brand new, you could get an insurance credit.
What comes with the home? Window fixtures, rugs, appliances, furniture — what's there during a walk-through might not stay. Is the price of the home contingent on what the owner leaves behind? Do you want or need a play set in the backyard?
Some sellers use staging companies to spruce up the home's appeal, and staging companies usually take every item back once the house is sold. If you love a particular throw rug that's on display, ask your agent about including it with the home should you decide to make an offer.
How much sunlight does the house get? Take a look at the house's sun exposure. Plenty of direct sunlight can save on heating costs in winter, but shade trees can help during the summer. Does the master bedroom face south? Expect a toasty room when the sun's out.
Are renovations possible? Is the space right for you and all your stuff? If you're considering renovations in the future, you'll need to know if walls can be knocked down or rooms added. Your real estate agent can help you ascertain which walls are load-bearing and whether the city requires permits for certain upgrades or additions.
How's the drainage? This is important to know if you don't want a swimming pool in the basement — or the first floor — after a heavy storm. Keep an eye out for warning signs such as standing water on the property or a wet basement floor.
After you've listed the pros and cons of the home, compare them to the pros and cons of the other homes you see. Which place will best suit your needs? What can you live with, and what can't you live without?
Once you've settled on a home, your agent will help you prepare an offer. You'll want to do this as soon as possible in a hot market.
If your offer is accepted, your agent will walk you through the closing process, which includes a home inspection and, if your mortgage lender requires one, a home appraisal.
Knowing as much as you can before and during the walk-through process — and knowing what to ask your agent when you don't have the answer — will get you one step closer to owning the right home.
Mortgage loans from our partners