Accion Business Loans: 2022 Review
Accion loans can help borrowers who haven't secured traditional financing, but loans aren't available in every state.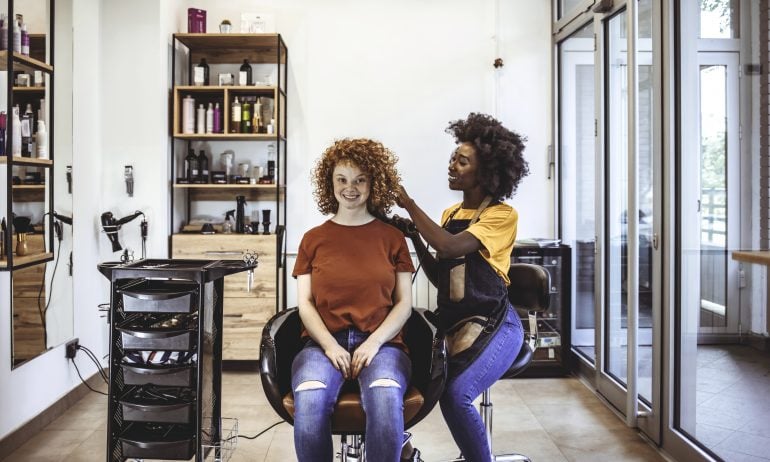 Many or all of the products featured here are from our partners who compensate us. This may influence which products we write about and where and how the product appears on a page. However, this does not influence our evaluations. Our opinions are our own. Here is a list of our partners and here's how we make money.
The bottom line: Accion Opportunity Fund loans are a good option for borrowers who've been in business for three months or more and have been turned down by other lenders.
A broad range of loan amounts from $5,000 to $100,000.

Loans are available to businesses in operation for as little as three months.

Expanded credit guidelines for borrowers.
It can't be used to get a business off the ground.

Shorter loan repayment periods of one to five years.

Slow processing speed compared to online lenders.

Not available in all U.S. states.
Accion Opportunity Fund, or AOF, is a nonprofit community lender offering customized loans to small business owners throughout most of the U.S.
Over 80% of AOF clients identify as women, people of color or immigrants. In addition to small business loans, educational resources and coaching support in English and Spanish are also provided.
Accion is best for borrowers who:
Prefer customized options. Loan terms are structured based on your business needs.

Don't have perfect credit. Factors other than your credit score can be used to determine qualification.

Have new businesses and can't get funding elsewhere. Businesses only need to be in operation for three months to apply.
5.99% to 14.99% for Small Business Progress loans.

4% subsidized rate for Southern Opportunity And Resilience, or SOAR, loans for businesses located in certain southern states.

12, 24, 36 or 60 months. (No penalty for repaying early.)

5-7 days for loan application to be processed.
Expanded credit guidelines for borrowers
AOF says that most of its borrowers have not been able to get loans with traditional lenders because they have poor credit, no credit history or require a small loan amount. AOF can use more than a borrower's credit score to determine qualification for a business loan.
AOF can structure a loan to meet your specific business needs. After submitting an application, you may be able to choose from several loan options with different term lengths, interest rates and payment amounts. In addition, if AOF can't provide a loan, it will refer you to one of its partners or provide other financing options for you to explore.
Additional services offered
AOF does more to help small businesses than just offering loans. Business coaching and mentoring are also available. You can set up an appointment for one-on-one assistance provided by a business expert. Your coach can also help you enroll in training programs to enhance your leadership skills. In addition, its resource center offers videos, articles, and interactive learning materials.
Funds can't be used to start a business
AOF loans are designed to support existing small business owners. But, again, your business must be in operation for a minimum of three months to qualify for an AOF loan. That means you won't be able to use loan funds to start a business.
Loan programs aren't available in all U.S. states
AOF loans are available in most U.S. states, but you won't be eligible if your business is located in Montana, North Dakota, South Dakota, Tennessee or Vermont. Also, Southern Opportunity and Resilience (SOAR) funding is limited to businesses located in Alabama, Arkansas, Delaware, Florida, Georgia, Louisiana, Maryland, Mississippi, North Carolina, Oklahoma, South Carolina, Texas, Virginia, or Washington, D.C.
Credit score: No minimum required.

Time in business: Minimum of 3 months in business.

Annual revenue: Varies depending on the loan program.
How to apply for a loan from Accion
After completing an application online, you'll receive a quote. AOF says that the quote won't affect your credit score. You will need to provide some basic information about your business, including revenue and expenses. AOF will then review your loan options with you, including interest rates, repayment amounts and the repayment period. If there are no options that work for you, AOF can refer you to other resources.
If you decide to move forward with the loan offer, you'll be asked to provide documents that AOF can use to verify the information you provided on your application. After that, your loan will be finalized; you'll sign loan documents and then receive funds.
Alternatives to Accion loans
An SBA loan is another option to consider. These loans are offered through banks but partially guaranteed by the Small Business Administration. This can make it easier to qualify because the lender takes on less risk. In addition, funds from an SBA loan can be used to start a business. This differs from an AOF loan, which requires your business to operate for a minimum of three months to qualify. SBA loans also offer flexibility when a borrower has less-than-perfect credit.
Kiva is another nonprofit that is an option to ponder. You can get up to $15,000 at 0% interest if you qualify. Kiva loans don't require a minimum credit score or collateral. Still, there are other eligibility requirements, such as the business must be based in the U.S. and you can't currently be in foreclosure, bankruptcy or under any liens. One unique Kiva provision is that borrowers are asked to demonstrate their strength of character by having friends and family make loans to them.
If you'd like to compare loan options, NerdWallet has a list of best small-business loans. All of our recommendations are based on the lender's market scope and track record, the needs of business owners, rates, and other factors so that you can make the right financing decision.
with Fundera by NerdWallet