How to Start a Food Truck Business
Buy a truck, obtain licenses and permits and, of course, find parking.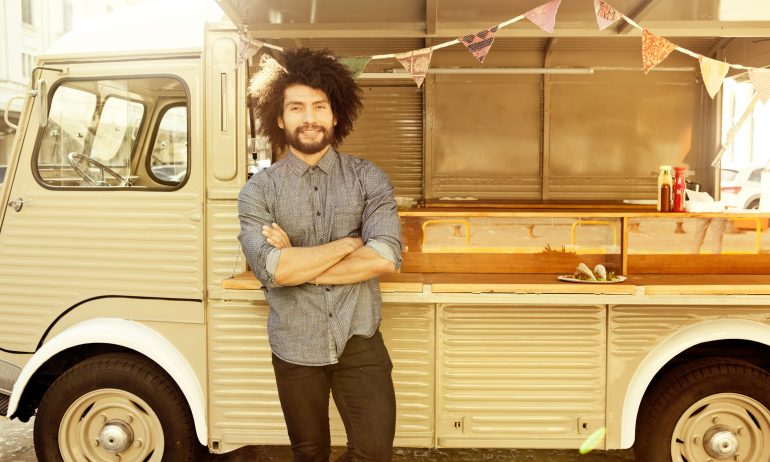 Many or all of the products featured here are from our partners who compensate us. This influences which products we write about and where and how the product appears on a page. However, this does not influence our evaluations. Our opinions are our own. Here is a list of our partners and here's how we make money.
Lining the streets and sidewalks of every corner with cheap, tasty eats, food trucks — once thought to be just a fad — have proven they're here to stay. In the past several years, the multi-billion-dollar food truck industry has become increasingly popular as sidewalk chefs reinvent street food, launching the gourmet food truck craze. From 2016 to 2021, the industry saw a 7.5% growth rate, according to Los Angeles-based industry-research firm IBISWorld — and it doesn't seem to be slowing down anytime soon.
However, starting a food truck business is not as simple as buying a truck and cooking up some food. With any new entrepreneurial endeavor, and particularly food businesses, there is a lot of planning and preparation required even before you get into the details of the actual operation.
In this guide, we'll walk you through, step by step, how to start a food truck. Plus, we'll include tips from Debbie and Derek Kaye — who run the booming tri-state food truck business, Eddies Pizza Truck & Cart.
Before we break down our steps on how to start a food truck business specifically, let's briefly discuss some of the actions you'll want to take first — when you start a food truck, or any other business:
Write a business plan: Although you may want to get your food truck up and running as soon as possible, a well-thought-out business plan will certainly help you in the long run. By thinking out your long-term plan ahead of time, you'll have a guide to follow as you continue through the process of starting your food truck.

Choose your business legal structure: Before you start thinking about trucks, cooking and where to park, you'll need to decide how your business will legally be structured. Will you operate as a sole proprietorship or maybe a partnership? A business attorney or online legal service may be useful in helping you make this decision.

Register your business: Once you've determined your legal structure, you'll want to register your business name, if necessary, as well as register for federal, state and local taxes. You'll more than likely need to get an employee identification number, or EIN, from the IRS.

Open a business bank account: After you've registered for your taxes, you'll want to open a business bank account as the first crucial step in separating your business and personal finances. This account will be the base for you to manage and organize your funds as you go through the process of starting a food truck.
At this point, you'll be in good shape to actually get your business off the ground. Let's break down how to start a food truck:
Smart money moves for your business
Grow your small business with tailored insights, recommendations, and expert content.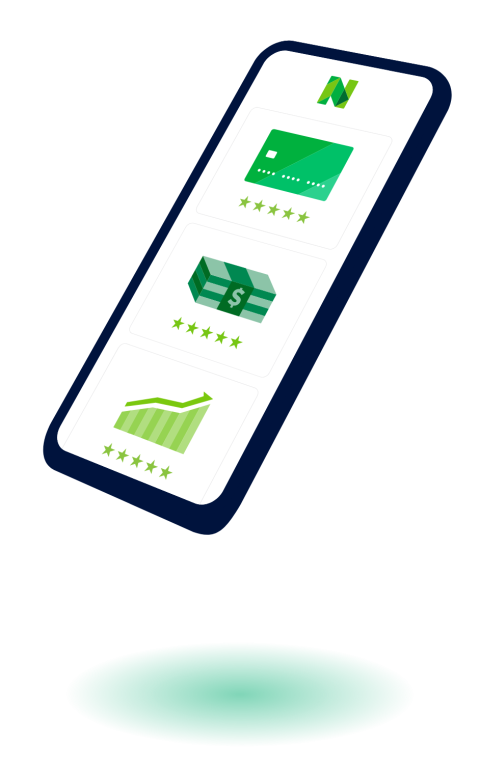 1. Plan your costs and find a truck
First, you'll need to think about costs.
How much does it cost to start a food truck? It's hard to give an accurate estimate for startup costs because there are so many possibilities in what you'll need to get started. First, you'll have to find the right truck for your business and you'll likely have to get it custom made to fit your needs, which can cost anywhere from $20,000 and $40,000. You'll also want to consider costs such as:
Salary and benefits for employees.

Technology to operate your truck.

Marketing, advertising and more.
Your actual truck will be the largest and most pressing expense you'll need to pay for. Before settling on a truck, you'll want to have a few layout options, keeping in mind what specifically you'll need for your food truck business.
You might consult various food truck vendors or other business owners to get a sense of what different layouts look like and which one might work best for you. It's important to also keep in mind that things tend to break a lot more on a truck, cautioned Debbie Kaye, so you'll want to make sure you consider this in your planning process and have enough finances on hand in case the inevitable happens.
"Appliances weren't meant to be on wheels, so they frequently need repairing," she tells us.
With this in mind, you might also think about your various food truck financing options — such as different loans and business credit cards — to cover many of your startup costs.
with Fundera by NerdWallet
2. Get approved by the Board of Health
Next, you'll have to sort through the rules and regulations you'll need to abide by. As a food-based business, there will definitely be more considerations to take within this regard.
Therefore, you'll likely want to first determine what Board of Health regulations you need to follow. It probably isn't surprising to learn that just like health department inspectors check food at restaurants, the same goes for food trucks. Most inspections are conducted to at least verify the following:
Proof of ownership, identification and license of the vehicle.

Proof of District-issued Food Manager Identification Card.

Food is stored and kept at proper temperature.

Records of food purchase.

Health and fire codes are met.
3. Get permits and licenses
After figuring out your health requirements, the next step involved in how to start a food truck is getting the necessary permits and business licenses. Once again, because starting a food truck business means handling food and serving it to customers, there will likely be a variety of regulations and permit requirements to sort through. Additionally, the specific licenses and permits you need will depend largely on your state and city.
In fact, some cities, including New York City, have limits on the number of truck permits issued at a time. You'll want to visit your city's website to find out exactly what you need to do to get the proper documentation. Keep in mind that this process may take time and will also likely include fees and proof of a Health Department permit, tax certification and liability coverage.
4. Decide how you're going to prepare your food
Once you've figured out the behind-the-scenes details and decided on your truck, it's time to think about your product.
After all, a crucial part of learning how to start a food truck business is deciding what kind of food you're going to make and sell, how that process will work, what you'll need and what your menu will look like. As you think about these things and start making decisions, you'll want to remember that unlike starting a restaurant with a brick-and-mortar location, a food truck has limited space — so it can be difficult to prepare food inside.
Therefore, you'll want to decide whether it's best for your business to prepare food ahead of time before heading out for the day's work or if you can feasibly prepare everything on-site. Additionally, when perfecting your recipes, you'll want to make sure the food on your menu can be repeated in large quantities, taste consistently good, is easy to serve, is easy to eat and can travel well.
5. Hire employees and get mobile food vendor badges
With a food plan in mind, the next thing you'll need to do when starting a food truck is think about hiring staff. In a small environment like a food truck, you obviously won't be able to have too many employees, but depending on your food, process and the demand you may face, you'll want to consider hiring help.
When you first start out, you may be able to work with friends, family or a partner, but if your food truck grows quickly, some part-time or full-time employees will likely be helpful. Plus, when it comes to food truck employees, you'll need to go beyond the typical process of hiring and onboarding a team member.
To explain, aside from all the licenses and permits you need to get as a business owner, each of your employees needs to have a mobile food vendor badge in order to legally work and serve food in your truck. And, unfortunately, it takes about four months to get this badge.
"It is really frustrating to hire someone and tell them they can't begin working for four months," says Kaye. "It is quite the backward system that the food truck association has been trying to work on getting fixed, but no luck so far. If [you're] caught without the badge, it is a $1,000 fine."
If you anticipate you'll need staff for your food truck, you'll want to get this process out of the way and hire your first employee from the get-go. "It's even more frustrating," says Kaye, "because if your business loses an employee, you have to wait four months for a new employee to obtain their badge, which means that you might not have enough employees to work lunch and dinner services."
6. Figure out where to park
One of the benefits (and also challenges) of starting a food truck business is the mobile element. While you have the ability to go (to a certain extent) where your customers are, you'll also need to figure out where the best places are to attract customers, and perhaps just as importantly where you can and cannot park your truck.
Just as is the case with licenses and permits, the restrictions around parking for your food truck are going to be specific to your city; therefore, you'll want to consult your local regulations to determine what your options are.
It's very likely that if you're in a larger location, like New York City, this process will be all the more difficult.
"Technically there is a book that lists where you can and can't park," says Kaye. "However, there is a loophole in the system and trucks can be moved by the police at any time from any spot. It is quite frustrating."
These strict rules and regulations on New York City's streets had the Kayes paying fines up to $1,000 a month at one time. According to Kaye, finding parking has only become more complicated as more gourmet food trucks are appearing around the city.
With this in mind, you'll want to take extra care to determine the rules (and any possible loopholes) for your particular location.
7. Start marketing and promoting your food truck
First, you'll need to plan and execute some marketing tactics to inform the local community of your food truck's existence.
You might plan a "grand opening," or see if you can take part in a local event to draw up attention and customers. You'll also want to consider starting a website and social media presence, as well as advertising around town.
Moreover, as a mobile business, whose location can change on a daily basis, it's important to keep your customers aware of where you'll be. Whether this means making an established schedule on a weekly basis or simply keeping your customers up to date on your website or social media accounts, you'll need to keep this in mind.
8. Consider using a point-of-sale system
Although you may very well be able to run your food truck with a paper-based order system and a cash drawer, you might consider investing in a point-of-sale system to automate the process. With your food truck POS system, you'll be able to manage orders, accept payments (including credit cards), as well as track inventory, create loyalty programs and more.
In fact, there are a variety of POS systems on the market designed specifically for food trucks.
By using one of these systems, you'll be able to manage everything in one place, speed up and simplify your processes, and therefore, better serve your customers. This is especially important for food trucks, which often experience a rush of customers for a few short hours a day — meaning customers can end up waiting in long lines. In this case, you might consider using a pre-order system to help your food truck handle this kind of rush in business.
9. Perfect your day-to-day plan
According to Kaye, running a food truck business is much more difficult than people think because most people see food trucks only operating during lunch hours.
"What people don't think about is that to get our spot, we arrive at 6 a.m.," she explains. "That means we get to our kitchen by 4 a.m. to prep and drive to the spot. After lunch, we drive back to our kitchen and have to clean the truck and the dishes. So for just a few hours of service, we work a 12- to 15-hour day."
Therefore, like the Kayes, you'll want to think about how your day-to-day will look: how you'll work with your employees, where you'll be on a daily basis, which days will require more time or investment than others. By planning ahead of time, even if just at the beginning of every week, you'll be able to maximize your time and hopefully, your business as well.
Along these lines, you might also want to think about if your strategy will simply consist of parking around town or if you'll consider taking part in local events, or even start catering.
Ultimately, learning how to start a food truck is going to take significant time, effort and investment.
Athough the competition has gotten tougher, if you're able to carve out a niche, you have a great chance of success without the high costs of opening up a restaurant.
Moreover, if your plans are to open a restaurant eventually, a food truck can be a great starting point. For instance, Laura O'Neill and her co-founders, Ben and Pete Van Leeuwen, started the Van Leeuwen Artisan Ice Cream truck in the spring of 2008. Since then, the trio has received so much success, their business now includes over 20 locations, including both storefronts and trucks in New York and LA.
According to O'Neill, the food trucks allowed the co-founders to explore different locations to figure out who the customers were and what kind of food they liked to eat. Therefore, in a way, it allows you to test out your food creations before having to commit to a costly lease and other high overheads.
Plus, as you figure out how to start a food truck and get your business up and running, you might ultimately decide the mobile business life is the way to go and continue to invest in different trucks around your city or state — the possibilities are endless.
This article originally appeared on JustBusiness, a subsidiary of NerdWallet.
Want to start a business?
NerdWallet has rounded up some of our best information on starting a business, including structuring and naming your company, creating a solid plan and much more. We'll help you do your homework and get started on the right foot.