Nationwide Business Insurance 2023 Review: Pros, Cons, Coverage Options
Nationwide offers a lengthy list of business insurance policies, but its online features are limited.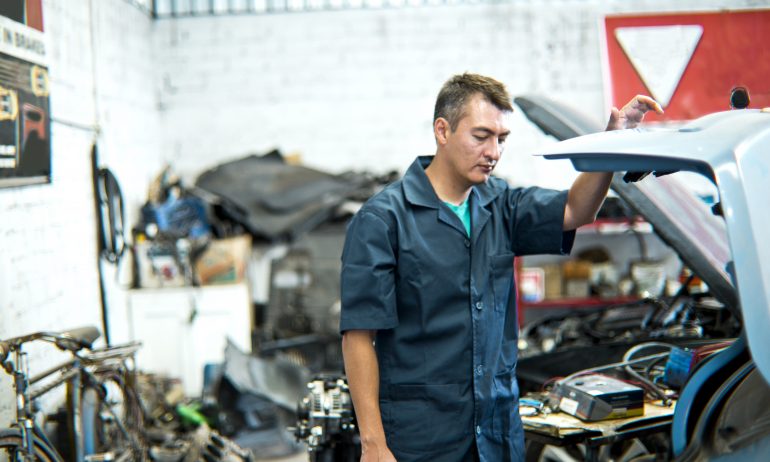 Many or all of the products featured here are from our partners who compensate us. This influences which products we write about and where and how the product appears on a page. However, this does not influence our evaluations. Our opinions are our own. Here is a list of our partners and here's how we make money.
Nationwide business insurance
Nationwide Mutual Group underwrote the tenth most commercial insurance policies in the United States in 2021, totaling nearly $9.7 million in premiums according to the Insurance Information Institute. The company's offerings include everything from standard policies to specialized coverage for specific industries such as construction, retail, food and beverage, and more.
Nationwide may be a good fit for businesses that need specialized business insurance coverage, including fidelity bonds and surety bonds.
Nationwide business insurance: Pros and cons
| | |
| --- | --- |
| Wide variety of coverage types available, including surety and fidelity bonds and fleet coverage for commercial vehicles. | Can't purchase a policy online. |
| Fewer complaints than expected were filed with state regulators about general liability and commercial auto insurance from 2018 to 2021, according to a NerdWallet analysis. | You have to call Nationwide or your agent to request a certificate of insurance or add an additional insured. |
| Online quotes are available. | |
Nationwide business insurance product types
Nationwide offers a wide range of business insurance products, which is helpful for small businesses looking to bundle several types of insurance.
Business owner's policy, or BOP
A business owner's policy combines several major components of insurance in one convenient package. Nationwide's standard BOP includes basic business liability, commercial property, business income and equipment breakdown insurance. Each of these products can be purchased separately as well.
Nationwide recommends a BOP if some or all of the following criteria apply to you:
Your business is located outside of your home.

You have fewer than 100 employees and less than $5 million in sales.

You have property or equipment you need to protect.

You want to protect investments you've made in your business.
Nationwide offers customized BOPs for several industries that share common risks:
Business liability insurance
Business liability insurance, also called general liability insurance, is a standard component of a BOP and protects you if you're liable for someone's medical expenses, attorney fees or damage when your company is at fault. Note that most business liability policies do not include employee injuries, vehicle-related incidents or intentional acts of harm, which fall under separate categories of insurance coverage.
If you want to purchase business liability insurance as a standalone product, Nationwide offers several basic plans customized for various industries. Additional commercial liability insurance options are called endorsements and can be added to your basic policy to provide the coverage you need.
Commercial property insurance
Nationwide commercial property insurance protects your physical place of business in the event of damage or loss. A commercial property policy through Nationwide will cover your building, inventory, furniture and equipment, as well as any signage, storage sheds, landscaping and fences.
Your commercial property coverage may also extend to property owned by others, depending on the event and the policy.
Commercial property insurance typically excludes certain events, such as broken glass or damage from earthquakes. If you want protection from these risks as well, you can upgrade your basic Nationwide commercial property insurance policy.
Commercial property insurance is included in a BOP, but also can be purchased as a stand-alone product.
Business income insurance
Business income insurance, also called business interruption insurance, protects your finances when your business operations are disrupted by circumstances out of your control. This type of policy can help you cover lost business income, payroll, taxes, loan and mortgage payments, temporary expenses such as overtime pay or relocation costs, and more.
Business income insurance is included in Nationwide BOPs and can also be purchased separately. However, Nationwide does not cover undocumented income, closures from power lines, losses from partial closures and any losses that are not covered under property insurance, such as floods or earthquakes.
Equipment breakdown insurance
Nationwide includes equipment breakdown insurance as a standard component of a BOP. This type of coverage protects you when you can't use the tools that help you operate your business. Your equipment breakdown insurance can help pay for repairs or replacements, the cost of replacing any spoiled materials or goods, and other expenses that arise as a result of covered breakdowns.
As with the other types of coverage within Nationwide's standard BOP, equipment breakdown insurance can also be purchased as an individual product.
Commercial auto insurance
Commercial auto policies are similar to consumer auto coverage, with up to five standard components: liability insurance, medical coverage, comprehensive, collision, and uninsured or underinsured motorist coverage.
Business owners who purchase commercial auto insurance through Nationwide can also add the following options:
New vehicle replacement cost coverage.

Hired auto physical damage with loss of use coverage, which covers vehicles you lease or rent.

Auto loan or lease coverage.

Expanded towing range coverage, as well as jump-starts and minor roadside repairs.

Medical payments or personal injury protection coverage.
Beyond the essential coverage options listed above, Nationwide also offers the following products:
Cyber liability, which protects you if your digital data is compromised in a cyber breach.

Errors and omissions insurance is a type of professional liability insurance, and it can protect you in cases of negligence or copyright infringement.

Umbrella insurance, or personal liability insurance, serves as a fail-safe when your other coverage runs out. For example, if you are responsible for paying a $1 million claim but your business liability insurance covers only $500,000, your umbrella policy could cover the remaining $500,000.

Accounts receivable insurance protects you from any expenses related to unpaid payments from your customers, as well as any damaged accounts receivable records.

Builder's risk insurance protects your construction projects from start to finish.
How to get a Nationwide business insurance policy
Signing up for a Nationwide insurance policy is relatively straightforward. You can either call Nationwide at 888-490-1549, or use the tool on its website to generate a customized quote in less than 30 minutes.
You'll need to provide the following details for an accurate insurance quote:
Basic information about your business, including your annual sales receipts.

If applicable, construction details on any buildings you own including age, material and square footage.

Employee information, as well as the number of workers you have on staff. In some states, you may also need to provide information on contractors who may be eligible for workers' compensation.

Details on any prior insurance claims your company may have made.
Should you purchase Nationwide business insurance?
Insurance policies vary from company to company and from provider to provider. As with all vendors, it's a good idea to collect quotes from several insurance providers and evaluate the estimates that make the most sense for your business.
You may want to consider going with Nationwide if several or all of the following characteristics are true of your company:
You want to negotiate a multiple-policy discount. Nationwide offers virtually every type of business insurance, which may make it a good fit for businesses with broad insurance needs.

You want to get a quote online. Nationwide policies are sold by independent agents around the country, but you can get a quote online on your own.
Business insurance ratings methodology
NerdWallet's business insurance ratings reward companies that offer small-business owners reliability and ease of use. Ratings are based on weighted averages of scores in several categories, including financial strength, customer complaint data, shopping experience and customer service. Learn more about how we rate small-business insurance companies.
These ratings are a guide, but insurance policy details and prices can vary widely from business to business and provider to provider. We encourage you to shop around and compare several insurance quotes.
Insurer complaints methodology
NerdWallet examined complaints received by state insurance regulators and reported to the National Association of Insurance Commissioners in 2018-2021.
To assess how insurers compare to one another, the NAIC calculates a complaint index each year for each subsidiary, measuring its share of total complaints relative to its size, or share of total premiums in the industry. To evaluate a company's complaint history, NerdWallet calculated a similar index for each insurer, weighted by market shares of each subsidiary, over the three-year period.
Our star ratings consider ratios for both general liability insurance and commercial property insurance. When an insurer sells policies that are underwritten by several different insurance companies, we consider the NAIC complaint ratios of all the underwriters.