6 Months Plus 1 Day in Florida Can Equal Thousands of Dollars in Savings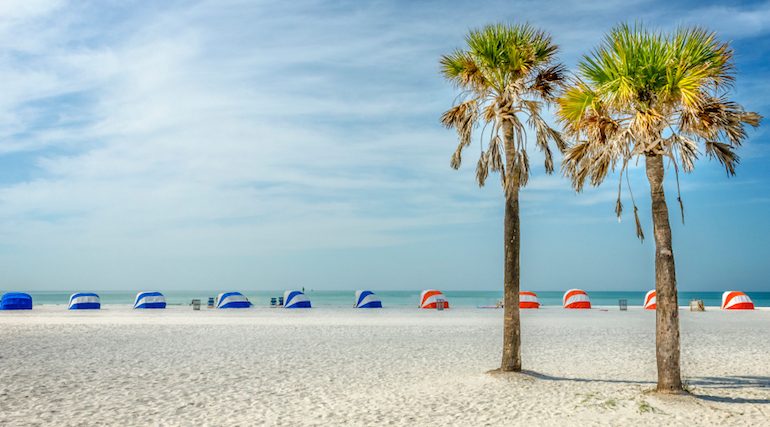 Many or all of the products featured here are from our partners who compensate us. This may influence which products we write about and where and how the product appears on a page. However, this does not influence our evaluations. Our opinions are our own. Here is a list of our partners and here's how we make money.
Florida snowbirds, who swoop in to bask in the Sunshine State for a few months every year, stand to gain thousands of dollars if they just extend their stay. Think six months, plus one day.
The six-plus-one formula tips you over the required time it takes to establish residency in Florida, making you eligible for a state income tax of zero – plus zero taxes on Social Security and/or retirement income, traditional investment earnings, estates and, in some cases, on inheritance.
To illustrate the upside of an extended trip south, here's a fictional example. Bill and Sally Jones are an affluent New Jersey couple trying to decide where they want to live when they retire. They're both 65 years old, retired after successful corporate careers, and they have decided to delay taking Social Security.
Their expected income in 2015 from pensions and investment earnings is $250,000. They can expect to pay a total of about $15,000 in New Jersey state income taxes.
Savings can help pay for your winter stay
If they move to Florida for just over six months, that $15,000 stays in their pockets. They can use it to subsidize their trip or pay for housing in Florida.
There are other pluses to making Florida your six-months-plus-a-day residence. You might even be tempted to stay year-round.
The state provides strong asset protection, homestead exemptions for part of the cost of your home and a cap of 3% on increases in annual property taxes.
Some states with no state income tax, or a very low tax rate, make up for the difference with higher property and sales taxes, but Floridians enjoy an overall low tax burden. If you are fortunate enough to be more affluent than the Joneses, you'll be even happier with the move.
One key point to remember: There's no cheating. You must live in — and document that you live in — Florida for more than one half of the year. Don't get too cute. The states that have no state income tax can be quite inquisitive in looking for evidence that new residents are fudging a move.
Here are a few steps to take when establishing residency:
File a declaration of Florida domicile and notify your old state of the move.

Make sure all of your investment account statements, driver's licenses and other legal documentation are moved to your Florida address.

Keep your important banking and investment relationships in Florida.

Establish your principal residence and voter's registration in Florida.

Keep a travel log documenting your trips back and forth, so you can demonstrate later you were indeed in Florida for more than six months.
The tax advantages of residency can help fund your extended winter stay in Florida. It's something to think about, while you rub in the sunscreen.
---