Ask a Travel Nerd: How Do I Dispute Hotel Minibar Charges?
Try contacting the hotel directly before escalating to corporate or filing a credit card chargeback.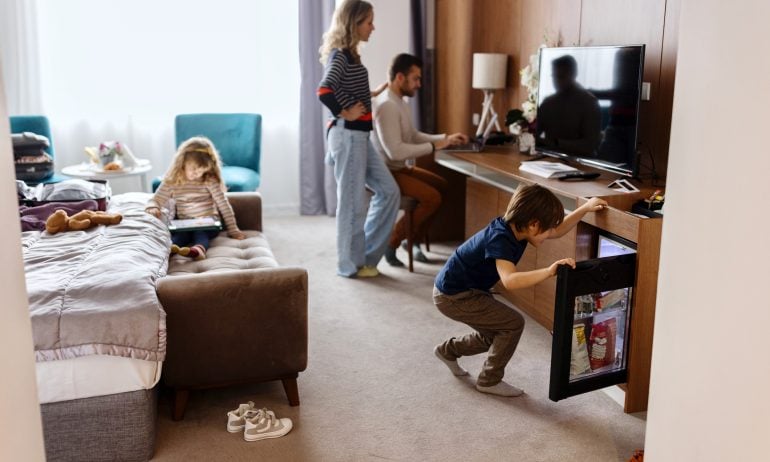 Many or all of the products featured here are from our partners who compensate us. This influences which products we write about and where and how the product appears on a page. However, this does not influence our evaluations. Our opinions are our own. Here is a list of our partners and here's how we make money.
In the final hours of my Las Vegas weekend, I headed to the hotel lobby to check out. Sure, self-checkout was an option, but I prefer the old-fashioned way — with a human — to ensure billing is correct.
The front desk employee at the Waldorf Astoria Las Vegas listed the charges I owed: two nights in a room, plus breakfast and appetizers from the SkyBar. I settled the bill and headed home.
So when I checked my bank statement a few days later, I was surprised to see a new $34.68 charge from the hotel. I immediately sent a message to the email account that had issued my checkout receipt. No response.
Happily for me, the Waldorf Astoria, as one of the fancier Hilton brands, assigns each guest a dedicated concierge before their trip. Given the lack of response to my initial message, I emailed my personal concierge to inquire.
They responded quickly, saying it was a minibar charge, and that I owed $34.68 for three items: one mini bottle of Grey Goose vodka, one Red Bull Energy Drink and one Red Bull Sugarfree.
I drink neither energy drinks nor alcohol — and even if I did, as a proudly frugal traveler, I can't imagine myself spending that much on items from a minibar.
I emailed back a simple, "I didn't take these items; can you remove the charge?" My concierge responded yes, and within 15 days of the erroneous charge, I got my money back.
But with no personal concierge, disputing minibar charges — and getting reimbursed — is not always that easy. Here's how you can fight bogus minibar charges — and how to avoid them in the first place.
How to settle invalid minibar charges
1. Contact the hotel directly
The hotel likely posts its front desk phone number online. Have your confirmation number and receipt ready when you make the call. If the front desk employee can't help, ask for a manager.
If the hotel manager can't help you — and the hotel is part of a chain — you might escalate your concerns to corporate customer service. Most major hotel chains have an online contact page where you'll find a live chat tool, a message submission form or some other way to reach customer service.
You might also send the hotel chain a message through social media, such as on Twitter. Again, include as much relevant information (such as receipt number) as possible.
If your purchase was made with a credit card, your last resort is to file a chargeback. When you initiate a chargeback, you dispute the charge with your card issuer, rather than with the store or service provider (in this case, the hotel). Some chargeback disputes are long and complicated, while others are straightforward. 
To file a dispute, you'll have to contact your credit card company, which then typically conducts an investigation to determine whether you're responsible for the purchase. If the credit card company decides in your favor, you'll receive a credit back to your account.
Credit card chargebacks can be a powerful consumer tool — and a likely way to get your money back. In fact, chargebacks are decided in consumers' favor 88% of the time, according to Chargebacks911, a company that builds chargeback prevention and remediation technology.
But only resort to chargebacks if you've exhausted your other options, like contacting the hotel directly. Businesses incur chargeback fees from credit card companies; these fees range from $20 to $100 per transaction, according to the U.S. Chamber of Commerce. Businesses may just pass those costs on to consumers as higher prices in the future.
Chargebacks can take approximately 46 days to resolve, according to a 2017 Visa guide to dispute processing for merchants. Because this route for disputing minibar charges can be lengthy, you might be better off contacting the hotel first, anyway.
How to avoid false minibar charges in the first place
Even easier than contacting customer service representatives might be avoiding minibar charges to begin with. Here are a few ways to do that:
1. Decline minibar access at check-in
Some hotel minibars have a lock that requires you enter a code or use a key to gain access. That code or key will be issued to you at check-in. Decline it if you don't plan to use the minibar; that way there's no question as to whether you took anything.
2. Be cautious around sensor-equipped minibars
How do hotels charge for what's inside the minibar? Sometimes, hotel staff stock minibars and manually track the items taken. Increasingly common, though, are sensor-equipped minibars, which automatically alert staff when items are taken.
These sensors typically log charges after the item has been out of position for 60 seconds, which might give you enough time to check the nutrition label. But, if you don't replace the item in its exact position — or you dwell too long reading the ingredients — you'll be charged, even if you put the item back. 
The best practice is to avoid touching items in sensor-equipped minibars, period.
3. Ditch hotels with minibars (or book hotels with free minibars)
If you can afford to be picky about hotels, skip those with minibars.
Or, do one better and book a hotel offering complimentary minibar benefits. This is the case at hotels like the Post Ranch Inn in Big Sur, California, where each room has a fridge that's fully stocked with a range of drinks and snacks. Ovolo Hotels in Australia and Hong Kong offer free minibars, too.
Coping with faulty hotel minibar charges
Because it's unlikely that you or the hotel have proof of whether you actually consumed something from the minibar, settling false minibar charges can feel, well, unsettling. 
And even if your charge gets refunded, it's likely that the time you spent disputing it is worth more than the charge you were disputing. That's why, whenever possible, the best move is to avoid situations where you might incur a faulty minibar charge in the first place.
---
How to maximize your rewards
Get more smart money moves – straight to your inbox
Sign up and we'll send you Nerdy articles about the money topics that matter most to you along with other ways to help you get more from your money.