How a New Cruise Ship Is Built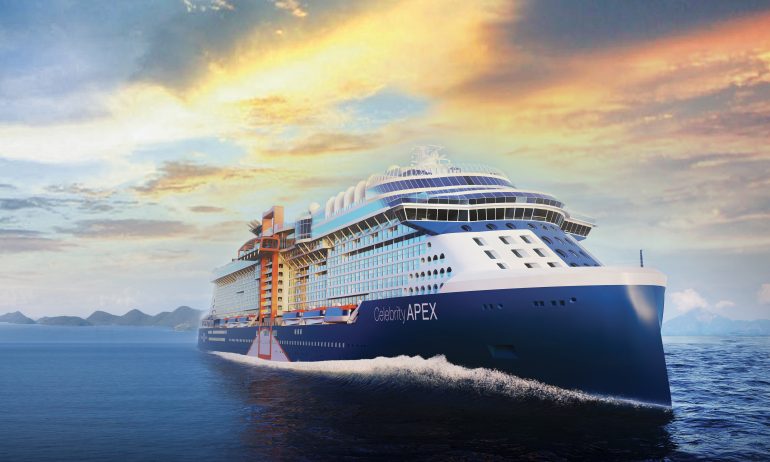 Many or all of the products featured here are from our partners who compensate us. This influences which products we write about and where and how the product appears on a page. However, this does not influence our evaluations. Our opinions are our own. Here is a list of our partners and here's how we make money.
Cruise ship construction is an enormous undertaking that involves thousands of decisions and logistical planning protocols that must be precisely set and coordinated in just the right order.
Watching a ship come together is a fascinating process, and I was able to witness it firsthand in Saint-Nazaire, France, where the Celebrity Apex was being built as the second in a series of five Celebrity Edge ships at the Chantiers de l'Atlantique shipyard.
The scope of building a ship
The ship is actually built in stages, often in different locations before being put together like a jigsaw puzzle or a game of Legos. It comes together as the result of 1,000 key steps, 200,000 different tasks, and the involvement of 500 subcontractors and suppliers. According to shipyard officials, each shipyard completes the process a bit differently.
For the Celebrity Apex, it has taken one year to go from having its first pieces of steel cut and prepared to seeing the final touches added before its March 2020 delivery to Celebrity Cruises.
More than 1.5 million manpower hours are involved in putting such a large ship together. In fact, the building of the ship begins even while engineering work is still going on; such is the large-scale nature of this process.
3D imagery and virtual reality are used in creating the mockups and models, which allow interior designers to take tours of the ship before it is built. They can decide where to most efficiently install electrical outlets or piping, as well as how the style of the interiors will come to life. No one wants a power outlet on the ceiling!
This process also allows designers to work on various parts of the ship simultaneously instead of needing to have each be ready before another can start.
It takes six months to build the outer structure of the ship, which is then stocked with passenger cabins, restaurants, public areas, bathrooms, and hundreds of miles of electrical wires and plumbing pipes.
Large cranes capable of lifting 1,400 tons at a time put each of the pieces together into what we recognize as a cruise ship.
Stacking cabins like Legos
For me, the most surprising element of ship construction was that most of it is actually built elsewhere. The ship as a whole consists of dozens of smaller parts, including cabins, which are each built at an assembly line.
The assembly line includes the installation of almost all passenger amenities — light fixtures, wiring, power outlets, furniture, TVs, beds, bathroom fixtures and even trash cans — so that when cabins are stacked into the ship, their electrical wires and plumbing can be instantly connected to the rest of the vessel. There is little additional work that needs to be done once the cabin is loaded onto the ship.
In fact, more than 3,000 miles of electrical wires come affixed to the cabin; some suites have even more due to their more spacious quarters. Everything must arrive to the ship at the right time and at the right place.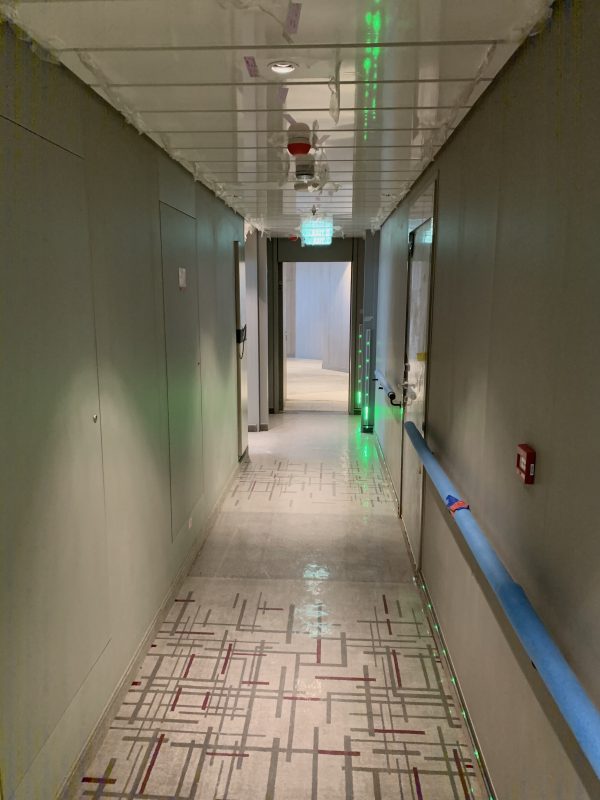 One installed in the ship, each cabin is furnished with decor and amenities in as few as 20 minutes, as staffers pass through installing facilities and cross-check one another's work.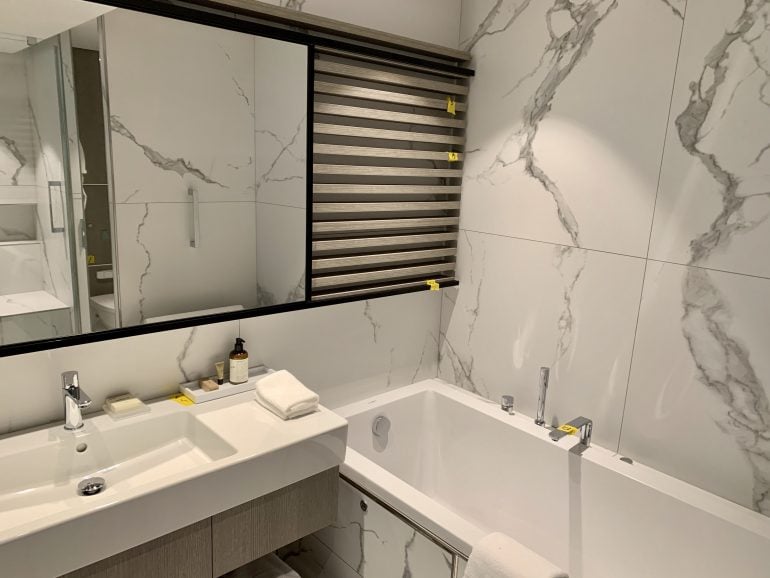 If you think about it, the cabins must come furnished because large items like beds and sofas would not fit through many ship doorways or hallways. Once the cabins are stacked across the previously built hull, the steel sides are wrapped around the vessel. Designers had left cutouts where the windows and balconies belong.
Altogether, more than 40 individual blocks and 500 panels — each constructed off-site — are eventually integrated into the ship's frame, which composes 250,000 steel parts representing 25,000 tons of steel.
Wood, weight and 'wow factor'
Wood is not allowed in the construction of the ship because it can easily burn. Those walls in your room might be covered by wallpaper and artwork, but they are actually made from metal and steel.
The weight of the ship must be balanced and optimized, with a focus on keeping the center of gravity low to the waterline. Celebrity Cruises has a team that manages the weight of everything aboard the ship. Once designers choose what they want to install on the ship, a separate team of engineers gets involved to see if there are more lightweight options to use.
It is a balancing act to reduce weight while also maintaining the overall design aesthetic and "wow factor" of the ship.
Heavier materials are less efficient at the top of the ship; no one wants a top-heavy ocean liner. Thus, the Celebrity Apex uses a more eco-friendly material that looks just like glass for the transparent atrium in the Solarium — though it weighs only 1% of what glass would weigh. Other materials like lightweight carbon fiber help offset the weight of steel and fuel tanks.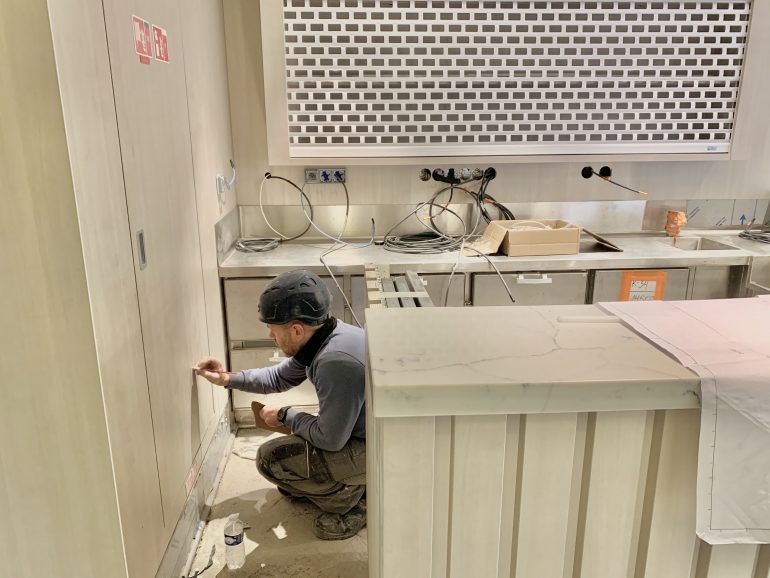 Even the smallest details like room and public area signage is examined by a variety of teams from lawyers to marketing experts. To convey important messages, the cruise line wants to be informative without being stern.
For example, small placards by toilets in cabin bathrooms say, "Excuse me, only toilet paper please." Throwing anything else into these vacuum toilets can cause plumbing stopups.
Adding new amenities for passengers can sometimes pose challenges for designers. New features like the Magic Carpet (also aboard sister ship the Celebrity Edge), required plenty of additional planning.
This cantilevered deck ascends the side of the ship between decks 2 and 16, allowing guests to dine or gather with panoramic views while more comfortably boarding smaller tender boats to go ashore when needed. It essentially is an external elevator on the side of the ship.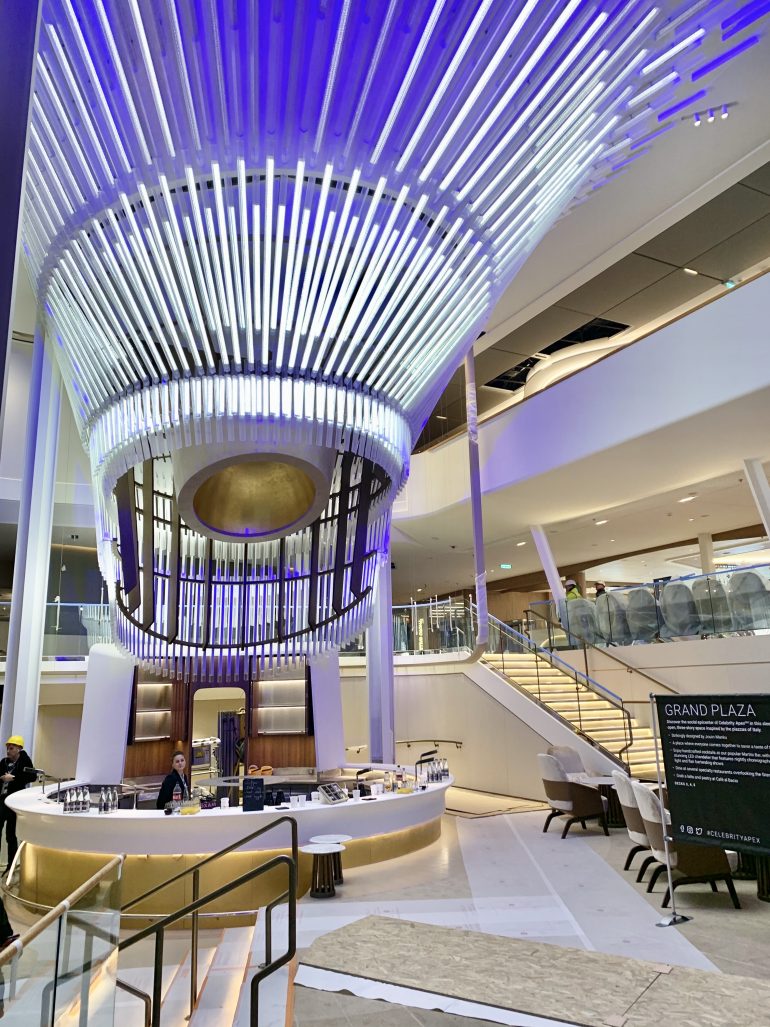 In the trilevel Grand Plaza area, the Martini Bar features over 700 LED lights in crystallized lenses designed to dance in coordinated fashion for dramatic effect. If lined up on the ground, these lights would span more than half a mile.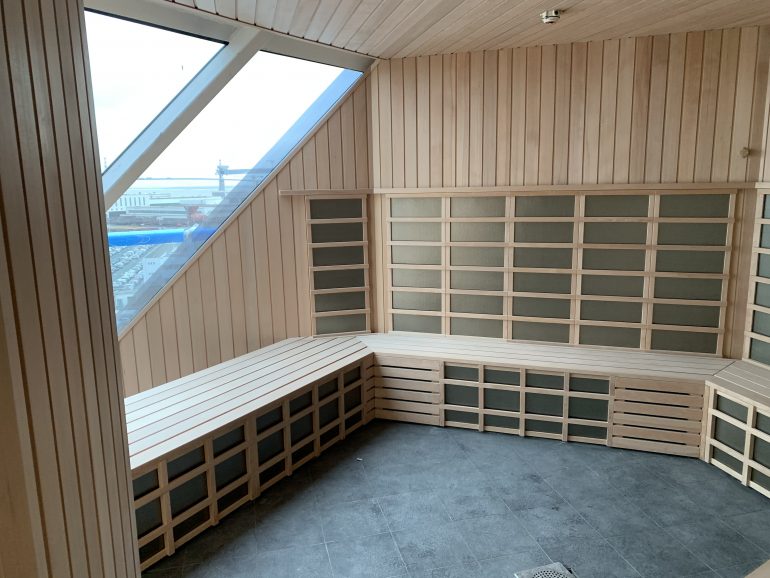 A Spa Thermal Suite adds eight different therapeutic experiences like a salt room, massaging Rainfall Water Therapy room, Iyashi Dome sauna (said to cleanse and detoxify the body), and new treatment tables. It also features the first F45 fitness classes at sea as well as a Kerastase Institute beauty salon.
Each of these elements requires significant plumbing and wiring design, which is different from the systematic approach found in cabins and must be integrated into the overall maze of pipes on the ship. The spa's design, especially, requires unique setups for plumbing and piping.

A 23-foot 4K LED screen curving around the main theater stage is fitted with laser projectors for wraparound lighting during stage shows.
And Eden, a combined dining and lounge space, features a canopy of leaves, which are more than decorative — they shield the view of electronic equipment and lighting.
On this ship, I found everything seemed to fit together with precision and often served to function both for internal use and passenger appreciation.
The next time you travel aboard a new cruise ship, look closely to appreciate the myriad details that came together to create it.
Photos courtesy of Celebrity Cruises and Ramsey Qubein.
---
How to maximize your rewards
Get more smart money moves – straight to your inbox
Sign up and we'll send you Nerdy articles about the money topics that matter most to you along with other ways to help you get more from your money.