Checking Out of a Hotel: 6 Easy Ways
Checkout procedures vary from hotel to hotel, but you probably don't need to line up at the front desk.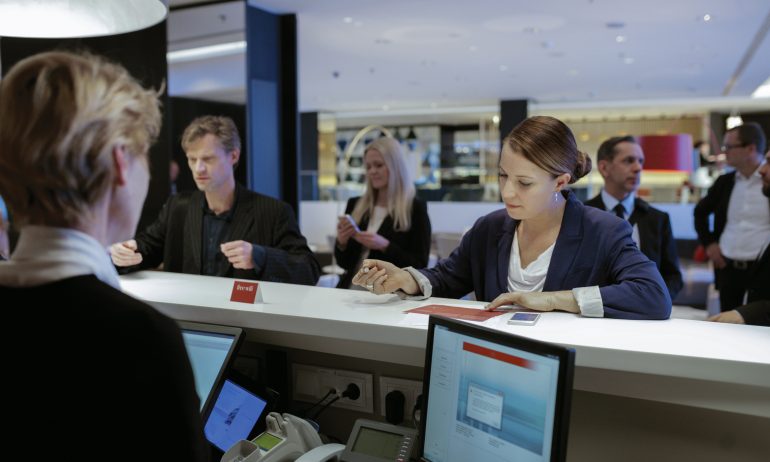 Many or all of the products featured here are from our partners who compensate us. This influences which products we write about and where and how the product appears on a page. However, this does not influence our evaluations. Our opinions are our own. Here is a list of our partners and here's how we make money.
You've had your fun, enjoyed your stay at your hotel, and now it's time to leave. If you're wondering whether you need to check out of the hotel, the answer depends on where you're staying. Different hotels have different policies regarding checkout, and not all of them have to be complicated.
Let's take a look at how to check out of a hotel, why you might want to and the easiest ways to go about it.
How to check out of a hotel
You've probably seen those long lines at a hotel's reception desk at 11 a.m. You've probably even stood in a few of them looking to check out. But did you know, for the most part, that you don't have to?
Your alternate options for checking out will depend on the hotel in which you're staying, especially when overseas. For example, a family-run bed and breakfast in Italy will likely have fewer options for checkout than hotel chains such as Hilton and Marriott.
That said, here are some of the easiest methods for checking out of your hotel.
Commonly available with large hotel chains, the first option is to simply walk out. At chains such as Hyatt, Hilton, IHG and Marriott, all your information is collected during check-in, including a deposit for your stay.
In most cases, you can just leave your room. The hotel will then check you out and send you the bill. You'll want to make sure that they have your correct email address. The charges should also be available on the hotel's website or app.
While this method is the easiest, it also has the most room for error. Accidentally move something on the minibar? Need a food and beverage credit added? Leaving without contacting the front desk means you'll want to double-check the bill, and you may need to contact customer support if something is incorrect.
Some hotel chains, such as Hyatt, have developed robust mobile apps. These can do digital check-in and checkout, and act as digital keys.
When you're ready to leave, you open the app. From there, you'll be able to see your charges and select a time to check out. With Hyatt, you can even do so in advance; for example, you can complete these steps at 8 a.m. for a 12 p.m. checkout. Your room key will still work until the actual checkout takes place.
Another common method of checking out is using the in-room phone to conduct your checkout. This approach saves you the walk down to reception, though you may experience a longer wait time if they're busy.
As with other methods, you'll need to have your information already registered with the hotel in order to check out by phone. A staff member can go over your bill with you, then send you a digital copy.
4. Check out through the TV
Although this method is less common than it used to be, you can still use the TV to check out at certain properties. It's always worth taking a look to see if your TV features this option.
If so, you'll be able to view your charges on the TV and walk through the steps of checkout without needing to interact with anyone.
5. Head to the front desk before the hotel checkout time
Sometimes you can't use technology to check out and will actually need to walk down to the front desk with your key in hand to end your hotel stay.
So what time is hotel checkout? Checkout times can vary, but they're usually anywhere from 10 a.m. to 12 p.m. This is when you'll see the longest lines and greatest crowds. To steer clear of the masses, consider going down early to complete your checkout. Or if you have hotel elite status or booked through a luxury hotel search site like AmEx Fine Hotels & Resorts, you might be able to do a late checkout to avoid the rush.
Curious about how to check out of a hotel early? You may not need to leave as soon as you check out. Some hotels will allow you to check out and keep your keys until the actual checkout time. This way, you'll get the benefit of avoiding crowds without needing to give up your room.
6. Earn hotel elite status
This last method, earning elite status with a hotel, still requires you to check out in person, but it can help smooth any potential frustration. Hotel chains such as Hilton, Hyatt, Marriott and IHG all offer separate desks for their elite members.
These desks exclusively handle the needs of elite members, so lines tend to be much shorter. Even if you don't frequently stay in hotels, it's possible to gain elite status from a wide variety of credit cards. These can then gain you access to the dedicated member desks.
Some hotels will also have separate check-in and checkout locations available to elite members. The Hilton Puerto Vallarta, for example, maintains a dedicated check-in area for those with executive lounge access up in its club lounge.
What happens if you don't check out of a hotel
Do you have to check out of a hotel? Not necessarily, but if you don't, you may encounter a few issues that might be annoying to resolve later. Here are a few reasons why it might make sense to complete your hotel checkout before you depart.
Ensure your hotel invoice is accurate
Unexpected hotel charges can sometimes appear on your bill. Maybe you didn't grab anything from the minibar, but a charge shows up on your bill. Or perhaps you have free breakfast but you accidentally get charged for it. Resolving these issues is a lot easier when you're still at the hotel and your card hasn't been charged yet.
The right credit card will be charged for your stay
Checking out in person allows you to double check which credit card will be used to pay for any charges incurred during your stay. You likely already provided a credit card during check-in or when making the reservation, but if you'd like to change the card, inquire about it during checkout.
You hotel loyalty number is attached to the reservation
If you forgot to input your hotel loyalty number when you booked your stay, doing so before you check out guarantees that your account will be linked to your stay. Sure, you could retroactively claim missing points for your stay, but it's a lot easier and faster to do it on-property.
Final thoughts on hotel checkout times and process
Checking out of a hotel doesn't have to be a lengthy process. Although the different methods you can use will vary by property, there are plenty of ways to avoid complicated checkout procedures. This is true whether you're simply walking out, using the mobile app or taking advantage of dedicated desks through hotel elite status.
---
How to maximize your rewards
Get more smart money moves – straight to your inbox
Sign up and we'll send you Nerdy articles about the money topics that matter most to you along with other ways to help you get more from your money.